Author Bio:
Lori Burkhart is the managing editor of Public Utilities Fortnightly.
It was May when the PUF team traveled to Indianapolis and received a warm welcome at the Indiana Utility Regulatory Commission. Preparations were underway in that lovely city for the world's largest single day sporting event, the big race, the Indianapolis 500, but we had our minds set on an affair of greater importance to the utility regulatory world, the NARUC Summer Policy Summit coming in July. NARUC leaves Washington, D.C. and travels to Indianapolis in July to a city that felt surprisingly familiar to the PUF team from the D.C. metro area.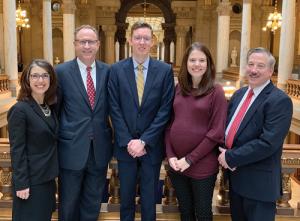 We rode the elevator to the fifteenth floor of what used to be the headquarters of the Simon Property Group, but where we now find the Indiana Commission. Commissioners and Staff educated us about Indy, also known as Circle City, as the statehouse was planned around Monument Circle. It's reminiscent of Washington, and not surprising as a surveyor for Pierre L'Enfant, who designed our nation's capital city, with its many traffic circles, helped design the Indy town plan.
Like Washington, Indianapolis also passed an ordinance restricting building heights to protect the view of its Soldiers' and Sailors' Monument, and the city is home to the largest collection of monuments dedicated to veterans and war casualties in the United States, outside of Washington. Enjoy these interviews with the Commissioners and Staff at the Indiana URC and keep these facts in mind when you come explore Circle City at the NARUC meeting in July.
Indiana Utility Regulatory Commission Conversations: