There was a jam-packed schedule in June 2019 at the American Public Power Association's National Conference, and the meeting rooms were full. Coleman Smoak, general manager of Piedmont Municipal Power Agency, handed the gavel over to the new chair of the APPA Board, Decosta Jenkins, CEO, Nashville Electric Service.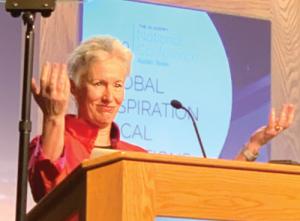 But all eyes were on Sue Kelly, CEO and president of APPA as in an emotional speech she talked about her pending retirement and said a heartfelt goodbye. It will not be forgotten by anyone in the audience. Kelly noted that a search committee has started the recruitment process for her replacement.
The Alex Radin Award for Distinguished Service, which is the highest award granted by APPA, went to Andrew "Andy" Boatwright, General Manager Zeeland Board of Public Works in Zeeland, Michigan.
The James D. Donovan Individual Achievement Award goes to those who made substantial contributions to the electric industry with a special commitment to public power. The winners in 2019 are Paula Gold-Williams, CEO, CPS Energy, San Antonio and Joel Ivy, General Manager, Lakeland Electric, Lakeland, Florida.
If you missed your opportunity to Keep Austin Weird, the slogan of that special city, see the pictorial of APPA's 2019 National Conference at the Facebook album here.