Deck:
Celebrating the Extraordinary
Author Bio:
Steve Mitnick is President of Lines Up, Inc., Editor-in-Chief of Public Utilities Fortnightly, author of "Lines Down: How We Pay, Use, Value Grid Electricity Amid the Storm," formerly an expert witness that testified before utility regulatory commissions of six states, the District of Columbia, the Federal Energy Regulatory Commission, and in Canada, and a faculty member at Georgetown University teaching undergraduate microeconomics, macroeconomics and statistics. The photo is not of Steve Mitnick as a young innovator.
Jeff Fleeman of American Electric Power. Remember he was featured in Fortnightly Top Innovators 2017 for developing the Breakthrough Overhead Line Design. Appropriately with the acronym BOLD, it may lead to more transmission additions with its more acceptable profile.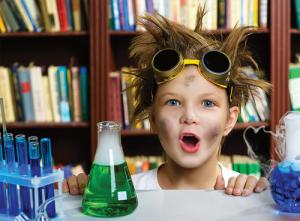 Or Chris Marshall and Doug Venjohn of Westar Energy — now part of Evergy. The pair were also Fortnightly Top Innovators back in 2017 for developing a Swiss Army knife of high-voltage transformers. A grid security solution, it can be transported and rapidly deployed at any key substation.
The 2017 version of Fortnightly Top Innovators included some of the stars at the Electric Power Research Institute as well. Like Maria Guimaraes who developed a wall climbing robot. Which comes in handy if you want to inspect the integrity of large concrete structures such as at nuclear and hydroelectric plants. And like Andrew Phillips. He developed a robot too. Only his crawls along transmission lines to check their condition. Sounds a lot better than sending humans up there, doesn't it?
We celebrated forty individuals and teams that year for their outstanding innovations in the public interest. Though we were only getting started.
Among the Fortnightly Top Innovators 2018 were Cole Crews of Ameren, Shay Bahramirad, and Sandor Williams of Exelon's Commonwealth Edison, and Chris Spears, Catherine O'Dell, and Tom Butler of North Carolina Electric Cooperatives. A distinguished group indeed.
Cole Crews and his team developed a private LTE telecommunications network for his utility. LTE isn't just that acronym that shows up in tiny letters in a corner of your smart phone screen. Stands for Long Term Evolution, which no one can explain to me why. Anyway, the grid of the future demands exponential growth in the telecommunications of data and Cole Crews is on the case.
Shay Bahramirad and Sandor Williams led their utility's program to make the historic south side Chicago neighborhood Bronzeville — once home to Nat King Cole, Quincy Jones, Jesse Owens, Duke Ellington, and Joe Louis - a smart community. Electric transportation for all, interactive kiosks, a microgrid, STEM education programs; in other words, the works. 
Chris Spears, Catherine O'Dell, and Tom Butler built a pig farm based microgrid with over two hundred kilowatts of methane-powered and solar generation. Please pass the bacon.
We've asked ourselves, here at PUF world headquarters. Can Fortnightly Top Innovators 2019 top the 2017 and 2018 versions? As tough a climb as this seems, we say, you bet it can.
So, for the third November in a row, Public Utilities Fortnightly will publish a special issue dedicated to our industry's top innovators. Sponsored by the Electric Power Research Institute, that shop of innovators affectionally known as EPRI, we'll highlight and celebrate the individuals and teams who made a significant difference for utility customers by developing and putting into operation their innovative equipment, software, methods, procedures, etc.
We'll be reaching out to every PUF member organization - utilities, commissions, advocates, associations, vendors, and professional firms — and circulating this year's nomination form and encouraging the broadest participation. 
This year's nomination form is new and improved, in a few dimensions. It's more specific about the info we need on the innovation and on the innovators. And the form requests, right up-front, pics of the innovation in action. Such as when it's being worked on, back at the lab, or the office, whereever. Or when it's helping front-line workers. Or when it's helping utility customers directly.
The PUF team plans to talk with each of the Top Innovator finalists. Then we'll tell their inspiring stories in the special issue this November. It should be a blast. We'll lay out what motivated these creative geniuses. And what's most rewarding about the innovation. 
And where do they go from here. Albert Einstein didn't rest on his laurels after his Annus Mirabilis papers in 1905. And I doubt the Top Innovators rest after their breakthroughs.
We in the utilities industry are so fortunate to work in service of the public interest. Whether you flip switches for a living, or climb poles, or ask and answer rate case interrogatories, or take consumer complaints, or raise capital, or architect new lines or pipe, etc., you know after each day is done that you helped keep the electricity, natural gas, and water flowing to thousands or millions of homes and businesses. 
That's been our industry's mission for over a hundred years. Now, layered in, more and more of us are being tasked with innovating greater quality and efficiency of service for customers. 
Tell us about the most extraordinary of your colleagues who are literally remaking our industry. Let's see to it — together, you and PUF — that everyone learns about these heroes. 
Ask our Alexandra Revel for one of those nomination forms. She's at arevel@fortnightly.com.