Author Bio:
Jan Vrins is a managing director and segment leader for Navigant's global Energy practice.
As our industry attracts new and diverse talent at all levels, more women are rising to the top ranks of utilities, bringing with them unique perspectives and innovative strategies to get the job done.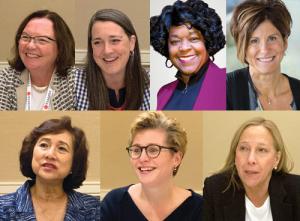 Recently, PUF's Steve Mitnick and I talked with seven inspiring utility CEOs — all women — about their experience as leaders, their advice to today's rising stars (particularly those that are young women), and their company's challenges as they transform their organizations to navigate the energy transition, address climate change, and redefine our industry.
We heard from Pat Kampling, CEO, Alliant Energy, Patti Poppe, CEO, CMS Energy, Paula Gold-Williams, CEO, CPS Energy, Mary Powell, CEO, Green Mountain Power, Connie Lau, CEO, Hawaiian Electric Industries, Maria Pope, CEO, Portland General Electric, and Pat Vincent-Collawn, CEO, PNM Resources, on the personal and professional: from what it's like to be a CEO and what it means to mentor other women with leadership potential, to the kind of utility they want to lead, and what the greatest opportunities and threats are that they feel the industry is facing today.
While women are still underrepresented in the energy and utilities industries, these seven powerful leaders show that their voices are strong, their strategies with their customers, employees, and shareholders, are innovative and effective, and their long-term impact on the industry will be meaningful. We hope you find their perspectives inspiring and enjoy learning how their drive, commitment, and creativity continues to shape the sector's future.

Women CEOs interviews: