Deck:
Thousands of Innovators Gather in D.C.
Author Bio:
Steve Mitnick is President of Lines Up, Inc., Editor-in-Chief of Public Utilities Fortnightly, author of "Lines Down: How We Pay, Use, Value Grid Electricity Amid the Storm.
Exelon is a large utility, sure. But it still amazes us that it holds a ginormous annual innovation expo for a few thousand of its employees. This year, Exelon took over Washington D.C.'s convention center on the tenth of October. It was there and then that the latest competition took place among several hundreds of innovation exhibits all vying for the votes of their peers and then a guest panel for the top three awards in specific categories.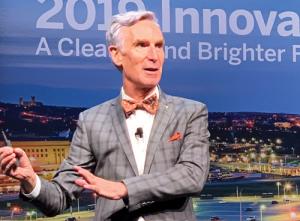 Though this competition was the main attraction of the day, there was so much more to see and do at the expo. For one, Bill Nye the Science Guy gave an extremely funny keynote speech, though on the extremely serious subject of climate change. His theme, we can change the world. 
Panel discussions included innovative leaders like Ryan Popple of Proterra, a company electrifying the nation's buses, and James Chen of Rivian, a company electrifying the nation's sport utility vehicles and light trucks. And supporting companies exhibited at the expo too, like ABB, Accenture, Burns & McDonnell, Itron and Oracle.
It was said more than once during the day that a culture of innovation starts at the top. The leaders of the utility were all there, and enthusiastic. And we even spotted CEO Chris Crane checking out a few of the innovation exhibits. In the opening remarks that morning, he joked that, when seeing some of the high-tech demos, this veteran nuclear engineer knows to nod, even when the technical details are somewhat beyond his comprehension.
 
See video excerpts here and here. Visit the Facebook album here.