GTI has a significant track record and a long-standing commitment to hydrogen research and technology development. As an established leader in hydrogen and fuel cell technology, the organization has initiatives across the energy value chain, focused on hydrogen generation, transport, storage, and use. The focus on hydrogen as a low-carbon resource is increasing with the global movement toward economy-wide deep decarbonization.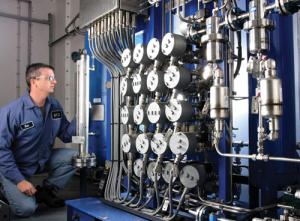 Hydrogen has been used in refinery operations and as an industrial gas for several decades. It has been viewed as a potential vehicle transportation fuel and as a fuel for on-site power generation since the 1990s or even earlier.
Now however, hydrogen has emerged as a potential solution for large-scale energy storage and delivery, including power-to-gas and renewable energy transport in existing pipelines. Hydrogen can be the link that enables the nation's existing, widespread, and robust energy infrastructure to facilitate the introduction of new and emerging renewable energy technologies.
GTI is working with its industry and government partners to establish that link by developing technologies and processes that support the broader use of hydrogen. The organization is involved in research, product development, and demonstration projects that highlight the latest in emerging hydrogen technologies.
Hydrogen Generation
Hydrogen can be generated from several different feedstocks through a variety of processes. Selecting the best hydrogen generation technology often depends on the application. For example, GTI's compact hydrogen generator is an industrial-scale generation process that offers an inherent carbon-capture capability.
When combined with new turbine technologies, it yields near-zero carbon emissions power generation. A significant cost of hydrogen is transporting hydrogen to its end-use. GTI has developed technologies to make hydrogen on-site from a variety of feedstocks.
GTI's micro-scale steam methane reforming technology utilizes renewable feedstocks such as landfill gas or digester gas to generate hydrogen. In addition, GTI has a liquid phase reformer that delivers pure hydrogen at pressure from renewable liquid feedstocks. These technologies have applications for hydrogen vehicle fueling stations, for remote and back-up power generation, and other distributed applications.
Hydrogen Storage and Transport
Hydrogen is an emerging option for energy storage in existing gas pipeline networks. Determining appropriate hydrogen blends, operating conditions, and end use equipment compatibility for large-scale infrastructure deployment involving hydrogen are some of the key issues that GTI can address by leveraging its expertise and research strengths in pipeline operations.
For example, GTI and the University of Texas are partnering with the U.S. Department of Energy and several commercial companies to design, build, and operate the first dedicated hydrogen infrastructure network under the Department of Energy's H2@Scale program. The three-year project integrates existing and new technologies to demonstrate the safety and reliability of natural gas/hydrogen networks.
Mobility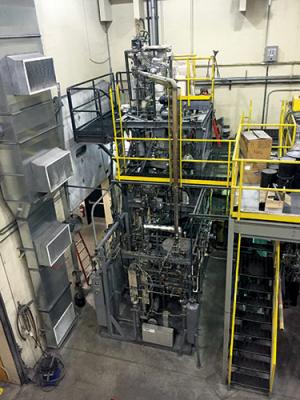 GTI has led several demonstration projects to validate the technical and environmental case for hydrogen-fueled, fuel cell vehicles. Delivering infrastructure, vehicle, engine, fuel dispensing, and system solutions for clean transportation fuel cell vehicles has helped to further the use of hydrogen as a transportation fuel.
Heavy-duty trucks, buses, port vehicles, passenger vehicles, forklifts, and even aerial drones are part of GTI's extensive fuel cell mobility program. Frontier Energy, a subsidiary of GTI International, has managed the California Fuel Cell Partnership, an industry-leading consortium of car makers, fuel suppliers, government agencies, and fleet operators since its inception.
Innovative pre-cooling technologies for hydrogen dispensing, materials-based storage designs to increase capacities at lower pressures, a process for accurate filling of high-pressure hydrogen cylinders used for vehicle fuel storage, and a hydrogen compression technology using a free piston linear drive mechanism that dramatically reduces costs are among the successful innovations from the GTI team.
Codes and Standards/Training
GTI staff has participated in codes and standards development for hydrogen and fuel cell vehicles for over twenty years. The research team has played a key role in NFPA, ICC, SAE, CSA, and other pertinent working groups involved in standardization of fueling protocols, building codes for hydrogen facilities, and ground storage requirements.
Under a recent U.S. Department of Energy grant, GTI created and implemented training workshops for the design and operation of hydrogen vehicle maintenance facilities. GTI's Frontier Energy subsidiary provides additional education and outreach programs on fuel cell vehicle operations via the California Fuel Cell Partnership.
Renewable Hydrogen
GTI has a long history of building and operating on-site hydrogen generation and dispensing stations that use renewable feedstocks such as landfill gas and digester gas. GTI has been a leader in gasification technology since it's work with the National Energy Technology Lab began in the early 1970s. One of the major components of gasification "syngas" is hydrogen.
GTI's SunGas Renewables subsidiary leverages its technical strengths in gasification and hydrogen to offer a woody biomass to pure hydrogen solution at large scale, up to twelve billion SCF per year. This approach uses GTI's commercial gasification platform and conventional back end clean up technology to reliably deliver green hydrogen at scale.

Lead image: GTI successfully designed, built, and installed a waste gas clean-up system and hydrogen generation infrastructure at Joint Base Lewis-McChord's water treatment plant in Washington state to operate military base vehicles using hydrogen-powered fuel cells.