Deck:
You Had To Be In San Antonio
Author Bio:
Steve Mitnick is President of Lines Up, Inc., Editor-in-Chief of Public Utilities Fortnightly, and author of "Lines Down: How We Pay, Use, Value Grid Electricity Amid the Storm."
You had to be in San Antonio at NARUC's Annual Meeting. Not just for your fill of regulatory knowledge and Tex-Mex food offerings. It's a great opportunity to mix and mingle.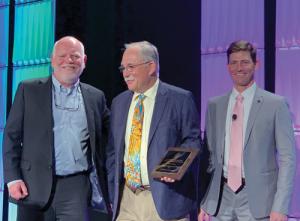 The PUF team was there too, asking the PUF Question of the Day, each day of the conference. And we handed out fun buttons to those gracious attendees who answered. Greg Bollom of Madison Gas and Electric must have wanted to collect them, because he answered PUF's Question of the Day on each of the three days! You'll enjoy reading the answers and seeing what attendees homed in on at NARUC's always awesome and well-attended annual meeting. 
We took great photos too, so you can see your friends in action, doing what they do best, teaching and learning about regulation at NARUC's beloved Annual Meeting. See the Facebook photo album here.

PUF's Question of the Day articles

Lead image: From left, David Danner, Chair, Washington UTC, with Andrew Melynkovich, communications director, Kentucky PSC, recipient of the Terry Barnich Award for his international service, and Nick Wagner, NARUC president.