Author Bio:
Steve Mitnick is President of Lines Up, Inc., Editor-in-Chief of Public Utilities Fortnightly, author of "Lines Down: How We Pay, Use, Value Grid Electricity Amid the Storm."
Though these ten CEOs of cooperative utilities were so busy at the recent NRECA Annual Meeting of seven thousand attendees, at the Big Easy's cavernous convention center, they all found the time to sit down with Public Utilities Fortnightly in one of our roundtable discussions.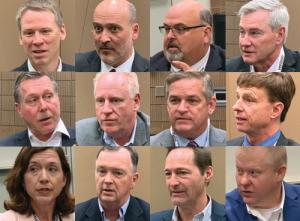 In the first roundtable, the CEOs of North Carolina Membership Corporation, Poudre Valley Rural Electric Association, and Tidelands Electric Member Corporation talked with us about microgrids and resilience. In the second roundtable, the CEOs of Central Virginia Electric Cooperative, Guadalupe Valley Electric Cooperative, Jo-Carroll Energy and Tri-County Rural Electric Cooperative talked with us about broadband. In the third roundtable, the CEOs of East Kentucky Power Cooperative, Ohio's Electric Cooperatives, and Old Dominion Electric Cooperative talked with us about FERC's Minimum Offer Price Rule, along with Vice Presidents from the aforementioned East Kentucky Power Co-op and North Carolina Electric Membership Corp.  
These three topics, microgrids and resilience, broadband, and FERC's MOPR, are clearly priorities for cooperative CEOs. Their passion produced three dynamic discussions, which will jump off the page as you read what they had to say that busy day in New Orleans.

Roundtable Discussions: