Author Bio:
Steve Mitnick is President of Lines Up, Inc., Editor-in-Chief of Public Utilities Fortnightly, author of "Lines Down: How We Pay, Use, Value Grid Electricity Amid the Storm."
There is much going on at Washington's Utilities and Transportation Commission. Including implementation of the shiny new Clean Energy Transformation Act or CETA, requiring that state's electric utilities to transition to one hundred percent clean power by 2045. Signed into law last year, the devil is in the details, as here you hear Commission Staff grapple with intricacies like maybe preapprovals, staring down performance based ratemaking, defining metrics, and using terms like off ramps.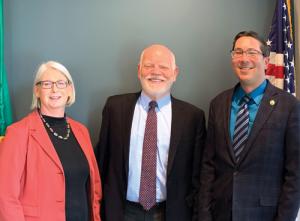 Throw CETA in with all the usual work a Commission has to do, and you know they are busy. But Commissioners and Staff kindly took time to spend a day with PUF and let us see their beautiful new, energy efficient office building in Midtown Lacy. So-named some six months ago to denote the many state agencies in the area. It's about a five minute drive to the capitol of Olympia, and we were fortunate to attend a hearing there too and see Chair David Danner testify.
It was fun to find out Chair Danner plays keyboards in a band, aptly the UTCs, made up of Commission members, who perform at the summer BBQ. Because yes, the people who do the hard work regulating, well, are people too. And the best part of visiting is getting to know them. 

Washington State's Utilities and Transportation Commission articles: