Author Bio:
Steve Mitnick is President of Lines Up, Inc., Editor-in-Chief of Public Utilities Fortnightly, and author of "Lines Down: How We Pay, Use, Value Grid Electricity Amid the Storm."
We're all wearing masks and it's not Halloween. It's for our health but some of us have gone beyond basic protection and are styling. Think colorful, or hobbies, or message sending, or sports teams, you name it, masks have gone mainstream. Masks are everywhere, so we may as well try and give them some flavor. There are different kinds too, from the tied behind the ear, to the bandana style, to the neck gaiter, and more. PUF is sharing a few here, something we never dreamed we would be doing a short time ago.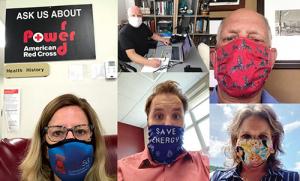 Left: New York PSC Commissioner Diane Burman, masked, donating blood. Middle top: Washington UTC Chair David Danner, masked, at work in his office. Middle bottom: WPPI's Jake Oelke with a mask message for all of us. Top right: BRG's Peter Keller in a colorful zebra mask. Bottom right: Alabama Power's Elizabeth Brown with a Disney themed mask.