Author Bio:
Lori Burkhart is editor-in-chief of Public Utilities Fortnightly.
What a long, strange trip it's been. Yes, it's the name of a double album by the iconic Grateful Dead. But the title resonates for a reason. We've most likely all been on journeys that fit the description.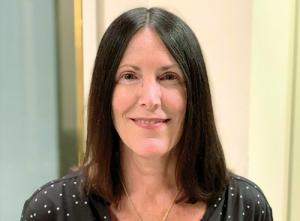 I came to the predecessor company of Public Utilities Fortnightly, called Public Utilities Reports, or PUR, on March 3, 1986, after taking the bar exam. Originally hired as a legal editor, PUR published many state Commission law books, compilations of decisions with headnotes, and the PUR4th series of law books. We see them sitting on shelves when we visit State Commissions.
PUR no longer exists as a going concern, but the magazine, PUF, was saved from demise by PUF's previous editor-in-chief, Steve Mitnick, now executive editor. I'm grateful PUF has been transformed under his watchful eye, also because PUF is a repository of utility company and Commission history dating back to 1915. Steve often reaches back into PUF from energy days of yore and regales us with times that might be forgotten, and what a shame that would be.
When I first started at PUR, it was housed high up in the Rosslyn Metro Center building in Arlington. The conference room had sweeping views of the District of Columbia, from Georgetown to past the airport.
Strange what you remember, but the magazine then was produced without computers. We had typesetters and designers who worked on a large drawing board, using X-acto knives to cut and paste. We wrote articles on paper, handed them to a secretary, and she typed away.
Smoking was allowed in offices, and smoke many did. When it got to be too much for us nonsmokers, they tried smokeless ashtrays run on batteries that were supposed to suck the smoke in. They did, kind of.
We had one quarter of a floor and the big tenant was Boeing. Boeing paid PUR to leave when our lease was up. PUR moved to 2111 Wilson Boulevard in Arlington. It marked the advent of dreaded cubes, tough on all of us, used to offices.
The next move after a few years, to save money, was a big one for staff, out to Tyson's Corner. No metro, but a big parking lot. Legal staff worked on PUF all along, focused on precedent-setting decisions, especially in a PUF section called Courts and Commissions. We published numerous newsletters and books along the way too.
Of note, PUR had been owned, or so we thought, by various utility companies whose higher-ups sat on the PUR board and had once financed PUR to be a clearinghouse for Commission information. Along the way, that fizzled, how exactly is left to the sands of time.
The powers that be then realized there was no ownership of PUR and decided to sell the company to employees. I bought shares as did
others. Now an owner, we had a few good years.
The board of PUR, a group of five male employee shareholders, controlled the company. I left in 2010 and ended up running a health care magazine for some five years. Long story made short, PUR recently announced it was going out of business. My shares and everyone's rendered worthless. 
Fortunately, PUF lives on. I started back in 2018 as a part-time editor, having been PUF's managing editor prior to my exit. That changed to full time quickly, as managing editor again, for PUF immediately was successful and growing.
The PUF team, I always say, is small but mighty. We work hard and cover a lot of ground for a small company. We are producing and doing more in the public interest every day. It's a labor of love.
I find myself now holding the title of editor-in-chief, and I thought back to when I first started. Lucien Smartt, as some of you might remember, held that title at the time. I read that he passed away in 2017.
Editor-in-chief is a title at PUF that until now has always been mostly held by men. The world is changing. PUF is changing with it. You see topics and conferences that never were brought to you before. PUF brings you more diversity of coverage, thought, and issues. 
PUF hopes you find the material engaging. We are always open to hearing from you, the reader. As we expand our topics, for example more on water issues, let us know if we are missing anything. We plan to be around for a long time, given new life under the auspices of Lines Up.
Stay tuned.