Author Bio:
Steve Mitnick is the president of Lines Up, Inc. and executive editor of Public Utilities Fortnightly. Bob Blue is the CEO of Dominion Energy CEO. Tom Kuhn is the president of EEI. 
I first met Tom Farrell in the mid-nineties. He had just joined Dominion Energy as its general counsel. I had assisted the company from time to time, at first on generation system modeling and later on Clean Air Act compliance. After he joined, I helped on a strategic issue and got to know Farrell as a serious and dedicated straight-shooter. In the years since, I would see him occasionally as he rose to lead Dominion Energy, then to lead the industry as EEI's chair, and then to become a giant in the industry until he passed away on the second of April.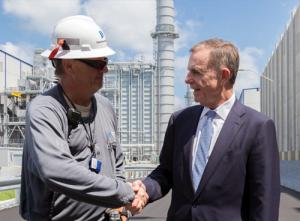 As recently as the twelfth of February, he promoted the "Disability: IN" letter signed by fifty CEOs on disability, inclusion, and equality, as you can view yourself on YouTube. He also remained so passionate about the role of veterans in the utilities industry that I was literally planning to phone him for his input on my forthcoming book, "Front Lines to Power Lines." Farrell led an industry campaign to better attract, retain, and recognize the extraordinary qualities of veterans a decade ago as EEI's chair. 
Before going to press with this issue of Public Utilities Fortnightly, we sat down with two men that knew him well, Dominion Energy's CEO, Bob Blue, and EEI's president, Tom Kuhn. These moving conversations follow. But first, allow me one quick Farrell story. He had just taken the reins at Dominion Energy in the mid-two thousands, and I had just taken a new position at a consultancy. In a visit to his office, with only the two of us in the room, he gave me some blunt advice about my career. This one talk turned my career with lasting positive effect for years afterward. Now, at this sad moment, I easily stand with so many others to say this. We shall very much miss you, Tom.
Dominion Energy CEO Bob Blue
PUF: How did you come to know Tom Farrell?
Bob Blue: I met Tom when I was in the Governor's Office in Virginia. I had been at a law firm in Washington, D.C. One of the partners there was a very close friend of Tom's. Not long after I started in the Governor's Office, he arranged for the three of us to have lunch together. That was the first time I got a chance to meet Tom.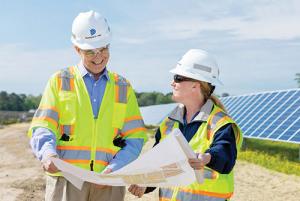 I worked for the Governor's Office for a little better than three years. I imagine that lunch was within the first year. I had no idea that I was going to be working at Dominion Energy.
My expectation was that I'd be moving back to Washington or Northern Virginia. My wife and I were both lawyers. We thought we would go back to our law practices.
At the time, Tom was not the CEO. I think he was the chief operating officer. May have been president at that point. But it was pretty clear to people that he was going to be the CEO.
As I was getting ready to leave the Governor's Office, I was speaking with Eva Hardy who worked for Tom and was very close to Tom. [Eva Tieg Hardy joined Dominion Energy in 1990 and ultimately became its executive vice president for external affairs and corporate communications.] She suggested that maybe I should come work at Dominion. Or probably I begged her for an opportunity to come work at Dominion would be more accurate.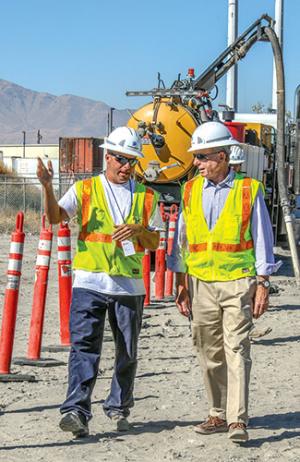 Dominion is such a great company and had such a great leadership team. At that point in time, Tom Capps was still the CEO. I did meet with Tom Farrell before I took the job at Dominion. He is very persuasive. Although, he didn't have to try that hard to persuade me.
But I'll tell you that I don't think I realized how great a company until I walked in the door and really got to know people who work here. I think that's a reflection of Tom and his focus on safety and ethics. You see that throughout this company.
I also had seen Tom from time to time generally at UVA sporting events. He was extraordinarily involved in the life of the University of Virginia. I doubt there was a football game or a basketball game that he missed, even with his busy schedule. There were some, obviously. But he had an amazing ability to accomplish a lot.
When I was in the Governor's Office, I would see him occasionally at those kinds of things. But it really wasn't until right before I came to work here that we had a serious conversation about me coming to Dominion Energy.
PUF: What do you think about Tom Farrell's biggest accomplishments during those fifteen years as CEO?
Bob Blue: I started in July of 2005. He became CEO about six months after I started at the company. One of the first decisions that he made as CEO was to sell our exploration and production business. 
A lot of people don't think about this today, the fact that we were a large independent producer of natural gas in the Gulf of Mexico and other places. That decision reduced our earnings substantially. But it was a recognition of what our investors were looking for. And an understanding of an approach to move us toward a more regulated company. That decision was followed quickly by actions by the Legislature in Virginia to put the brakes on deregulation of electricity supply and reregulate instead. 
When you step back and think about those major decisions early in his tenure as CEO, and given what has transpired in natural gas markets since, that was clearly the right decision for our company. I think you can just look along his career. A few very significant decisions on our strategy that, in hindsight, were obviously correct.
It takes some courage to reduce your earnings by a third, in your first year as the CEO of a company. But he also understood what the impact would be. It was a right decision, clearly. I don't think anyone would argue with that.
If you think about what has since transpired when we became re-regulated. We built some highly-efficient natural gas generating stations that have been really beneficial for our customers, and have reduced emissions for us. It's one of the reasons that our company, in an industry that has led the way in reducing carbon emissions, has been better than the average. 
When you look at our overall emissions profile, we've reduced our emissions as we've converted from coal to natural gas generation and added renewables and maintained that baseline of nuclear throughout. Again, these are decisions that Tom made as CEO that have worked very well for our customers and for the environment.
PUF: What other things would you say were really important during that time you worked closely with him?
Bob Blue: Tom recognized that we have all these numbers that we track. But behind every one of those numbers is a person. I remember one of the internal meetings where he was presenting to, I think, the officers and the directors of the company. He was going over our safety statistics, which if you looked at the numbers over his tenure, the number of people injured at work has been on a consistent trajectory down.
He asked, you know why I focus on this? And then said, because we're the kind of company that doesn't want people to get hurt.
But broader than that, it reflects on attention to detail. You don't get hurt when you're paying attention. And it's paying attention to yourself and it's paying attention to your colleagues. When you pay attention to detail in one aspect of your job, you are more likely to do it in other aspects of your job.
That focus on safety reflects the approach that he wanted us to take in all parts of the business. Pay attention to detail. Take care of your colleagues. And we'll be a better company for it.
PUF: Veterans in the utilities industry was definitely one of Tom Farrell's passions.
Bob Blue: He's from a military family, a very distinguished military family. That was reflected in the way he carried himself and the way he thought about life.
He recognized what should be obvious. That people who come from a military background have a culture that fits with our industry and particularly our company. Again, a focus on safety, and a commitment to taking care of your colleagues. 
It just made sense that we ought to be focused on hiring people who have that mindset. That was clearly a passion of his. And what he focused on across the industry when he was the chairman of the Edison Electric Institute.
PUF: You've stepped into big shoes. But you have to be your own man. What will you carry on in stepping into the shoes?
Bob Blue: I would focus on his sense of ethics. An understanding of what's right and wrong. That at our company we say what we're going to do and we do it. And we do it with a sense of honesty and integrity. That is not going to change at Dominion Energy.
EEI President Tom Kuhn
PUF: What are some of the things you most remember about his impact?
Tom Kuhn: I remember working with Tom prior to when he became CEO. He was always one of the nicest and smartest people and was constantly looking for solutions.
Tom joined our board in 2005. He served as EEI chairman from 2011-2012. That's pretty fast for someone to move up all the way to the chairmanship, through the vice-chairs. So that shows how highly respected he was by his colleagues. I always say that one of the greatest honors is to be selected by your colleagues to be chair of the industry association.
Tom was quickly thrown into one of our biggest challenges with respect to the environmental issues at that point in time. The mercury rule [commonly referred to as MATS], was probably the most significant rule to put us on the clean energy path.
Tom led many discussions back then with [EPA Administrators] Lisa Jackson and Gina McCarthy. As a matter of fact, I was talking with Gina [now White House National Climate Advisor] recently. She said she highly respected him and what a great person he was, and how sad it was that he passed away. 
Tom did much of the outreach and work to build consensus among EEI's membership and to engage constructively with regulators. This led to a final MATS rule that was rigorous but reflected industry input, especially with respect to compliance timelines that were more favorable than what was proposed. 
Tom was also very involved in the discussions about the Clean Power Plan when that was proposed. He truly was one of the pioneers who started us on our clean energy journey. Tom was very steadfast and said that we need to get the energy we provide cleaner because our customers want it. He indicated that the shareholders [of utilities] were moving in that direction as well. ESG investing was becoming a much bigger issue, and we wanted to be out in front of it.
PUF: He really had foresight at Dominion Energy about natural gas and electricity.
Tom Kuhn: He was an incredibly successful CEO in all respects. And, yes, he did understand the electricity and natural gas nexus. He totally understood how natural gas could help us become much cleaner and could replace coal plants. He was a major pioneer in that regard.
Beyond that, he was one of the first CEOs to pursue offshore wind. People were wondering at that point in time why we were looking at offshore wind. I think that was six, seven years ago. Tom saw the potential that offshore wind has, and Dominion Energy last year successfully installed the first offshore wind farm in federal waters, off of Virginia Beach.
PUF: He was very passionate about veterans in our industry and their unique fit and contribution.
Tom Kuhn: There is a long military history in Tom's family. He recognized that veterans possess many of the skills that we need in our industry and strongly supported the idea of hiring them. Dominion Energy started a major program to focus on veterans and veteran hiring. 
When he became EEI chairman, he called me and said he would like to establish a program to attract veterans to our industry. And I agreed that was a brilliant idea. His concept was we would work with the services and approach veterans before they got out of the military and educate them about the job opportunities that were available across the energy industry.
We launched Troops to Energy Jobs in July 2011 at the National Press Club. Many of our member companies signed up right away. Others joined later. It has been a tremendously positive program for our industry.
PUF: Talk about how he contributed to the industry working almost as one unit.
Tom Kuhn: Tom was just an amazing leader for the industry as a whole. He was a great consensus builder, focused on finding solutions and bringing people together. 
Tom believed the clean energy transition could happen a great deal faster, and he worked to bring everyone together on that goal. When you look back, the Clean Power Plan set a target to get our carbon reductions to thirty-two percent below 2005 emission levels by 2030. This was in 2015, and today, less than ten years later and well before 2030, we are at forty percent below.
Tom was a visionary. He was soft-spoken and did not impose his ideas on others. He just figured out a way to gain consensus. At EEI, our motto is "power by association," and Tom was the quintessential leader who helped us achieve it.

Lead image: Tom Farrell at CovePoint in 2018.