Author Bio:
Steve Mitnick, the president of Lines Up, Inc. and executive editor of Public Utilities Fortnightly, is the author of "Women Leading Utilities, the Pioneers and Path to Today and Tomorrow" to be published this June, "Lewis Latimer, the First Hidden Figure," and "Lines Down, How We Pay, Use, Value Grid Electricity Amid the Storm." Mitnick was formerly an expert witness testifying before the utility regulatory commissions of six states, District of Columbia, Federal Energy Regulatory Commission, and in Canada, and a faculty member at Georgetown University teaching microeconomics, macroeconomics and statistics.
Written by Michael Jackson and Lionel Richie. Produced by Michael Omartian and Quincy Jones, who also conducted. Among the soloists, Stevie Wonder, Paul Simon, Tina Turner, Billy Joel, Dionne Warwick, Willie Nelson, Bruce Springsteen, Bob Dylan, and Ray Charles. And in the chorus, Harry Belafonte, Bette Midler, Dan Aykroyd, and Smokey Robinson.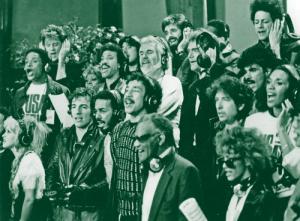 Belafonte wanted the most admired American artists in 1985 to get together for African famine relief. Before long the supergroup USA for Africa gathered to sing "We Are the World." The inspiring performance raised a huge amount for humanitarian aid.
While "We Are the World" was a passionate call for the public to give to this very good cause, it's also timeless poetry about people, whoever they are, wherever they're from, choosing and working as the world's children to make a better day. I thought of this beautiful song when we were assembling this issue of Public Utilities Fortnightly, since it features electricity leaders from every continent collaborating, and leaders within our country driving diversity and decarbonization.
"We are the world. We are the children. We are the ones who'll make a brighter day... Let us all realize that a change can only come when we stand together as one."
The EEI evidently really believes that electrification requires an all-in global effort. Its global forum is an unprecedented gathering of the world's electricity leaders. The pandemic-induced virtual approach meant CEOs from New Zealand to Norway to Nigeria to the Netherlands, from Iceland to India to Italy to Ireland, from Spain to Saudi Arabia to Sweden to St. Lucia, and so on getting together in one cyber spot. Joining in as well were, quite spectacularly, Charles, Prince of Wales, and Australia's Prime Minister through 2018, Malcolm Turnbull.
This issue of PUF captures many of the extraordinary conversations of the global forum. Our June issue will capture many more. 
A number of our companies are determined to help lead the diversity revolution in which their talent pools, whether for their workforces or contractors, shall broadly include any of the brightest and most dedicated without respect to gender, race, ethnicity, personal preference, etc. PUF annually salutes such initiatives in our May issues, including herein.
And a number of the companies are racing to lead the decarbonization revolution in which the cleanest energy source, electricity, becomes the completely clean resource to power the twenty-first century. One such utility is Entergy. The PUF team recently sat down with its dynamic chief operating officer to hear about how hydrogen might be in its secret sauce heading toward net zero. 
This issue's cover painting fits into this theme. Once again NARUC's president, Idaho PUC president Paul Kjellander, went to his easel and created a stunning work of art for Public Utilities Fortnightly. This one highlights the transformation to the electrification of transportation by depicting an actual EV charging station built from an old gasoline filling station.
President Kjellander has also painted the cover for my new book, "Women Leading Utilities, the Path to Today and Tomorrow." The painting, entitled "Like Them I Can Be Anything," depicts a pre-teen girl inspired as she researches the women who played leading roles in building the utilities industry of the twentieth century and those that are co-leading the industry of the twenty-first.
Just as President Kjellander keeps painting while plying his regulatory skills, I keep writing books about the utilities industry while managing Public Utilities Fortnightly, the digital weekly This Half Fortnight, and our Impact the Debate Visually videos. After "Women Leading Utilities" is published next month, I'll concentrate on my next tome, this one on the veterans in our industry, to be called "Front Lines to Power Lines."