Author Bio:
Lori Burkhart is Editor-in-Chief of Public Utilities Fortnightly.
It was a real conference. What we mean is that it was an event that you actually traveled to. That you actually gathered together at, to catch sessions on pressing regulatory and policy issues of the day. And together with long-lost colleagues who, like you, were numbed by fifteen months of social distancing.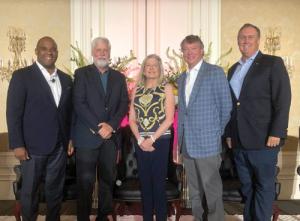 Nearly two hundred converged on a conference hotel in central Pennsylvania, in the last days of June, to attend in-person style the MACRUC annual education conference, NARUC's regional conference for the eleven utility commissions of the Mid-Atlantic. Sure, an equal number watched the proceedings via their device at home, though they missed out on the very welcome warmth of a real honest-to-goodness conference.
Lead image: Session panel for "COVID-19 Impact to Commissions and Utilities in the MACRUC Region." From left to right, District of Columbia PSC Chair Willie Phillips (MACRUC President), Idaho PUC Chair Paul Kjellander (NARUC President), AGA's Karen Harbert, EEI's Philip Moeller, and NAWC's Rob Powelson.