Author Bio:
Steve Mitnick is President of Lines Up, Inc., Executive Editor of Public Utilities Fortnightly, and co-author of a new book, "Front Lines to Power Lines," and before that the author of "Women Leading Utilities, the Pioneers and Path to Today and Tomorrow," "Lewis Latimer, the First Hidden Figure," and "Lines Down: How We Pay, Use, Value Grid Electricity Amid the Storm." Mitnick was formerly an expert witness in proceedings before the utility regulatory commissions of six states, the District of Columbia, the Federal Energy Regulatory Commission, and in Canada, and a faculty member at Georgetown University teaching undergraduate microeconomics, macroeconomics and statistics.
It should be obvious by now that a culture of innovation is an imperative for the utilities industry. If only because the challenges we face, from the threat of climate change to the demand for customer centricity to the complexity of today's grid to the aging of the legacy infrastructure, and so on and so on, require continuous learning, invention, and integration.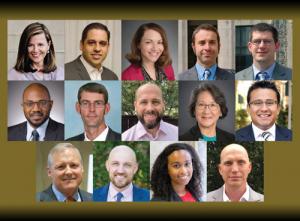 Public Utilities Fortnightly started publishing an annual special issue on innovation back in 2017. Each year's special issue has featured the Fortnightly Top Innovators, which uniquely highlights and celebrates individual innovators or small teams of innovators. In the 2021 special issue on innovation herein, the PUF team does this for the fifth year.
In the 2017 special issue, for example, we cited the Electric Power Research Institute's Maria Guimaraes for her wall climbing robot and Andrew Phillips for his line crawling robot. And the New York Power Authority's Emilie Bolduc for her "New York Energy Manager" and Ricardo DaSilva for his utility-wide digital hub.
In the 2018 special issue, again for example, we cited Ameren's Cole Crews for the first private LTE network and Hawaiian Electric's Rebecca Dayhuff Matsushima for her model distributed generation contract. And Commonwealth Edison's Shay Bahramirad and Sandor Williams for their smart grid pilot in a low-income Chicago community.
In the 2019 special issue, again for example, we cited San Diego Gas and Electric's meteorology team for their breakthroughs on wildfire prediction and mitigation. And Public Service Electric and Gas' Alexa team for their real-time customer service app.
Last year, in the 2020 special issue, again for example, we cited Burns & McDonnell's Zachary Wassenberg for virtual reality wearables. And Xcel Energy's drones team that pioneered remote and distant inspection of wind turbines.
Among this year's Fortnightly Top Innovators, it's tough to pick one or two particularly accomplished innovators among so many of them. With that said, there's the Arizona Public Service team for their fast-track emergency air conditioning program, the California Public Utilities Commission team for their program to accelerate microgrid adoption, and the CenterPoint Energy systems operations team that creatively coped with the Winter Storm Uri generation system outages, maintaining electric service for Houston area customers with less disruption. 
Hold on. There's more in this special issue of PUF on awards that applaud industry innovators. 
Thomas Edison founded the Association of Edison Illuminating Companies in 1885. Just three years had passed since he jump-started the electricity industry with the opening of the first central power plant, Pearl Street Station. Now in its hundred and thirty-sixth year, AEIC is still fostering collaboration across the industry through its prestigious committees, as Edison intended, particularly in all facets of electric operations.
To further foster collaboration and learning what's working well and what's not working as well, AEIC recognized ten industry innovations this year. They're calling them the Top 10 Awards. Commonwealth Edison earned two of the ten, and the other awardees were Con Edison, Duke Energy, Eversource, Florida Power and Light, the New York Power Authority, PPL Electric Utilities, Tampa Electric, and the Tennessee Valley Authority.
One of my favorites is the Eversource award. To better detect and analyze momentary electrical outages that customers experience, in its "Give Me a Moment" project, Eversource automated the integration of data from multiple systems to provide a holistic view of the distribution network. They named the new tool ARCHIE, which stands for Analyzing Reliability and Circuit Heuristic Impacts at Eversource. 
Another favorite among the AEIC Top 10 Awards is Commonwealth Edison's development of a four-hundred-and-eighty-volt arc flash simulator. It's meant to give utility employees a greater respect for hazards, so they're less complacent going forward when dealing with energized equipment. The simulator is said to be an immersive and memorable experience, literally vibrating your chest while you feel the air around you rapidly heating up.
Check out the details on all the Top 10 Awards within this special innovation issue of PUF. But I cannot resist telling you all about a third favorite of mine. The New York Power Authority is deploying drones to inspect its vast network of lines crisscrossing the Empire State. To pull this off comprehensively and securely, it simultaneously deployed a private LTE network of communications.
And there's more in the special issue, as there is more and more innovation in the utilities industry. There's never been so much invention as there is today in the technology and strategies of transmission. In this issue, we focus on the game-changing advancements in the selective undergrounding of transmission.