Author Bio:
Heather Humphrey is General Counsel at Evergy. Ellen Fairchild is Chief Compliance Officer at Evergy. Dan Hahn leads the Energy Providers practice within Guidehouse's global Energy, Sustainability, and Infrastructure segment.
Electric Power, Arizona Public Service, Evergy, Northwestern Energy, PPL Corporation, WEC Energy Group, and Xcel Energy, as outlined below by execs from these companies, have quite decisively accelerated their progress on ESG priorities, through investment, innovation, and a clear intent to be recognized as leaders in ESG at the same time that they continue to deliver safe, reliable, and affordable utility service to the communities that depend upon them, powerfully.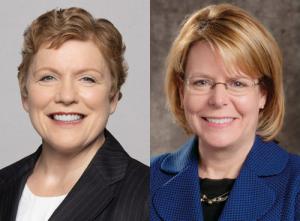 Guidehouse's Dan Hahn: What are the important things to know about ESG at Evergy?
Heather Humphrey: I'm general counsel and corporate secretary. Ellen is our chief compliance officer, and we lead Evergy's ESG team.
ESG to Evergy is a journey, and we have been on the journey for a while. In the last year and a half, from a pure strategy perspective, we have the benefit of having totally rethought, reengaged, and published our five-year plan and investment strategy, which includes a ton of renewables and environmental work.
While I say, it's a journey, it's not brand new to us. The reporting structure, the internal infrastructure, and how we think about sustainably doing business, for shareholders, customers, employees, and the communities we serve — these are not new concepts for us.
Ellen and I are making it our number one priority, along with our leadership team and the board, to make sure the work we're doing is getting out, being talked about, and understood so as we progress, we get credit for all the things we've done, and for what we are committed to doing going forward.
There's a healthy tension that the focus on ESG helps place on companies, as well as stakeholders to say, what's important? Let's define that. Let's talk about it. Let's make sure we're all on the same page, and you're holding us accountable to not just satisfy ourselves, but to be accountable to others.
PUF's Steve Mitnick: Ellen, what's your role in all this?
Ellen Fairchild: My role is more in the trenches. Part of my role is trying to figure out what are the best places to disclose information, to improve scores, because scores are important.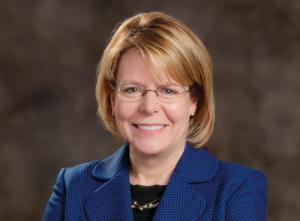 Also, how do we tell the story that resonates across all our stakeholders? Not just investors, but customers are starting to focus on ESG, and it's important for employees from a recruiting perspective.
PUF: Heather, Evergy is in Kansas and Missouri, and there's a diverse community. How do you and your board deal with all these constituencies in explaining what you're doing, and listening to them, too?
Heather Humphrey: I'm biased toward the utility industry. I've been in the industry for almost fifteen years. So much of the work we do is to collaborate, think about the future, and how we're going to continue to meet the needs of customers and stakeholders.
Due to the important place utilities have in society, we already have the internal DNA that drives us to meet all our stakeholders where they are. We always strive to do that, whether it's a regulatory proceeding, customer service or fortifying the grid.
Everything we do has to be driven by and talked about to constituents. They need to understand from their vantage point why what we're doing makes sense. ESG is like that.
We're fortunate in one way. The function that Ellen and I have with ESG is made easier because our company strategy is so ESG forward, leaning into ESG.
We could easily have found ourselves in the position of being the tail that's trying to wag the dog, from a reporting perspective, or from a compliance perspective. That's not the case at Evergy.
Ellen Fairchild: With the diverse territory we have, to Heather's point, when she talked about our five-year plan, it is based on investment in renewables. Part of that is because we are in Missouri and Kansas, and Kansas is the wind capital of the nation.
Over the next ten years, we plan to add four thousand megawatts of renewables, between solar and wind, and we're going to retire two thousand megawatts of coal. We're taking advantage of our service territory to transition from primarily a coal-based utility to a renewable company. We're in that sweet spot.
Shutting down coal impacts communities, but we're able to backfill that, because of where we sit with renewables. From a state and a regulatory perspective, it's more about a timing and transition conversation than about stranding communities and assets.
PUF: Do you get questions like, National Grid's doing this, and Southern California Edison's doing this, so why isn't Evergy going to become zero carbon by 2023?
Heather Humphrey: We have put a stake in the ground to be zero carbon by 2045. We took our time in committing to zero carbon, because we wanted to be conscientious and make sure the timing was right for our region and all our stakeholders. We've done that.
Being a Midwestern utility, and primarily coal-based, irrespective of the abundance of wind and renewables available, there are still hurdles and we wouldn't want to be getting there too hastily. We are not affected by what the coasts are doing, we're affected by what's right for Missouri and Kansas.
Twenty to twenty-five years ago, the calculus might have been something as simple as, can we get recovery? Or is this the cheapest way to get it done and get it recovered?
That is not the analysis today. Today, we are optimizing all the options around renewables, but it has to be in an economical way. That's how we get buy-in regionally.
We are not in part of the country that will tolerate paying a major premium for energy that when you turn on your light switch, feels like it's exactly the same as they received before a transition to clean energy. Fortunately, that doesn't have to be the way we deliver it.
Ellen Fairchild: We've done a lot since 2005, we've reduced carbon emissions by fifty-one percent. Half of our customers are served by emissions-free sources.
We're second among our Midwest peer utilities with our emission-free energy mix. While we can look at the coasts, we shouldn't diminish what we've done as a utility in the Midwest. We have a lot to be proud of.
We also have our Clean Charge Network, one of the largest EV charging networks in the nation. We get beaten up a little bit, but it's because maybe we haven't told our story well enough yet. That's why communication and getting our message out is top of our list.
PUF: What's most rewarding in this kind of work?
Heather Humphrey: When I think about renewable energy and ESG, it's not just the E, the social and governance components are equally compelling. What's next in this country, and in the world, as it relates to ESG and our part in doing better as a company and in total?
When you have an opportunity to make a difference, when you have this visibility to something bigger, that doesn't come along every day, and it is not something I take for granted. If you can do work that's satisfying, you're a lucky person.
Ellen Fairchild: I agree. You work in the utility industry because it's bigger than yourself. You work in it because we're critical infrastructure, and we support what goes on in the nation. You have this sense of pride, when your crews are out working, they're in the storms, and you see them go and do mutual assistance. It's the same with ESG, in that we have the ability as a utility to lead the energy transition for our region.
That's just the E part of ESG. The whole social and governance piece is critical as well. It's being a place where employees want to work, because they're valued, and they feel like we're making a difference in the world by the work we do.
Dan Hahn: Regarding ESG, can you give an example within the community around the S?
Heather Humphrey: As it relates to ESG, we've had a supplier diversity program, and it's been around a long time. In fact, it predates the most recent ESG movement. It is a great symbol of the core DNA at Evergy and shows that these issues have mattered to us for a while.
We believe in the community, and work with diverse suppliers, to help them earn business. That's not just to supply us, but to work with other entities in the region, and it has been a hugely successful program.
Ellen Fairchild: I have a lot of S stories, but I will touch on the employee piece. Employees are aligned about the value we provide. They're engaged. Even in a year of pandemic, we take an annual Gallup survey of employees, and we increased in 2020, by twenty percent from the previous year.
Also, during that time frame, our employees volunteered over twenty thousand hours and gave over a million dollars in community donations.
We made a specific plea to employees around the pandemic and giving. That's in addition to the over eight million dollars that the company gave in community support.
ESG Powerfully conversations, some with Guidehouse's Dan Hahn and Michelle Fay: