Author Bio:
Moderator Clint Vince is the Chair of Dentons US Energy Practice. He is also a former chair of the Keystone Policy Board of Trustees, as well as the Keystone Policy Energy Board. Justin Driscoll is Interim CEO of NYPA. Karen Wayland is CEO of the Gridwise Alliance. Rob Schwartz is CEO of Anterix. Paula Gold-Williams is Board Chair of the Keystone Policy Center. Jan Vrins is a partner and segment leader for the global Energy, Sustainability, and Infrastructure segment at Guidehouse.
Dentons partnered with the Keystone Policy Center in early December to hold its Smart Cities and Connected Communities Think Tank with Keystone's Key Conversations. The virtual gathering was held to sort through recent developments with ramifications for the energy and utilities industry.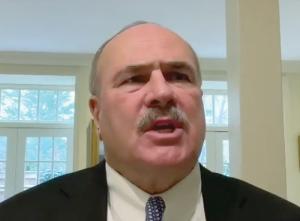 These events, domestic and global, are sure to shape the future of power. Many hot energy topics were explored, including the signing of COP26, passage of the Infrastructure and Investment Jobs Act, and the future of the Build Back Better Act. 
The Global and Domestic Events Panel panel was moderated by the Chair of Dentons US Energy Practice, Clint Vince, also a former chair of the Keystone Policy Board of Trustees, as well as the Keystone Policy Energy Board. It brought together five leaders in the energy industry to discuss the latest big issues, global and domestic. 
Herein, you will find New York Power Authority Interim CEO Justin Driscoll, Anterix CEO Rob Schwartz, Guidehouse Segment Leader of Energy, Sustainability and Infrastructure Jan Vrins, Gridwise Alliance CEO Karen Wayland, and Keystone Policy Center Board Chair Paula Gold-Williams. Enjoy these memorable moments.
 
Moderator and Chair, Dentons' US Energy Practice, Clint Vince: Karen, what are the most important features of the Infrastructure Act as they relate to grid modernization? I know you were integral in shaping many of those features.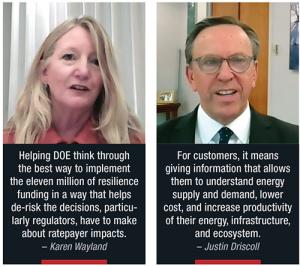 CEO, Gridwise Alliance, Karen Wayland: It was an industry-wide effort to develop recommendations for Congress and advocate to Congress for those investments they put into the infrastructure package. 
When I add up what's in the infrastructure package, that is separate from all the storage incentives, battery recycling, and clean energy incentives. The grid package itself is historic, on the order of maybe close to about twenty billion. 
If you look at the amount of money that's available in the broadband area, which is a separate part of the bill that doesn't flow to DOE, there are more billions that are available for the utility industry to make investments in utility and communication. 
There's eleven billion for different kinds of resilience programs, there's three billion for grid flexibility, and there's increased funding for cybersecurity, although we'll be working to increase that number further. There's a whole suite of other sets of investments for electric vehicles, batteries and other things. They're enabling programs to help the grid evolve to be this platform for decarbonization.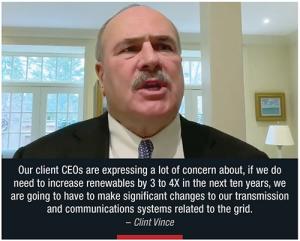 Moderator and Chair, Dentons' US Energy Practice, Clint Vince: We're seeing tremendous opportunity for tax credits for renewables, essential for decarbonization goals articulated in COP26. But it's also going to place stress on the grid. What are you focused on in terms of challenges and potential solutions to maintain resilience?
CEO, Gridwise Alliance, Karen Wayland: Helping DOE think through the best way to implement the eleven million of resilience funding in a way that helps de-risk the decisions that policymakers, particularly regulators, have to make about ratepayer impacts.
One of the crucial issues we are going to focus on is how DOE will structure those programs in a way that some are split between DOE funding and state funding. How will you work with the states to set up the rules, to set up the kinds of eligibility, so states can have the flexibility to address the big resilience issues, because resilience needs differ geographically.
Also thinking through how to make sure we have a lot of data on reliability and the impacts of investments on reliability. We have growing sets of data on the impacts of resilience investments and the benefits of those investments, but it is a little more difficult to make the benefit cost pencil out for pure resilience investments.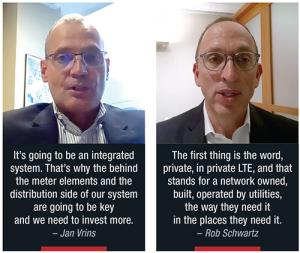 One of our goals in advocating for federal funding across this grid space was to help ease the kinds of decisions and accelerate the decisions at the state and local levels to make this transition happen.
Moderator and Chair, Dentons' US Energy Practice, Clint Vince: Our client CEOs are expressing a lot of concern about, if we do need to increase renewables by three to four X in the next ten years, we are going to have to make significant changes to our transmission and communications systems related to the grid. What essential point would you like to convey?
CEO, Gridwise Alliance, Karen Wayland: We asked our members about emerging technologies, what one of the fundamental backbones of the modern grid would be, and from the small utility all the way up to the major independent IOUs, the answer was an upgraded communication network.
We're beginning to see a lot more attention to the fundamental role that communication networks, whether it's wireless, broadband, are going to play in smart grid, smart cities, and having a grid that is flexible and responsive enough to deal with the increased amount of renewables.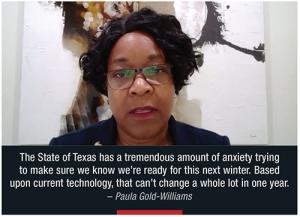 Moderator and Chair, Dentons' US Energy Practice, Clint Vince: You can't modernize the grid without modernizing communications. Can you explain that a little more carefully?
CEO, Anterix, Rob Schwartz: The availability of both the spectrum, which is the asset we bring forward as Anterix, as well as the ability to understand how to deploy this and solve these kind of use cases, we want to make sure that is available, not just individually, but collectively to the industry.
For us to reach our renewable goals, to reach distributed energy integration, sensor situational awareness, and use that data to make important and critical actions, that's going to require a significant increase in the communications capabilities. What we're driving is using LTE, which is long term evolution, the same technology in the phone in all your pockets. The evolution is that evolves into 5G as it's needed by the industry.
There is this collective effort I talk about. We see the network across the country as this nationwide network of networks. We are currently working with San Diego Gas and Electric, Ameren, Evergy, and other utilities. Southern Company has deployed LTE. The issues that are faced in the collective effort to be able to figure out the best technology drive vendors to be interested in this.
We just announced something called, The Anterix Active Ecosystem Program. Now, over seventy companies are collectively helping drive the ecosystem only because we've defined this as a collective effort. It used to be that individual utilities were trying to get vendors to help them do things.
Now that we have the collective vision in this sandbox, in this active ecosystem program, we've got companies like Cisco, Motorola, GE, NOKIA, Burns & McDonnell, Black & Veatch, the list goes on.
We just launched a subset of that, a new effort to drive a focus on cybersecurity. We call it the Anterix Security Collective. Because recognizing the complexity facing utilities and addressing the security challenges, we wanted to be able to bring that collective action together.
Communication is such a critical piece. The number of sensors we're seeing utilities planning to deploy within their infrastructure, to be able to be aware of what's happening both from a cyber standpoint and an operational standpoint, is mind blowing.
Millions and millions of sensors, and the ability to make sure that also brings the layer of cybersecurity that's required uniquely by utilities as they deploy and operate their own communication networks.
Moderator and Chair, Dentons' US Energy Practice, Clint Vince: How does a private LTE network assist in a utility's cyber security protection?
CEO, Anterix, Rob Schwartz: The first thing is the word, private, in private LTE, and that stands for a network owned, built, operated by utilities, the way they need it in the places they need it, and with the level of resiliency and security we talked about. Private says that, unlike using an off the shelf commercial product, no one else is going to have access to that network. 
You're air gapping, and firewalling that from the public internet. That's the level one of making sure it's cybersecure, and then the information that flows through that. That's where the initial six companies that we pull together in this security collective are focused on things like cyber threat intelligence and zero trust security data authentication.
It's the availability of that secure private network to monitor all the assets. We're talking about the deployment of a lot more assets into this network, that each of them is going to have a level of interaction with the incumbent utility, but also there's going to be third parties operating those, and the way in which we're going to secure that environment is critical.
Ameren, when we deploy with them, is planning to consolidate over twenty different existing legacy networks onto their single LTE network. You then have a single resilient, secure network. 
Moderator and Chair, Dentons' US Energy Practice, Clint Vince: Jan, what are you seeing from a practical industry standpoint, your client standpoint, regarding the new Infrastructure Act and prospects under Build Back Better?
Segment Leader - Energy, Sustainability and Infrastructure, Guidehouse, Jan Vrins: I want to comment about what's happening at the global scale. There are over seven hundred billion euros in the European Commission spent on resiliency and decarbonization of the energy system in Europe. The infrastructure bill in total is about six hundred, which is a lot more than physical infrastructure in roads, et cetera. 
We work with our clients to figure out what are the programs that the federal government is looking at to fund. It cuts across many of the agencies. Department of Energy, Transportation, but also Department of Defense, Interior. This will come from multiple agencies, it will then go to state and local levels, as well as some of the cities and counties. There will be other recipients like utilities. There's a lot of money.
We can't forget the distributed grid as well. The DER side, and I've been talking about this for many years. This concept of energy cloud. It is one system from generation, transmission to distribution, to behind the meter.
It connects to buildings; it connects transportation infrastructure. We're not going to have an energy system and a separate EV charging infrastructure. It's going to be an integrated system. That's why the behind the meter elements and the distribution side of our system are going to be key and we need to invest more.
Moderator and Chair, Dentons' US Energy Practice, Clint Vince: Can you elaborate on what you expect to see with distributed energy resources and demand response?
Segment Leader - Energy, Sustainability and Infrastructure, Guidehouse, Jan Vrins: Arshad spoke about how we need to accelerate large scale renewables three X. Distributed energy resources will grow at a faster pace than that. 
It will grow at a faster pace and central station expansion in the next ten years. What we mean by that are things like energy efficiency, demand, response, distributed generation, behind the meter solar, behind the meter storage, and electric vehicles, that's also a DER. 
I use this example all the time, if twenty percent of the personal vehicles in the U.S. would be electric, that would give you three hundred gigawatts of battery storage capacity available. Now that's theoretically available, it doesn't mean it's all the time available, but on average we use our car at most twenty percent of the time.
Fleets like school buses, they are available after four, exactly when the peak starts to kick into the system. There's a huge opportunity to use that resource, which is a distributor resource to help with peak shaving, as well as provide resiliency to the grid. So, we can't forget the DER side.
A lot of the DER is driven not so much by policies and regulations but more by technology and even more so by customer demands. Customers want solutions that serve their specific needs.
There's a lot of good ones out there that are behind the meter.
At the community level, things like microgrids, a lot of opportunities there. I'm glad the current administration believes energy efficiency is important and will continue to invest in energy efficiency.
Moderator and Chair, Dentons' US Energy Practice, Clint Vince: One of the more interesting projects the New York Power Authority is doing is creating the first end to end digital utility. Tell us what that means.
Interim CEO, New York Power Authority, Justin Driscoll: In 2012, we started to experience some failures in our transformers and other elements of the aging power system. At the same time, there was a lot of R&D going on in development of accelerating computing power, advanced software, and analytics.
We saw everything's going to be digital. We started a quest to become an end-to-end digital utility. That kicked off in about 2017.
On the generation and transmission side, it means combining these digital processes, data technology, and people to drive business insights through the connectivity, big data, and analytics that the technology and digitization provides.
For customers, it means giving them business insights and information that allows them to fully understand their energy supply and demand, lower the cost, and increase productivity of their energy, infrastructure, and ecosystem. 
The digital utility that we're creating has three pillars. One is our integrated smart operation center. That takes data from our transmission and generation system and feeds it into a central location in our central office, in White Plains. It's effectively creating digital twins of our generation facilities and our transmission, so we can model real-time performance against what is supposed to be happening.
Ideally, we can identify deviations and spot problems that can then eliminate unplanned outages. We've already seen huge savings as a result of the analytics from that data flow.
The other component is what we call AGILe or Advanced Grid Innovation Laboratory for Energy. This is another digital twin. It's the digital twin of the transmission system that we've modeled. We share with other utilities and academia. 
It's a closed loop system, so we can take a proposed utility scale farm, solar farm, or wind farm and plug it into the model and see what impacts it would have on the grid, performance, congestion, and other issues that might develop.
The third is what we call New York energy manager, which is the building data set. It's a unique data set of seventeen thousand governmental buildings. Given the nature of our customers, we can help them analyze their energy use. We can also do our own analytics. It's valuable and another thing that makes this digital journey unique.
On the sensor side, we have eighty thousand sensors deployed across our system, and we're looking to go to a hundred and thirty thousand sensors. That sort of captures our digital journey.
Moderator and Chair, Dentons' US Energy Practice, Clint Vince: We've heard about resource adequacy issues, especially impacting Texas. Talk about those issues and comment on your perspective on social equity in our industry.
Board Chair, Keystone Policy Center, Paula Gold-Williams: I live in a state that experienced Uri and it was an emotional journey for the citizens of San Antonio and Texans. We had the experience of what a lack of resource adequacy can feel like when you're being pressured by a major event. When you look at it technically, we use all these complicated terms, resource adequacy.
What we're really talking about is, do we have enough capacity to serve the customers that need power? We try as great professionals to plan for these peak times. When do we need peak, and Texas has been known for having a summer peak.
What Uri did in the middle of our short winter, is increased the demand for power beyond anything we had seen in summer, historically. You are not only planning for a dual season, but you're also planning for these unknowns.
We experienced more demand for power that caused us to have to force outages. We got instructions from ERCOT. We must take outages to customers, and it got to be so big in Texas, that we couldn't even rotate them. 
That's what caused the challenges where we had people out for days, some of them five days, and it was a horrible experience. Right now, the State of Texas has a tremendous amount of anxiety trying to make sure we know we're ready for this next winter.
Based upon current technology, that can't change a whole lot in one year. We are coming together to try to give confidence to our citizens, that we are running our plant hard as we can. We are fine tuning them. We're coming out of the period of increased maintenance and higher levels of maintenance.
We have enhanced how we weatherize our units. We're collaborating extremely well. But the unknown again is how extreme this storm will be if there is one, how extreme the weather and the cold frigid temperatures will be.
Even more than the depth of how cold it will be, will be the duration of that in experience. How long can it go below freezing and almost close to zero, which again is something highly unusual in Texas, but we did experience it.
So, resource adequacy. We had to think about how you talk to the average citizen about this.
We talked about customers have preferences and they're driving how we're supposed to be investing more in cleaner and new technologies, but they also have a level of anxiety around how we serve them.
When you think about how many people, from an economic standpoint, are still being plagued by the challenges of the pandemic. If you're serving a community that already has a high level of poverty like San Antonio, you think about that complexity, and the digital divide. 
We're talking about all this technology that we need to put in place, but the average citizen doesn't have that awareness, comfort, and may not have that level of access. Communities can't find enough resources and keep bills affordable enough to increase the pace and velocity of how we're going to have to implement change.

See also: Excerpts from the Keynote by EPRI CEO Arshad Manoor.