Author Bio:
Steve Mitnick is the Editor in Chief of Public Utilities Fortnightly. He has authored four books on the economics, history, and people of the utilities industries.
NARUC's Summer Policy Summit in late July took place in San Diego. There were so many engaging topics held on regulation in the public interest, that it is unlikely attendees found time to steal away to the many beckoning beaches.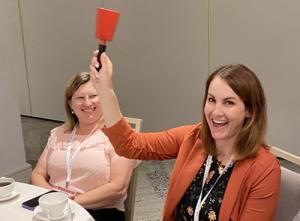 Forgoing San Diego's beaches, many attendees chose to have fun and be enlightened at Public Utilities Fortnightly's Soapbox Luncheon. Whether it was the song by Commissioner Holden, the poem by NARUC's Davis, or the rousing remarks by EPRI's Jereza, and much more, the fourteen two-minute "speeches" entertained and informed as well. The two-minute time limits were strictly enforced as always by the timepieces and cowbells of Staff of the Texas PUC and Idaho PUC.
See photos from the event at our Facebook gallery.

Lead image: Texas PUC Staff were charged with ringing a cowbell when a soapbox speaker exceeded the two-minute time limit.