The National Association of State Energy Officials held its 2023 Energy Policy Outlook Conference in Washington, D.C. February 7 - 10, with the theme, Clean Energy Abundance: An Economic and Climate Advantage.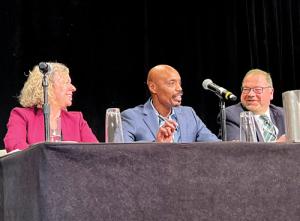 The conference brought together leading experts in all subjects having to do with decarbonization from local environs and throughout the United States. There was a plethora of meetings, too many to capture in these pages.
Enjoy memorable moments at our Facebook gallery.

Lead image: From left, Business Council for Sustainable Energy President Lisa Jacobson, Alliance to Save Energy SVP Vincent Barnes, and Alaska Energy Authority Executive Director Curtis Thayer.