Public Utilities Fortnightly held its annual State of State Regulation luncheon on February 13 during NARUC's Winter Policy Summit. A series of five-minute, lively talks with five regulatory experts were held by PUF's Steve Mitnick and Paul Kjellander.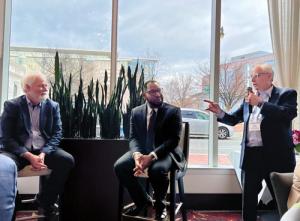 Discussing how they see the state of state regulation, were NARUC second VP and Georgia PSC Chair Tricia Pridemore, Big Rivers Electric Corp. CFO Talina Mathews, Xcel Energy Colorado President Robert Kenney, Black Hills Energy VP Colorado Regulatory Affairs Nick Wagner, and U.S. DOE Deputy Director - Energy Justice Tony Reames. A good and informative time was had by all.
See memorable moments at our Facebook gallery.

Lead image: From left, PUF's Paul Kjellander, U.S. DOE Deputy Director-Energy Justice Tony Reames, and PUF's Steve Mitnick.