Updated 10:24 AM EDT, Thu September 7, 2017
What do these eighty-nine energy people have in common?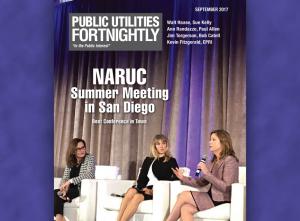 West Virginia PSC Chair Michael Albert, Paul Allen, Oklahoma CC Commissioner Bob Anthony, Congressman Joe Barton, Connecticut PURA Vice Chair John Betkoski III, Dee Bhambhani, Louisiana PSC Commissioner Lambert Boissiere III, Nick Camilli, Louisiana PSC Commissioner Foster Campbell, Chris Castro.
Bob Catell, FERC Chair Neil Chatterjee, Virginia SCC Commissioner Mark Christie, Eric Coffman, Delaware PSC Commissioner Joann Conaway, Jay Copan, Kevin Cosgriff, Tanuj Deora, Vincent DeVito, Georgia PSC Commissioner Chuck Eaton.
Georgia PSC Vice Chair Tim Echols, Pat Egan, Georgia PSC Commissioner Doug Everett, North Carolina UC Chair Edward Finley, Jr., New Jersey BPU Commissioner Joseph Fiordaliso, Kevin Fitzgerald, Tom Flaherty, South Carolina PSC Commissioner Elizabeth Fleming, Bill Flynn, Sheri Givens.
Walt Haase, South Carolina PSC Commissioner O'Neal Hamilton, Julia Hamm, South Dakota PUC Vice Chair Gary Hanson, Tom Hassenboehler, Steve Hauser, Bill Hederman, Colette Honorable, South Carolina PSC Commissioner John Howard, Maryland PSC Chair Kevin Hughes.
Virginia SCC Chair Judith Jagdmann, Montana PSC Chair Brad Johnson, Phil Jones, Nebraska PSC Commissioner Rod Johnson, Lynn Jurich, D.C. PSC Chair Betty Ann Kane, Connecticut Consumer Advocate Elin Katz, Montana PSC Vice Chair Travis Kavulla, Rick Kessler, John Kliem. 
Tom Kuhn, Commissioner Cheryl LaFleur, Nebraska PSC Commissioner Frank Landis, Congressman Bob Latta, Diane Leopold, Tom Linquist, Arizona CC Commissioner Doug Little, Dennis McGinn, Aimee Mills, Massachusetts DPU Chair Angela O'Connor.
Michele Patron, Delia Patterson, Paulo Pereira, Christine Perey, California PUC President Michael Picker, FERC Commissioner Rob Powelson, Ann Pramaggiore, Mississippi PSC Chair Brandon Presley, Ann Randazzo, Nebraska PSC Chair Tim Schram.
John Simmins, Kansas Representative Tom Sloan, Marilyn Smith, Susan Story, Branko Terzic, Arizona CC Commissioner Andy Tobin, Congressman Paul Tonko, Jim Torgerson, Vicki Trees, Greg Upton, Terry Waters.
Greg White, Geisha Williams, Maryland PSC Commissioner Harold Williams, Alaska RC Commissioner Janice Wilson, Delaware PSC Chair Dallas Winslow, Georgia PSC Chair Stan Wise, Barry Worthington, Kerry Worthington, Indiana URC Commissioner David Ziegner.
All eighty-nine are in September's Public Utilities Fortnightly. You'll be receiving this issue this week.
Each of these energy people authored an article or essay in the issue, or were interviewed, or were in a photo and named, or were in our list of longest serving commissioners.
The now twice-monthly magazine for commentary, opinion and debate on utility regulation and policy, Public Utilities Fortnightly. "In PUF, Impact the Debate."
Steve Mitnick, Editor-in-Chief, Public Utilities Fortnightly
E-mail me: mitnick@fortnightly.com