Updated 9:49 AM EST, Tue February 6, 2018
From pages 10-11 in February's Public Utilities Fortnightly, excerpts from our visit with Pennsylvania PUC Chair Gladys Brown. See the complete interview here.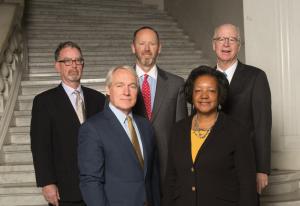 "We have a lot of challenges. As a big state, I really see that in the utility sector. People look to Pennsylvania in terms of things that we're doing. We have a lot of infrastructure here in the state, and the General Assembly assisted in improving that, starting in '96 when they put a distribution system improvement charge — a DISC — in place for the water industry.
That helped, because we had a lot of aging water systems, a lot of municipal systems that were being purchased by investor owned companies, but you know, their pipes and everything were terrible.
There were wood pipes in some cases, so you saw a lot of investor owned companies that were purchasing these old municipal companies, or old small companies that did not have the money to put into the infrastructure.
Then, we moved forward into other areas such as natural gas, which was the focus of some big concerns following explosions in the Philadelphia and Allentown areas.
It was around 2010. We really needed to put a DSIC in place for some of these other utilities. I was still in the General Assembly. I did work to expand that DSIC from just water, to water and sewer, and then to include electric and natural gas. It has been working well, because it allows the companies to have that surcharge in place on the bill to accelerate that aging infrastructure.
It works well because you see the improvements for the consumer, but you don't see that large increase on their bill. It's a small increase, and there are also protections in place. The companies must come in and show why they need a DSIC, because we're not looking to give them all this extra money, but money for a particular purpose.
The system must be in use before they start getting the DSIC, so it's not like they get the money up front, and then they decide, maybe we need to use the money for something else. Those protections were put in place.
I remember during the legislative process in 2011-2012, there were some requests that maybe we should do it a little bit differently, maybe we should give the money up front. We said, "No."
We're looking for a focus to replace this infrastructure; it is very important, to protect the consumer and to allow the consumer to pay for it but not get gouged with it."
Is your organization impacting the debate as a member of the PUF community? Nearly two hundred utilities, commissions, consumer advocates, associations, agencies, professional firms and vendors are members. How about yours?
Steve Mitnick, Editor-in-Chief, Public Utilities Fortnightly
E-mail me: mitnick@fortnightly.com