Updated 3:53 PM EDT, Mon June 20, 2022
You helped get the power back on. To a community of families, following that fierce storm.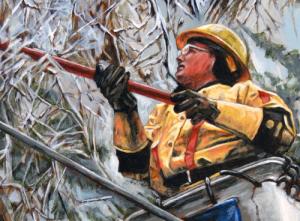 Out in the streets, along tree strewn roads, in the emergency center. Neighborhoods desperate to return to a sense of normalcy.
Your utility's crews were right there, on the scene, at the epicenter of nature's devastation. As were those sent from far away by the mutual assurance utilities. You all were there together as one big all-star team.
Your regular job may have been in accounting, engineering, regulatory affairs, whatever. But when that hurricane struck, when that flood surged, when that twister travelled its deadly path, you instantly became a part of the restoration force. Like Clark Kent changing in a phone booth.
Or even if you know heroes of the storms within your company. We want you. Seriously, we need you to reach out to us, like now. To tell these stories of how this industry responds to restore.
For our next book, "Heroes of the Storms: How Electricity's Value is Built and Maintained."
If you have a restoration story to tell or know of someone at your company with an inspiring story, email Rachel at moore@fortnightly.com.
As always, Public Utilities Fortnightly won't use anything you all tell us until you review, tweak and approve it. That's the PUF Promise.
So, tell your story. And be a part of our story. The goal is to get the word out more broadly. That service in the public interest, sometimes beyond the call of duty, is deep within the DNA of the utilities industry.