Updated 4:05 PM EDT, Wed June 7, 2017
Public Utilities Fortnightly is all about impacting the debate.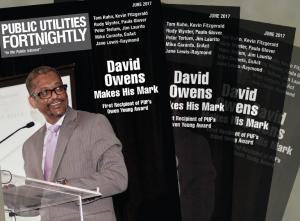 Whether your concern is capacity markets, net metering, rate of return, transmission development, renewables, cybersecurity, grid modernization, utility biz models, storage, energy efficiency, or whatever. We're your forum for hashing it out.
That's why PUF was started eighty-nine years ago. That's why we exist today. To be your forum for commentary, opinion and debate on utility regulation and policy.
All our changes of the last eighteen months are aimed to make PUF an even more potent platform for the proponents and opponents – on the critical issues – to go at it.
How can you impact the debate on your critical issue?
1. As always, as a member of the PUF community, you can author an article or a shorter essay. Keep in mind, those you want to persuade with your piece are as busy as you. So, the shorter and punchier, the better. Particularly for our new digital mag, PUF 2.0.
2. Senior utility and regulatory leaders can be interviewed by us. This enables them to express their views efficiently without penning a piece.
3. Organizations in our community can have us do a photo-story on their people, projects and events. This can be an effective way to put forward a point of view.
4. Now, with the new PUF 2.0, you can submit a brief video, to really impact the debate. These should be short and punchy, engaging and entertaining. You can do a series of two or three one-minute vids, for example, each making a single point as part of a larger argument. It's easy to do vids these days. All you need is a game colleague and an iPhone.

The magazine for commentary, opinion and debate on utility regulation and policy since 1928, Public Utilities Fortnightly. "In PUF, Impact the Debate." Really impact the debate!
Steve Mitnick, Editor-in-Chief, Public Utilities Fortnightly
E-mail me: mitnick@fortnightly.com