Updated 1:10 PM EDT, Thu June 27, 2019
Everybody likes Pat Kampling, the CEO of Alliant Energy who is retiring later this month. The PUF team had the opportunity to interview her last week, at the EEI 2019 event in Philadelphia, as one of our interviews of five women who are chief execs of investor-owned utilities.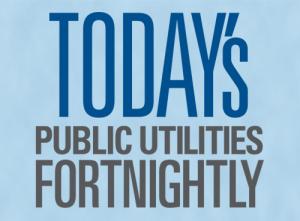 And she gave us a present. It is a precious historical document, from a key turning point in our industry's regulatory development.
It's a large poster created by the Federal Trade Commission in early 1932 entitled Insull Group – Corporate Relations. The poster is an extremely detailed organizational chart of the vast utility empire of Samuel Insull as of January 1, 1932.
Insull owned a majority of the utilities of the early thirties, directly or through the so-called interlocking directorates. Since utilities were such a large segment of the economy then, and since the great depression was wreaking havoc on everyone, there was increasing criticism of the man who had once been Thomas Edison's secretary and who had almost single-handedly founded utility regulation.
In the months following this poster's creation, Franklin Roosevelt based his campaign for the presidency largely on this criticism of Insull and his utilities. And after Roosevelt's victory over President Herbert Hoover, FDR's administration — led by former Wisconsin Public Service Commission chairman de facto David Lilienthal — worked hard to revolutionize the industry, even considering nationalizing electric utility service.
Ultimately, Insull was thrice indicted, he fled the country and was captured and returned to the U.S. to stand trial, where he was acquitted of all charges. And Congress passed the Public Utility Holding Company Act and Federal Power Act, both of 1935, to reign in Insull's successors.
Back to the 1932 poster. Very many of today's utilities were once part of Insull's empire as shown in the hundreds of boxes in the poster. In coming weeks the PUF team will be studying, researching and writing about what the poster tells us about the industry's origins. Stay tuned. We feel like archaeologists scratching for fossils to explain our collective past.