Updated 10:10 AM EDT, Tue July 4, 2017
"She is come at last - at last - and all is gas and goiters." —Charles Dickens, "Nicholas Nickleby," 1839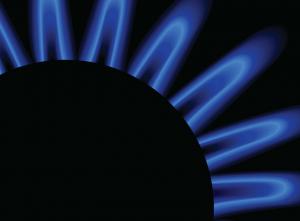 "[The slingshot] to have some gas with the birds." —James Joyce, "Dubliners: An Encounter," 1914
"When it comes to dancing, she's a gasser." —Cab Calloway, "The Hepsters Dictionary," 1944
"Brand-new pianos certainly were a gas." —James Baldwin, "Sonny's Blues," 1957
"But it's all right now, in fact, it's a gas! But it's all right. I'm Jumpin' Jack Flash, It's a gas! gas! gas!" —Rolling Stones, "Jumpin' Jack Flash," 1968
So much for gas in literature and music. Now for some stats.
Residential consumption of natural gas, nationally, was 4.6 trillion cubic feet in 2015. This is less than residential consumption was back in 1969. When the population was sixty-three percent of what it is presently.
Consumption peaked in 1972, at 5.1 trillion, then fell to 4.3 trillion in 1986 and 1987. 
It peaked again in 1996, at 5.2 trillion. 
Since then, consumption has remained in the range of 4.1 to 5.1 trillion. The 2015 level was just about at the midpoint of the range.
Residential consumption growth hasn't always been basically zero, as it has been since the early 1970's. Consumption grew well over a hundred percent during the 1950's and over fifty percent during the 1960's. 
Number crunching, and amusements too, courtesy of Public Utilities Fortnightly.
Steve Mitnick, Editor-in-Chief, Public Utilities Fortnightly
E-mail me: mitnick@fortnightly.com
Lead image © Can Stock Photo / cobalt88