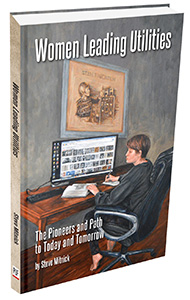 In "Women Leading Utilities, the Pioneers and Path to Today and Tomorrow," Public Utilities Fortnightly's Steve Mitnick starts out telling the stirring story of Edith Clarke — who significantly accelerated the electric grid's development in the early twentieth century — and of her generation of women innovators. Then, he talks about the courageous women who broke through the barriers to leadership in the late twentieth century. And he ends the book by turning to and profiling the great female CEOs, COOs, CFOs and GCs of today, in investor, publicly, and cooperative-owned utilities across the country.
 
Mitnick interviewed many of these great leaders during his research for this book. They reflect on how they succeeded in their own careers and how young women of the next generation can succeed in their careers.
 
The book includes beautifully illustrated drawings of Edith Clarke and the other pioneers by PUF's artist, photos contributed by today's female CEOs, and a moving cover painting by NARUC President's Paul Kjellander. To encourage us all to redouble our efforts to diversify the utility workforce in leadership and at all levels, with respect to gender and as well by race, ethnic background, and personal preferences.

The American Public Power Association, Anterix, Edison International, Electric Power Research Institute, Guidehouse, and PPL Corporation have sponsored this book enabling Public Utilities Fortnightly to distribute it digitally throughout our industry at no charge or obligation. Read and enjoy the book, and pass it along freely.
Download formats
You may need to right-click and choose the option to save the link to your computer:
You may also read the flip book in a web browser by clicking here. This link opens our free archive of PUF books. Once there, click the icon at the top right (three stacked horizontal lines), choose Archive, then select from the choices.
For the best viewing experience, we prefer the PDF and web browser versions.
Utilities, agencies, associations, vendors and firms in our industry can purchase a quantity of hardcover editions which they can then distribute to employees and external constituencies.