Deck:
A leaner bureaucracy sharpens its market-monitoring tools.
Author Bio:
Mark Hand is senior editor at Public Utilities Fortnightly .
A leaner bureaucracy sharpens its market-monitoring tools.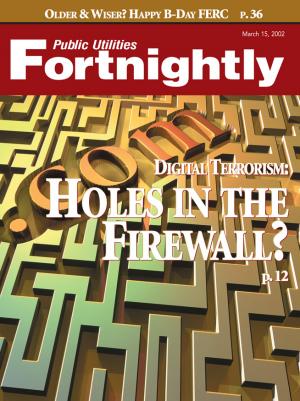 The Federal Energy Regulatory Commission (FERC) turns 25 this year, but Chairman Pat Wood hasn't asked staff to begin making arrangements for a special birthday bash to mark the milestone. Five years ago, FERC set aside time for a special observance when then-Chairman James Hoecker invited former members back to commission headquarters to celebrate the agency's 20th anniversary.
With Enron's collapse and California's unraveled electric restructuring scheme, the silver anniversary reminiscing may be slightly muted. These days, the commission may want to attempt to stay out of Congress' crosshairs as much as it can, given the legislative branch's already-constant requests for testimony and data.
Pat Wood's commission isn't the first one tasked with addressing pressing national energy concerns of interest to the general public. Look back, for instance, at the period soon after FERC's birth and you'll learn a little bit about how the commission handled political pressures during a decade often remembered in U.S. history for its energy crises.
Aside from tackling price decontrol measures associated with the Natural Gas Policy Act of 1978, one of FERC's first high-profile cases was the Trans-Alaska Pipeline System (TAPS) rate case, a litigious affair that began during the Carter administration and lasted into President Reagan's second term. With all of TAPS' controversies, FERC members were invited frequently to travel from the old building on North Capitol Street to Capitol Hill to explain its rulings.
"When we were on the Alaska Pipeline case, [FERC Chairman] Charlie Curtis spent an inordinate amount of time testifying in Congress," says Georgiana Sheldon, a Republican appointee who served as a commissioner from the summer of 1977, when it was known as the Federal Power Commission, until 1985. "The problem with the Hill oversight is that they get onto an issue and they beat it to death. They take all the time of the people who are supposed to be doing the regulating but must then get ready for testimony. It got to be burdensome at times."
Learning how to work with Congress was a necessary part of the job of a commissioner, especially in the late 1970s when energy issues were a top priority for lawmakers. "When I got there, I already understood the separation of powers," says Matthew Holden Jr., who served as a Democratic appointee on the commission from its christening in October 1977 until 1981. "And I understood the relationship with the Congress. As a Wisconsin commissioner, I hadn't experienced it in a sense of some senator's office calling up and blasting away at me, but that did happen when I was at the FERC. I understood that as part of the process."
Holden says he's noticed some FERC members who may not have been prepared for the unique relationship with Congress. "I have seen people who did not know about Congress' role, who have become very frustrated with members of Congress doing what is the function of members of Congress to do," he explains.
Because of