Deck:
A leaner bureaucracy sharpens its market-monitoring tools.
Author Bio:
Mark Hand is senior editor at Public Utilities Fortnightly.
The Federal Energy Regulatory Commission (FERC) turns 25 this year, but Chairman Pat Wood hasn't asked staff to begin making arrangements for a special birthday bash to mark the milestone. Five years ago, FERC set aside time for a special observance when then-Chairman James Hoecker invited former members back to commission headquarters to celebrate the agency's 20th anniversary.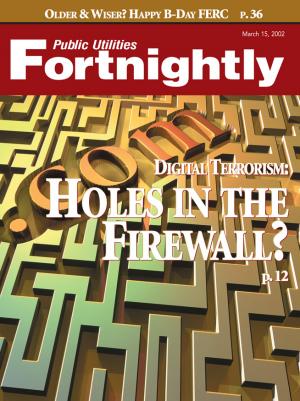 With Enron's collapse and California's unraveled electric restructuring scheme, the silver anniversary reminiscing may be slightly muted. These days, the commission may want to attempt to stay out of Congress' crosshairs as much as it can, given the legislative branch's already-constant requests for testimony and data.
Pat Wood's commission isn't the first one tasked with addressing pressing national energy concerns of interest to the general public. Look back, for instance, at the period soon after FERC's birth and you'll learn a little bit about how the commission handled political pressures during a decade often remembered in U.S. history for its energy crises.
Aside from tackling price decontrol measures associated with the Natural Gas Policy Act of 1978, one of FERC's first high-profile cases was the Trans-Alaska Pipeline System (TAPS) rate case, a litigious affair that began during the Carter administration and lasted into President Reagan's second term. With all of TAPS' controversies, FERC members were invited frequently to travel from the old building on North Capitol Street to Capitol Hill to explain its rulings.
"When we were on the Alaska Pipeline case, [FERC Chairman] Charlie Curtis spent an inordinate amount of time testifying in Congress," says Georgiana Sheldon, a Republican appointee who served as a commissioner from the summer of 1977, when it was known as the Federal Power Commission, until 1985. "The problem with the Hill oversight is that they get onto an issue and they beat it to death. They take all the time of the people who are supposed to be doing the regulating but must then get ready for testimony. It got to be burdensome at times."
Learning how to work with Congress was a necessary part of the job of a commissioner, especially in the late 1970s when energy issues were a top priority for lawmakers. "When I got there, I already understood the separation of powers," says Matthew Holden Jr., who served as a Democratic appointee on the commission from its christening in October 1977 until 1981. "And I understood the relationship with the Congress. As a Wisconsin commissioner, I hadn't experienced it in a sense of some senator's office calling up and blasting away at me, but that did happen when I was at the FERC. I understood that as part of the process."
Holden says he's noticed some FERC members who may not have been prepared for the unique relationship with Congress. "I have seen people who did not know about Congress' role, who have become very frustrated with members of Congress doing what is the function of members of Congress to do," he explains.
Because of California and Enron, Sheldon, the first woman to serve on either the FPC or FERC, believes the current commission has assumed an even greater public profile. "I think there's a little more political hype today," she says. "I think that will die down. It goes in cycles."
Oliver "Rick" Richard, a commissioner from 1982 to 1985 who later led Columbia Energy Group out of bankruptcy, agrees that FERC's public profile depends on the politics of the day. "The commission was in emergency mode in 1977 as it has been since the California energy crisis," Richard says.
For those middle-aged readers out there, it may seem just like yesterday-and a few less gray hairs ago-when Congress passed the Department of Energy Organization Act creating the agency. At the time, President Carter was attempting to manage the effects of stagflation, energy "shortages," and a blackout in New York when his administration named James Schlesinger the first head of DOE and Curtis, a holdover from the FPC, the first chairman of the semi-autonomous FERC.
Since October 1977, 26 members have served on the commission. In those 25 years, two members have died: Don Smith, another holdover from the FPC, died in 1993, and Raymond O'Connor, a chairman from the mid-1980s, died in 1995.
The general focus of the commission for the past quarter century has been a gradual restructuring of the transmission sector of the electric and gas industries as well as hydro-electric licensing and oil pipeline tariff issues. Out of its series of rulings in the late 1970s and 1980s emerged a thriving energy-trading sector that helped spur Enron and other energy marketers to great heights in the 1990s.
The top energy issues of the day often influenced who was chosen to sit on the commission. "Commissioners came from the federal government in the 1980s," says Richard, a Democratic appointee who was labeled the "Boy Commissioner" because he was only 29 years old when he joined the commission. "It had more of a national bent than it does now."
Current commissioners Nora Mead Brownell, Pat Wood, Linda Breathitt each come from state public utility commissions. "In the current debate over electric restructuring, it bodes well for dealing with the states," Richard adds.
The renewed interest in the level of FERC's oversight of the electric and gas industries also may be pushing the pendulum back in the direction of a more powerful FERC bureaucracy.
Ten years ago, FERC had a staff of 1,500 on the eve of implementing Order 636. After that, though, the commission experienced a series of budget reductions. Hoecker, who served on Holden's staff in the late 1970s, initiated his FERC First! re-engineering program, which sought "to make regulation efficient and beneficial where it is required and less intrusive and even unnecessary where it is not." The net effect of all of these moves was a reduction in staff by 300 to 1,200 employees.
While FERC was becoming a leaner bureaucracy, its staff had to use fewer resources to manage the implementation of electric industry restructuring measures associated with Orders 888, 889, and 2000.
Indicating it plans to take a more activist role in monitoring market behavior, FERC unveiled several initiatives last fall, including a plan to create a new division called the Office of Market Oversight and Investigation, which will combine the commission's market monitoring resources into one group.
"To a very large degree, the FERC's tasks are returning to what the FERC's tasks were prior to 1938 [when the Natural Gas Act was passed by Congress], but in a much magnified form," explains Holden, who has worked as a professor of government at the University of Virginia since he left the commission in 1981. "Electricity is now becoming the center of FERC's activities. Electricity was an historic center of the Federal Power Commission's activities."
In Congressional testimony in late January on the effects of Enron's collapse on energy markets, current Chairman Wood told the Senate Energy and Natural Resources Committee that in "the new world of markets, the need for information is very important. It is, to me, disclosure and not re-regulation."
When asked by Sen. Diane Feinstein, a Democrat from California, whether the commission had the expertise to regulate online and over-the-counter trading activity if requested by Congress, Wood conceded FERC was not ready. "That's why I've just, as I mentioned a moment ago, put out the job announcement for director of this new office, and there are a number of new people coming at it," he testified. "The Congress was kind enough to give the commission additional funds and positions to use for the enforcement and investigation purpose. I fully intend to utilize those."
Those funds totaled $3 million for fiscal year 2002, which cover the addition of five senior executives to help fill some of the top positions in the new market oversight office. For fiscal year 2003, the Bush administration is seeking approval for a total FERC budget of $199.9 million, up 10 percent from $181.1 million in fiscal year 2002. The 2003 budget includes another $7 million for the new market oversight office and 50 full-time equivalent staff positions.
Charles Stalon, an energy economist who served on the commission from 1984 to 1988, believes FERC will inevitably become the principal source of expertise on market monitoring. "The set of skills that you would expect to exist in the Federal Trade Commission's market monitoring activities or in Justice Department's antitrust department, it's not cheap," Stalon says. "I think it's logical for the FERC to build a high level of expertise and reduce the burden on the ISOs [independent system operators] in that role."
Stalon notes these other market oversight agencies have a strong record of attracting and retaining talented staff. "I would urge the FERC to copy the models that we see at the Federal Trade Commission and the U.S. antitrust department, which systematically have been able to attract high-quality scholars," he says.
Managing the evolution of electricity markets will continue to require a close and collegial working relationship among the commissioners, its staff and the industry, which Holden contends is necessary if regulators are to have any positive effect in their jobs. 
"I am very aware of some circumstances where, the chairman, Charlie Curtis, did not exert all the authority that he could have claimed," Holden says. "And the commissioners, certainly I did not interpose all of the obstacles that I could have imposed. I came in with the realization from other experiences that the effectiveness of a regulatory commission depends upon a high degree of accord among commissioners."
Because of "sunshine" rules forbidding commissioners from meeting in private with more than one colleague at a time, Richard says there was a lot of "log rolling" that occurred on an individual basis in trying to persuade fellow commissioners to side with them. Before one particular public meeting, Richard recalls the other four commissioners had contacted his office that morning to arrange individual meetings with him to discuss their positions on issues that were scheduled for a vote that day.
Holden says he stays in regular contact with his former colleagues and has visited the commission on an occasional basis. He also makes "courtesy calls" to new members to the commission to welcome them and to help him keep abreast of the commission's current activities. He's also writing a book about FERC tentatively entitled "Regulatory Policy and Practices," scheduled for publication in 2003.
Sheldon, on the other hand, says she's returned to FERC's headquarters only once-for a Christmas party thrown by Charles Trabandt. Sheldon, who served on several corporate boards, including Enron's, following her tenure at FERC, says she wanted to avoid all appearances that she was lobbying anyone at the commission. 
- - -
Where Are They Now?
Pat Wood, 2001-present.
Nora Mead Brownell, 2001-present.
Linda Breathitt, 1997-present.
Curt Hébert, 1997-2001, executive vice president of external affairs for Entergy in New Orleans.
William Massey, 1993-present.
James Hoecker, 1993-2001, partner in the law office of Swidler Berlin Shereff Friedman in Washington, D.C.
Vicky Bailey, 1993-2000, assistant secretary for international affairs and domestic policy at DOE in Washington, D.C.
Donald Santa, 1993-1997, partner in the law office of Troutman Sanders in Washington, D.C.
Branko Terzic, 1990-1993, director of regulatory services at Deloitte & Touche in Vienna, Va.
Martin Allday, 1989-1993, attorney in the law office of Scott, Douglass & McConnico in Austin, Texas.
Elizabeth Moler, 1988-1997, senior vice president for government affairs and policy at Exelon in Washington, D.C.
Jerry Langdon, 1988-1993, president of El Paso's EPGT Texas Pipeline in Houston.
Martha Hesse, 1986-1989, president of Hesse Gas in Dallas.
Charles Trabandt, 1985-1993, vice president in the electric utility restructuring and strategy practice of Charles River Associates in Washington, D.C.
Clifford "Mike" Naeve, 1985-1988, partner in the law office of Skadden, Arps, Slate, Meagher & Flom in Washington, D.C.
Charles Stalon, 1984-1988, independent energy regulatory consultant in Cape Girardeau, Mo.
Raymond O'Connor, 1983-1988, member of New York Public Service Commission at time of death in 1995.
Oliver "Rick" Richard, 1982-1985, former Columbia Energy Group chairman, president and CEO.
Anthony Sousa, 1981-1988, former federal bankruptcy judge in Los Angeles.
C.M. "Mike" Butler, 1981-1983, attorney in Houston.
David Hughes, 1980-1984, formerly with the law firm of Duncan, Weinberg, Genzer & Pembroke in Washington, D.C.
Georgiana Sheldon, 1977-1985, officer of the United States Energy Association in Washington, D.C.
Matthew Holden, 1977-1981, professor of American government at the University of Virginia in Charlottesville, Va.
George Hall, 1977-1981, senior advisor with PA Consulting Group in Washington, D.C.
Charles Curtis, 1977-1980, president and chief operating officer of the Nuclear Threat Initiative in Washington, D.C.
Don Smith, 1973-1979, private attorney at time of death in 1993.