Deck:
How building capabilities for repeated M&A can increase shareholder value.
Author Bio:
Michael Bier is a director in the Strategic Change section of PwC Consulting's Energy Industry practice. He has over 20 years of diverse consulting experience working for utilities, other energy companies and clients in many other industries, in strategic M&A, market assessment and entry strategies, corporate transformation and cultural change, and CRM. Mark Ciolek is a partner in the Strategic Change section of PwC Consulting's Energy Industry practice. He has been a consultant to the utility industry for more than 15 years and is a leader in PwC Consulting's Strategic Mergers and Acquisition practice. Ciolek is actively involved as an advisor to several US and European energy companies pursuing aggressive M&A activity on a global basis.
Despite significant recent upheavals, the energy industry's long-term consolidation is likely to continue. Many companies appear to be moving towards, or have announced, consolidation strategies in their preferred areas of the industry. (see Table 1)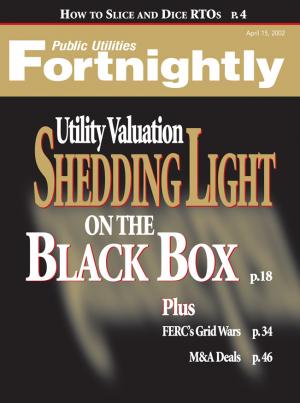 Nonetheless, PwC Consulting's analysis shows that, as in most other industries, few energy acquisitions in the last few years have created above average value. Why? It appears that Wall Street has perceived some deals from the start as not creating value, because of insufficient or unclear strategic rationales, and/or because the Street did not believe that the companies could or did execute those deals well. In PwC Consulting's analysis of 50 recent M&A transactions, 30 were in this category, including NiSource's acquisitions of both Bay States and Columbia. The Street saw 11 other transactions initially in a positive light, but found that implementation was more problematic than expected-for example, although post-announcement share prices performed better than the S&P utility index, National Grid's NEES and EUA deal ultimately led to share price performance below the index, perhaps due to difficulties meeting merger synergy expectations. Only nine transactions have been seen as value-creating from two weeks before deal announcement, through a year after announcement. The market is tough on M&A transactions; expectations, once set, need to be met. 
More formalized approaches to integration of repeated M&A transactions may be needed to ensure more value creation in the future, as consolidation continues. Experience in other industries shows that real value, and strong long-term competitive positioning, can result from building a well-oiled and smoothly functioning "acquisition engine"-the ability to acquire a series of companies, businesses, and assets, and to integrate them effectively and quickly, i.e. in a value-creating manner. 
Simply knowing that integrating repeated M&A transactions is a developed competency creates value-Wall Street will recognize and reward a company's strong integration track record. The company can be confident that, if value-creating targets can be found, and the right price and other terms negotiated, the next deals will go smoothly. Regulators will be comfortable that this company knows what it is doing, improves value for customers as well as shareholders, and has an acceptable success record. And selling or merging companies will know that the company will treat their people and customers fairly and quickly. 
A key to such success is a systematically applied approach to acquisition integration, building on clear corporate and business unit strategies and culture, the lessons from prior transactions, and a structured methodology supported by the right tools.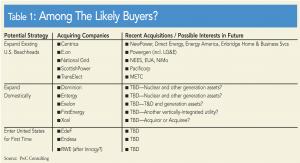 The Nature of Utility M&A
"One-off", not repeated, transactions have characterized much utility M&A activity over the last 5 years. In the first half of the 20th century, utilities often completed one deal after another. Today, few utilities use clear "roll-up" strategies. Serial deals are much more common in other consolidating industries-think banks, insurance, airlines, and a multitude of manufacturing and services sub-industries. In energy, DukeSolutions was on a roll-up path with its assembly of ESCOs, until it was sold to Ameresco. The prime regulated utility example is perhaps National Grid, with its string of back-to-back acquisitions in the Northeast. NiMo is now being integrated into Grid's prior purchases of NEES and EUA. Yet, as indicated, the first two deals have not yet proven to be value-creating. 
Others have done several deals, but which of them is a rapid-paced roll-up with a clear and continuing acquisition and integration program designed to increase value quickly?
Energy East grew from its base in NYSEG through acquisitions of gas and electric properties in Maine, Connecticut and Massachusetts, and has a pending deal with RGS
FirstEnergy's acquisition of GPU continued the M&A activity that originally formed FirstEnergy. Similarly, in a short period of time, FE's FirstEnergy Solutions unit acquired 11 mechanical contractors offering energy services  
Xcel's emergence from the NSP-New Century Energies transaction continued the earlier creation of NCE from Public Service of Colorado and Southwestern Public Service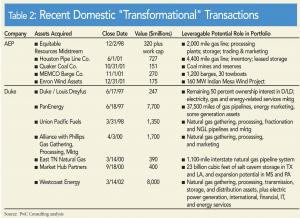 Another common pattern of recent M&A activity is "1+1=slightly more than 2" transactions among more-or-less equals. Examples include "one-off" transactions such as the ComEd-PECO merger that resulted in Exelon, the creation of Progress Energy from CPL and Florida Power, the failed attempt to merge Entergy with FPL, and DTE's acquisition of MichCon. Several of these companies are interested in further acquisitions, but none has happened yet. So there is no clear track record of repeated successes.
AEP and Duke have pursued a different, potentially transformational, approach to M&A. Each has completed multiple M&A transactions to drive an expanding and increasingly integrated range of energy transactions. (see Table 2) Duke, especially, has made extensive efforts to develop new sales and profit streams from new products and services enabled by integrating its related businesses. 
Regardless of their strategy, most utilities have not yet developed formal systematic capabilities for repeated success at doing M&A deals and at rapid integration once each transaction closes. This very lack of repeatable capabilities surely contributes to the market's skepticism about energy M&A.
Because the last, or the next, deal may not ensure continuing survival, emerging successfully from the next M&A wave demands the development of repeatable M&A skills. And the next wave will likely lead to future waves as the industry's evolution continues. So long term survival means learning how to rise above the many perceived, and very real, problems and issues in both doing and implementing a continuing series of transactions. 
Typical Deal Problems
Much is known about why doing a single M&A deal is difficult, let alone doing a series of deals. Common process problems in managing an end-to-end transaction include: 
Unclear vision of what the acquisition/merger is supposed to achieve;
Inadequate review and absorption of hard-won lessons from prior deals;
Rushed timeframes driven by pressure to close;
Insufficient analysis, and thus insufficient preparation for integration;
The inevitability that some important aspects of a company will become evident only well after the deal closes;
Insufficient executive time and attention to resolve conflicts and provide clear guidance; 
A revolving door of people working on each deal team;
Ineffective management processes for managing the entire transaction from end to end; 
Unclear or incomplete action plans once a transaction closes;
Unclear responsibilities and accountabilities for those actions.
Table 1 offers a framework for thinking about how value creation requires both doing the right deal, and doing the implementation right. It also shows common substantive problems in doing a deal that inhibit the creation of value. PwC Consulting's analyses, and those of many academics and other observers, show that value creation in a deal requires combining fast moves according to a clear and prioritized "blueprint" or action plan, with early and notable successes. This demands effective leveraging of existing initiatives in both companies, consistently effective coordination and management, and consistently good execution. 
If a company anticipates doing multiple transactions, the problems are greatly compounded. How much value can be lost if the hard-earned lessons from each deal are not assessed and addressed effectively in future transactions? There aren't many clear answers to this question. Yet it makes intuitive sense that "re-inventing the wheel" for multiple M&A transactions cannot be value-creating, given the impacts of a poor M&A track record and the resulting importance of deal-making successes to boards and top executives.
The entire approach to serial M&A deal completion and integration must be conceived well in advance, adapted somewhat to each transaction, and refreshed as lessons accumulate from each deal.
What Can Be Done In Utility M&A Deals?
Many believe that its complexities and semi-regulated nature make the utility industry unique-as much in M&A transactions as in other aspects. Surely the requirements for approval from the alphabet soup of regulatory agencies-FERC, NRC, multiple PSCs, DOJ, FTC, state AG's, and the SEC-each with its own agenda and review processes, and many possible intervenors, excuse the industry from needing to adopt a more structured approach to managing "a few" M&A transactions through to success? A common attitude is: "We're not sure that this deal will proceed, let alone the way we want it to, so we can't do too much planning for implementation now".
For those who aspire to be dominant players, there won't be just "a few" transactions. Transactions will continue, but will also include more selective purchases of generation and gas supply assets or transmission networks, unlike the traditional merger of equivalent vertically integrated utilities. So a series of deals will result.
And many things can be settled usefully long before closure in utility M&A deals. Many common issues that utilities encounter also occur in other industries. Understanding prior experience and learning from past mistakes is always useful. Developing a structured approach to a future series of deals provides clarity about how the company intends to proceed when the right time comes. For example, each issue in a utility's review of its recent M&A experience was avoidable. Some were industry-specific, some were not-but all could have been mitigated, if not eliminated, by more conscious planning and preparation up front. 
After a deal's announcement, almost all integration planning can be completed before closure. Physical integration of regulated operations cannot occur pre-closure. But some sensible value-creation combinations can still occur. For example, what functions would be worth combining regardless of the deal, and would pass regulatory review? How about outsourcing some regulated IT and other administrative and operational functions in advance, by creating a jointly-owned unregulated shared services entity that sells services to both companies? And that perhaps can sell services to other utilities too?
Almost by definition, if a "repeatable machine" has not been built consciously, value creation will be sub-optimized. Utilities that don't prepare for further consolidation cannot maximize value to their shareowners-because they cannot maximize value from buying other companies, or because they will not realize the highest value if someone else buys them. Worse yet, if they're not prepared, they may never be acquired.
Making Repeatable M&A Work for Utilities
The essence of repeatable M&A is seeing and doing transactions as part of a continuing stream of deals that, together, and over time, will create value. It includes leveraging prior M&A experience, so that value creation can begin as soon as possible after a deal is conceived-often, as indicated, before regulatory approvals occur. That means that the buying company must create an accurate and comprehensive vision for deals and the means for their completion. The company must spread this information to the right team(s) of people, and refresh it as further M&A experience accumulates. The knowledge base must consist of a standard integration approach and a practical methodology, plus the tools to support the methodology, including templates and checklists, management practices, training programs and mobilization routines-and all must be consistent with the anticipated type of acquisitions, e.g., scale, skill transfer, etc.
If a utility seeks to develop the capabilities required for repeated M&A success, it should address fundamental questions about its (and others') past M&A experiences, such as:
Where was value created in past deals, how quickly was progress made, and how did that happen?
Where did expected value creation not happen, or where was it seriously delayed, and why?
How well did the integration team(s) work? Why?
What other problems faced the integration teams, and why did they arise?
What other successes were achieved? How?
What other important barriers were encountered?
What lessons can be learned from this experience, from others in the utility industry and elsewhere?
Then it will need to define its preferred future post-deal integration model, including core principles and practices. The next major step may be to develop a test program for the new model, for use in the next M&A deal it undertakes. Finally, it will need to evaluate the model program's success, modify the model itself, and re-train individuals who might form the next deal teams.
There will always be problems in repeated energy and utility M&A transactions, yet an insightfully-structured approach to a series of post-M&A integrations will, in each deal:
Increase the likelihood of achieving strategic and financial goals, by creating value sooner, and as extensively as anticipated
Eliminate much of the noise and uncertainty involved in managing the integration process
Lead to less negative impacts on customers, and more positive effects
Lead to less stress and happier employees in the integrating organizations.