Deck:
Northern gas rush proves timely for power generators.
Author Bio:
Mark Hand is senior editor of Public Utilities Fortnightly.
Upside potential is what will attract producers to Canada for years to come and what will help quench the thirst of new gas-fired power generation plants in the United States. Opportunities abound north of the border, where the natural gas resource remains an under-explored asset base.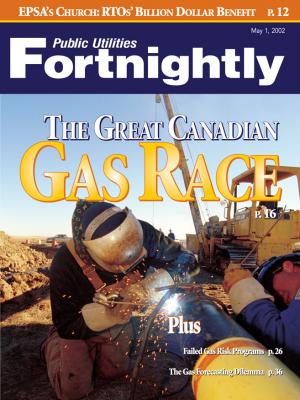 U.S. companies are very aware of the strategic value in investing in Canadian companies that hold title to lands in the less developed lands of the Western Canadian Sedimentary Basin (WCSB). The Canadian energy sector, for example, saw almost $20 billion in mergers and acquisitions in 2001, far exceeding the $9 billion worth of energy M&A activity in 2000.
The strong interest in the Canadian exploration and production (E&P) sector bodes well for merchant power plant developers in the United States keen on operating their plants with an economical fuel that also enjoys a favorable environmental record. In fact, successful drilling programs in the deeper plays of the WCSB, offshore Nova Scotia and, eventually, the Arctic, should produce adequate reserve replacements for the next couple of decades.
Looking at the numbers can help illustrate the large extent of U.S. dependence on investments in Canadian gas exploration. The United States uses Canadian gas to meet 15 percent of its annual 23 Tcf gas demand, which is expected to grow to the 30 Tcf range by 2015. As large numbers of gas producing regions along the Gulf Coast and in the Mid-continent approach old age, the United States must hope against a slowdown in Canadian gas imports.
"I don't think you're going to see us hitting a wall in terms of production," says Rob Woronuk, senior analyst at the Canadian Gas Potential Committee (CGPC). "That doesn't mean you're not going to hit a wall in terms of supply and demand. What could happen, and happened in 2000, is that demand grows massively and supply doesn't. And that was a kind of a wall and sent a message with very high prices to the industry and consumers."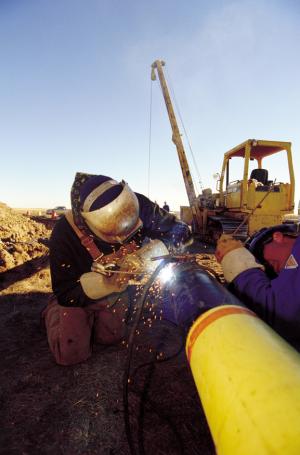 But the WCSB, supplemented by Scotian Shelf gas today and Mackenzie Delta gas down the road, should continue to supplement U.S. production volumes as long as the commodity price remains adequate for producers to invest in exploration, Woronuk says.
Figures Speak for Themselves
In a 15-year span, imports of Canadian gas into the United States almost quadrupled, from 900 Bcf in 1986 to about 3.5 Tcf in 2000, U.S. Department of Energy statistics show. The percentage of Canada's total marketable production exported to the United States grew from 29 percent in 1986 to 57 percent in 2000. For the seventh year in a row, Canada's gas exports to the United States in 2000 equaled more than half of Canada's marketable production.
The total remaining marketable gas in Canada now stands at 233 Tcf, according to the latest report from the CGPC. Although its report provides evidence of a large resource base in Canada, CGPC's 2001 estimate still falls 230 Tcf short of the National Energy Board's estimate in its 1999 "Canadian Energy Supply and Demand to 2025."
The CGPC says that the discrepancy between the two estimates is due to how the two groups measure frontier gas resources. The NEB relies heavily on the assessments performed by the Geological Survey of Canada from up to 30 years ago, while the CGPC says it uses much more recent data.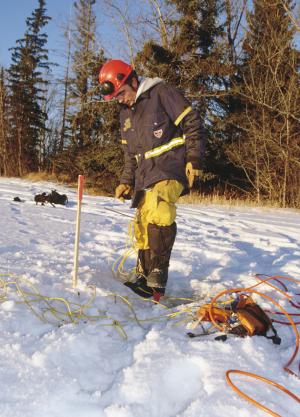 Given its key role in North America, what will happen when the Canadian E&P industry begins to approach the bottom of its total marketable gas resource base in the WCSB, the workhorse of Canada's gas industry? The industry could look into other options such as gas hydrates, coalbed methane, and liquefied natural gas imports, Woronuk says.
What about turning to Mexico for help? Currently, Mexico doesn't have enough gas to satisfy its own demand. Mexico's internal forecasts call for about 8 percent annual demand growth and about 6 percent annual supply growth. Mexico continues to be a net importer of gas from the United States, and also expects to help fill the gap through LNG imports.
"It's like the United States and Canada are a unit and seem to be producing like a unit. Mexico is a little different story," Woronuk says. "Mexico has traditionally imported gas from its northern unit. If that loosens up and we turn Mexico into a Canadian and U.S. type market, then I could see very well that Mexico could be a gas exporter by a significant amount. Whether it will surpass Canada and when depends on how rapidly we deplete Canada and how slow they are to develop Mexico."
By the time gas production from the traditional basins in the United States, Canada, and Mexico becomes uneconomical, other technologies are likely to be in commercial operation to replace conventional gas reserves, says Roland Schoettle, chief executive of Optimal Technologies, an electric power services company based in Calgary.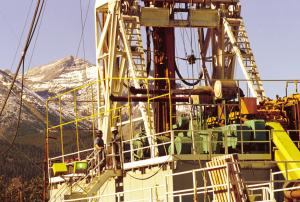 "I strongly believe that by the time we are out of natural gas reserves, ... we will have worked out the problems with fuel cells and hydrogen, and at the same time, there will have been some significant breakthroughs in making coal cleaner," Schoettle explains. "I think that right now, because natural gas is the cheapest of all these options, until it's gone or until we start getting closer to the end of its cycle, we're going to start to see other technologies come on board that we'll be able to take and fill in the gap."
For the foreseeable future, though, Canada's gas resource potential is expected to remain strong. "The prognosis is that the industry will be able to meet the challenge of supplying gas for the increased power generation," says Jim Osten, principal with the world energy services group of DRI-WEFA.
If you look at all of the less mature plays of the WCSB, the deepwater Gulf of Mexico, and the East Coast of Canada, "I think there's going to be pretty good gas supply in North America," says Larry LeBlanc, vice president of East Coast operations for PanCanadian Energy.
As long as demand doesn't dry up in response to some cataclysmic economic event, the financial incentives should remain ripe for Canadian upstream companies to throw healthy amounts of cash into exploration.
In the short term, however, patchy clouds hang over the North American producing sector. The industry is seeing a downturn in production in the United States, and flat production rates on average in western Canada, due primarily to the warmer-than-normal winter, economic recession, and high underground gas storage levels.
At Cambridge Energy Research Associates' (CERA) annual energy conference in Houston earlier this year, CERA Director Robert Esser predicted the decline in gas exploration drilling in the United States that began in mid-2001 will result in a loss of 4 Bcf/day of gas production. Esser says most E&P companies base their economic models on $3/Mcf gas and $22/barrel oil and begin to scale back production when prices fall below those levels.
The Big Elephants
Since last summer, production rates appear to have followed Esser's modest trend. But even Esser's prognosis has a silver lining. He sees bright spots in Canada, especially in the Ladyfern field-which spans northern Alberta and British Columbia-the Northwest Territories, and the Scotian Shelf. "There's plenty of potential to keep production up," Esser says.
A closer look at the Ladyfern statistics shows why it generates so much enthusiasm. Industry analysts estimate the Ladyfern area could contain as much as 1 Tcf of gas, making it the biggest gas find in western Canada in the past 15 years. Ladyfern currently produces about 500 million cfd from about a half dozen wells.
An area rich with natural gas does little good, though, if you don't have a means of transportation to bring the fuel to market. In the case of Ladyfern, TransCanada PipeLines worked with Ladyfern producers-Murphy Oil, Apache Canada, Alberta Energy and Canadian Natural Resources-to ensure that most of Ladyfern's production volumes are directed into TransCanada's Alberta System.
Exploiting the potential of the WCSB in northeastern British Columbia has been slowed by the provincial government, which in the past emphasized the development of its fishing and forestry industries to the detriment of the oil and gas industry. A new government in British Columbia, however, is "taking a more open view and opening its arms more to the industry," Woronuk says.
"And the industry is looking very strongly at B.C., saying 'look, here's a portion of the basin that has been less depleted and less developed than Alberta and Saskatchewan and we're welcome in there,'" Woronuk explains.
With the B.C. government beginning to recognize the potential of the WCSB, the rush is on to tap into the province. But producers still need to put up the cash in order to stand a chance of hitting pay dirt.
"With that type of remarkable luck in northeast B.C. and the southern Yukon and Northwest Territories, producers are looking very carefully in those areas for their big elephants," notes Bill Gwozd, manager of gas services for Calgary-based consultant Ziff Energy. "I'm convinced they will find them. I'm convinced that all of the big, top pools have not been discovered. As you go through the laundry, you're going to keep on looking around and keep on finding them."
Gwozd says it's the Ladyfern and Fort Liard type of discoveries that are helping to drive the merger and acquisition trend in Canada. "Successful wells like Ladyfern make the radar screen of all CEOs across the world," he says. "Those are world-class wells. And whenever you have multiple hits at world-class levels, you attract a lot of attention. That's attracting a lot of the mergers and acquisitions."
As these major gas discoveries catch the eyes of profit-hungry producers, expenditures on exploration often take a hit during strong M&A activity in western Canada. "A lot of the acquisitions have occurred with companies that are in the active area of northeast B.C.," Gwozd says. "They get swallowed because they have high productivity per well. As a result, the huge growth in drilling activity in northeast B.C. has dampened somewhat."
In 1998, prior to the recent flurry of M&A activity, one third of the wells drilled in western Canada were exploration and the rest were development wells, where the pool of gas already has been found and there's virtual certainty gas will be hit each time. In 2001, only 25 percent of the wells drilled in western Canada were for exploration purposes while three-quarters were development wells.
"I think that there could have been more drilling in northeast B.C. in 1999 and 2000 if it wasn't for all the mergers and acquisitions," Gwozd says. "There's been strong growth in Alberta but some of the more prolific companies as they get merged or bought out in northeast B.C. had cut back on some of their drilling activity."
At the same time some of the mergers were nearing completion in 2001, gas prices began to tank, further dampening efforts to drive up production rates. "They don't have all the necessary funds to actually continue with their drilling programs," Gwozd explains. "We are anticipating a cutting back of some drilling, but we don't think that will have a major impact on gas production. That's because most wells that are drilled in one year are not actually tied in until the following year."
New Owner, New Attitude
This shift in the ownership structure of the Canadian industry means the new owners-both large U.S. and Canadian companies-will be seeking even greater returns on their investments and may not put as much cash back into exploration efforts. This trend could have a great impact on the overall level of activity in Alberta, DRI-WEFA's Osten contends.
"The people making the decision to drill wells in Canada will be the majors and the integrated independents that are U.S./Canadian companies that have big stakes in both the United States and Canada," Osten says. "They will be making the investment decisions as opposed to the mid-sized Canadian independents that are historically very aggressive. People will be looking for a better return on their investment. Instead of thinking they will eventually get more revenue for what they find, they'll want more assurance that they will be getting payback sooner."
In terms of the structure of the E&P sector, Osten is beginning to see a major difference between the United States and Canada. In the United States, there still remains a diverse group of players, including majors, independents and smaller companies. In Canada, though, because of all of the mergers, there tends to be only majors and large independents because "the whole mid-section of the spectrum has been bought out," Osten says.
It's been the mid-sized independents that have been the source of growth in Canada and in certain onshore areas of the United States. In the past, the companies that were the most aggressive drillers were companies like Renaissance Energy, which was a Canadian independent and was spending up to $800 million a year on exploration before its merger with Husky Energy. "They were spending all of their cash flow on drilling wells in Alberta," Osten says. "That was their growth strategy. As long as their finding costs were below the market price, they were growing and they kept borrowing for aggressive exploration programs."
Osten sees the proposed combination of Alberta Energy and PanCanadian and other mergers as "sort of the way of the world. You're losing the mid-sized independents in Canada."
For power plants, he believes it unlikely gas will be waiting there when new plants come online. It's more likely the power plants that come online in the next couple of years will have to go out and bid for the gas, he says.
Fueling the Future
One prominent merchant plant developer, though, doesn't have to worry about the availability of gas when many of its new gas-fired plants come online. Over the past few years, Calpine has acquired about 250 million cfd of gas production assets in Alberta to complement the 80 million cfd it owns in the United States.
"They are part of our core assets," says Dan Allard, vice president and Canadian regional manager for Calpine. "They represent to us a couple of things. One is security of supply. The other is we believe it offers to us a cost advantage to going out and contracting for gas."
Calpine's share price has improved over the past couple of months after the company announced it would cut spending and had closed on a $1.6 billion credit line, helping to resolve its liquidity concerns. The company, faced with a sharp drop in electricity prices linked to fallout from the collapse of Enron, saw its stock price tumble late last year while rating agencies cut its debt to junk bond status.
Allard says Calpine looked to acquire Canadian reserves because the prospects seemed more abundant there. With a strategy to own 25 percent of its gas requirements, Calpine last year acquired Encal Energy, a Calgary-based producer, for $1.2 billion. The deal provided Calpine with 1 trillion cf of proved and probable gas reserves in western Canada, as well as access to firm gas transportation capacity from western Canada to California and the U.S. East Coast.
Not many companies with generation assets have followed Calpine's path. Last year, Williams acquired Barrett Resources with an eye toward creating a physical hedge for Williams' planned buildup of power generation assets. Recent acquisitions by Dominion's exploration and production unit have included gas reserve assets in central Alberta and northeast British Columbia.
Neither of these companies was a pure merchant generator prior to acquiring the production assets. "I don't know of anybody that has the same model as ours," Allard says. "There are some companies that have some gas reserves, but I don't think there's anybody who is an independent power company that has gone out and made the decision to buy gas reserves like us."
With its big stake in E&P, Calpine keeps a close eye on both gas commodity prices and other companies proposing gas-fired power projects. "I think over time, the right amount of gas-fired generation will be built based on the economics, and gas prices will give the signals from time to time about when it is competitive to build gas plants and when it's competitive to look at other types of generation," Allard says.
If there's strong economic growth in the next couple of years, Allard foresees a situation where old power plants will need to be replaced. "The conditions will be ripe again for a constrained electricity system where there is a real requirement for new capacity," he says.
Another component of Calpine's strategy is acquiring gas reserves in proximity to their plants. "Where we can, we will build power plants close to gas reserves," Allard says. "We think that offers us a security if there are pipeline constraints or other types of constraints."
In terms of producing gas with easy access to pipelines, the Foothills area in the southwestern section of Alberta poses a dilemma for the industry. On the positive side, the Foothills area provides the gas industry the potential for large reserves and lies adjacent to a very active area of conventional exploration and development. More important, the southern half of the Foothills is already tied into the North American gas market.
On the flip side, serious environmental concerns surround production in the region, Woronuk says. "It's much riskier than the Cretaceous," he explains. "While the pay is a lot bigger, the actual risk and economic result of the sour gas of the Foothills can be more expensive."
The location of gas in the Scotian Shelf also makes it attractive. Much of the gas produced off the East Coast of Canada will be earmarked to provide fuel for new power plants proposed for the northeastern United States. The promise of demand from U.S. end-users has made the East Coast an attractive investment for major oil and gas companies and large integrated companies.
Location, Location, Location
One of those major East Coast players, PanCanadian, has had good luck with its Deep Panuke discovery. "It's still a very young basin," LeBlanc says. "There hasn't been a lot of exploration there."
Volumes from the Deep Panuke reservoir are scheduled to begin coming online in late 2004 and will travel through an expanded Maritimes and Northeast Pipeline (M&N) system to markets in the Maritimes provinces and generators in New England and New York.
The Deep Panuke reservoir is estimated to contain about 1 Tcf of recoverable natural gas. Initial production from Deep Panuke is expected to total 400 million cfd. The estimated operations phase of the project is approximately 11.5 years. The facilities to be constructed for the project will have a design life of 25 years.
Current offshore production in the area comes from Sable Island, a project owned by ExxonMobil, Shell Canada, Imperial Oil Resources, Emera, and Mosbacher Operating. In December 2001, production from Sable Island averaged about 600 million cfd. Ziff Energy forecasts 1 Bcf/d of production from Sable Island by 2005 and 2 Bcf/d by 2010, which would represent more than 10 percent of the gas production from western Canada.
"There's a strong demand for East Coast gas because it's a lot cheaper to get it to market," Gwozd says.
Given Deep Panuke's proximity to a transportation system and major market areas, PanCanadian doesn't anticipate volatile gas prices slowing development of Deep Panuke. "There's been a little downturn because of an unseasonably warm winter and because of the economic slowdown," LeBlanc says. "But I think we're already seeing prices beginning to rebound. And we expect prices will be very good over the next number of years. Our project is based on long-term pricing as opposed to the pricing from day to day."
PanCanadian sees Sable Island and Deep Panuke as only the beginning of exploration of Canada's East Coast. "Certainly, we think the next few years are going to be very active from an exploration perspective," LeBlanc predicts. "The deepwater will be an area that's explored quite actively off Nova Scotia and Newfoundland."
The company owns several exploration blocks in the vicinity of Deep Panuke that it plans to explore in the next few years. "Certainly, if we are successful in that exploration, we would see that gas potentially going into our [Deep Panuke] facilities or into new facilities depending on the size of the discoveries," LeBlanc says.
The New Frontier
On the opposite side of the continent, the debate over building a pipeline for Arctic gas will come down to economics. "Alaskan gas needs about a $4 to $4.50 price at Chicago," Osten argues. "That limits the probability that the Alaskan pipeline will be built in the next 10-year period."
If developers follow the Alaskan Highway route, a pipeline could make sense by 2010 or 2015, Osten says. The route has a number of advantages that could expedite the construction of a pipeline to bring Alaskan North Slope gas to the North American market.
Opening a portion of the Arctic National Wildlife Refuge to production could be linked to an Alaskan pipeline, Osten argues. "Not because there's so much gas in ANWR as it would seem, but if you're going to open up Alaska to more exploration, you're going to want the pipelines to take the oil and gas to market," he says. "In that sense, developing additional pipeline delivery systems from Alaska and opening more of Alaska would be companion issues."
In the long run, though, new technologies may make frontier gas exploration less promising to producers.
"Experts in this field believe there's going to be another 50 to 70 years," says Optimal Technologies' Schoettle. "When we get to the 40- or 50-year time frame, the price of extracting that last bit is going to end up being very expensive."
At some point, Schoettle explains, it doesn't make economic sense to continue exploring and producing the gas even though there might be some there. "You may find some of the other technologies simply take over because it's no longer economical to pull it out of the ground," he says.
Related: See sidebar: "Technology Mitigates Risk in Anadarko's Western  Canadian Gas Exploration Campaign."