Deck:
Northern gas rush proves timely for power generators.
Author Bio:
Mark Hand is senior editor of Public Utilities Fortnightly .
Northern gas rush proves timely for power generators.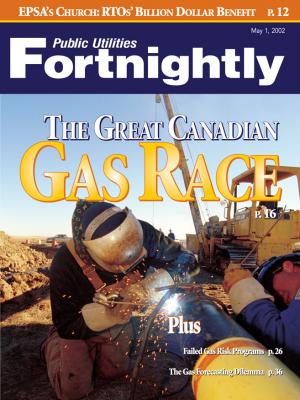 Upside potential is what will attract producers to Canada for years to come and what will help quench the thirst of new gas-fired power generation plants in the United States. Opportunities abound north of the border, where the natural gas resource remains an under-explored asset base.
U.S. companies are very aware of the strategic value in investing in Canadian companies that hold title to lands in the less developed lands of the Western Canadian Sedimentary Basin (WCSB). The Canadian energy sector, for example, saw almost $20 billion in mergers and acquisitions in 2001, far exceeding the $9 billion worth of energy M&A activity in 2000.
The strong interest in the Canadian exploration and production (E&P) sector bodes well for merchant power plant developers in the United States keen on operating their plants with an economical fuel that also enjoys a favorable environmental record. In fact, successful drilling programs in the deeper plays of the WCSB, offshore Nova Scotia and, eventually, the Arctic, should produce adequate reserve replacements for the next couple of decades.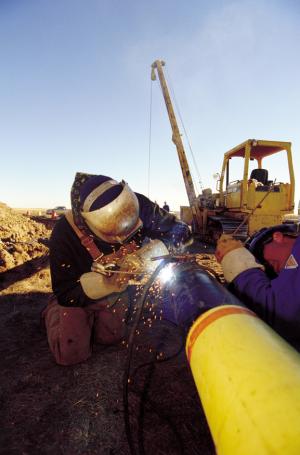 Looking at the numbers can help illustrate the large extent of U.S. dependence on investments in Canadian gas exploration. The United States uses Canadian gas to meet 15 percent of its annual 23 Tcf gas demand, which is expected to grow to the 30 Tcf range by 2015. As large numbers of gas producing regions along the Gulf Coast and in the Mid-continent approach old age, the United States must hope against a slowdown in Canadian gas imports.
"I don't think you're going to see us hitting a wall in terms of production," says Rob Woronuk, senior analyst at the Canadian Gas Potential Committee (CGPC). "That doesn't mean you're not going to hit a wall in terms of supply and demand. What could happen, and happened in 2000, is that demand grows massively and supply doesn't. And that was a kind of a wall and sent a message with very high prices to the industry and consumers."
But the WCSB, supplemented by Scotian Shelf gas today and Mackenzie Delta gas down the road, should continue to supplement U.S. production volumes as long as the commodity price remains adequate for producers to invest in exploration, Woronuk says.
Figures Speak for Themselves
In a 15-year span, imports of Canadian gas into the United States almost quadrupled, from 900 Bcf in 1986 to about 3.5 Tcf in 2000, U.S. Department of Energy statistics show. The percentage of Canada's total marketable production exported to the United States grew from 29 percent in 1986 to 57 percent in 2000. For the seventh year in a row, Canada's gas exports to the United States in 2000 equaled more than half of Canada's marketable production.
The total remaining marketable gas in Canada now stands at 233 Tcf, according to the latest report from the CGPC. Although its report provides evidence of a large resource base in Canada, CGPC's 2001 estimate still falls 230 Tcf short of