Deck:
The speculative electricity trading industry has a bad case of rigor mortis, but current efforts might breathe new life into the practice.
Author Bio:
Michael T. Burr is a freelance writer and frequent contributor to Fortnightly.
Trading is dead. At least that's what some analysts are saying about the electricity markets. "Trading died with Enron on Dec. 2, 2001," says Mark Williams, an energy risk management expert at Boston University.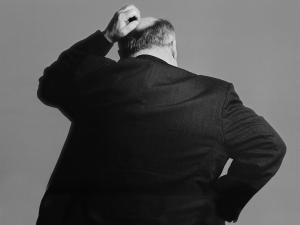 Evidence of this death surrounds us. Former trading leaders like Dynegy, El Paso, and Williams have dropped out of the markets. UBS Warburg is consolidating the former Enron Online operation into its Connecticut-based trading operations and laying off three-fourths of the Houston staff. Volume has evaporated, and a once-liquid market has turned opaque. Price discovery has become an inefficient, brute-force process.
Things look grim, but Williams qualifies his death-declaration by defining "trading" as speculating on long and short positions. "What's left is hedging, asset optimization, and risk mitigation," he says.
Whether trading is really dead or not, some signs of a rebirth are beginning to emerge. Major money center banks—most notably Bank of America—have moved to become electricity traders. A new industry group, the Committee of Chief Risk Officers (CCRO), recently issued a series of recommendations for standards and best practices that may restore confidence in the utility business. And as this article went to press, the New York Mercantile Exchange (NYMEX) announced plans to launch a new set of daily, weekly, and monthly electricity contracts.
Whether these signs of life really signal a revitalization of the market remains to be seen. In the meantime, companies are playing it safe by focusing on asset-based hedging and risk management.
Mostly Dead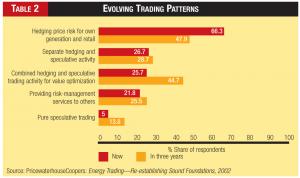 The demise of speculative trading can be traced back to Enron's collapse, but whether trading would have died anyway is the subject of some debate.
Boston University's Williams says it was inevitable. "There was clearly excess, and the market has demonstrated that. The profile and level of risk being taken was disproportional to the returns that were achieved. Now companies have to catapult the trading operation and admit it was just a fad, a bubble."
Mark Walker, a senior vice president with SunGard Trading & Risk Systems, agrees with this analysis. "I've seen this in other industries in the past. You have a speculative bubble, and then it collapses," he says.
Some see it differently, however. "The industry is evolving out of its inefficiencies," says Vikram Janardhan, a vice president with Henwood Energy Services. "It doesn't mean deregulation is dead or that trading is dead. What it means is that high-priced speculative traders, serving as middlemen for price discovery, have been deemed an inefficiency by Wall Street."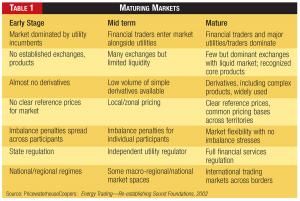 Janardhan says other examples of this evolution include the Federal Energy Regulatory Commission's (FERC) standard market design and locational marginal pricing (LMP) models; the trend toward asset-backed trading; and the standards being promulgated by the CCRO.
"Companies' charters are changing now," he says. "I see an increase in the volume of mid- to long-term contracts, where structuring and origination groups are involved." In other words, life goes on—just in a different form. (See Table 1, "Maturing Markets.")
Without speculative trading, however, liquidity and price discovery have suffered, and this has, at best, crippled the market. "It used to be with gas and electricity you could get forward prices four or five years in the future," says Kevin Howell, president of Dominion Energy Clearinghouse. "But the liquidity has disappeared along with the big wholesale counterparties."
The result is a lack of price transparency. Most of the trading volume is occurring on an over-the-counter (OTC) basis, and as a result forecasting and hedging have become more difficult. Adding insult to injury, many of the counterparties that remain in the market have suffered serious financial trauma and are no longer creditworthy. This further complicates hedging efforts.
"Creditworthiness of counterparties has probably been a bigger issue for us than anything else," says Dan Verbanec, a senior vice president with WPS Energy Services, the trading affiliate of Wisconsin Public Service. "We do structured deals with utilities or end users, then go to the market and hedge it off. Today, the 'hedging it off' part is where the problems come in. We've become more careful and disciplined as we create products for our customers."
Many continue to hold out hope that major players—possibly financial institutions—may bring some liquidity back into the market. But for the moment, the signs look bleak. In November 2002, UBS Warburg announced that it would eliminate the former Enron Online trading operation in Houston, and that only 90 of the 380 employees would be offered positions at the firm's Stamford, Conn., offices.
The fact that UBS is retaining part of the former operation might be seen as a bright spot, albeit a minor one. "UBS sees a future in energy trading, but its operations have to be sized to the opportunities that currently exist in the market," says Jennifer Walker, a spokesperson for UBS Warburg Energy. Contrary to popular conception, UBS was not involved in energy trading before it acquired Enron Online. "We were essentially a startup in February 2002," Walker says. "UBS didn't inherit any of Enron's trading book or positions."
Nevertheless, on balance the contraction of UBS Warburg Energy signals continued hesitancy among the banking community to commit major resources to the electricity market. Bank of America, which won FERC approval in late October to become an electricity trader, has yet to begin promoting those services. And rumors of other institutions entering the market have remained just that—rumors. Incumbent financial players that remain in the market are sticking to providing hedging structures for clients.
"Morgan Stanley has been in this market for a long time," says John Woodley, a Morgan Stanley trader. "We haven't pursued speculative trading. But the basic need for price-risk management services, the service we provide in our trading function, will get more important, not less important."
While this function is important, it does nothing for volume and liquidity. "What firms like Morgan Stanley do is complicated one-off transactions that span three to five years," Williams says. "Sophisticated sellers of these products will do well. They apply sophisticated econometric models to price deals and nibble off the high-margin business. That's not a liquid market."
Exorcising Enron
Electricity trading may not be dead, but it is definitely in a transitory state between its high-flying past life and an unknown future. Fred Cohen, a partner with PricewaterhouseCoopers LLP, says, "Companies are looking to develop a better education around what are the real risks in the utility business, and how can they monitor and manage those risks a lot better."
Volume eventually must return to the markets, for the simple reason that load growth has not abated and retailers find themselves increasingly short on supply. This situation has left unmet demand for firm contracts as well as options products, which translates into opportunities for creditworthy players.
"The interesting thing is that in liquid markets, you have a tight bid-ask spread, and in illiquid markets that spread gets wider," says Howell of Dominion. "We work harder to hedge our assets in wholesale markets, but over time we actually perform better in this type of market."
Smaller players than Dominion are also seeing these opportunities, according to John Bell, head of the energy practice with risk-management system vendor SAS Institute Inc. "We're involved with a lot of tier-2 and tier-3 companies that are looking at systems and thinking about gearing up."
Most of the trading that is occurring, however, is closely tied to assets and fundamental risk-management needs. Integrated utilities and merchant generators alike have dramatically scaled back their speculative-trading activities and are now focusing on selling output from their captive power plants (See Table 2, "Evolving Trading Positions").
"Portfolio optimization is the key," says Charles Craven, a vice president with system integrator Knowmadic. "The industry is going back to the original vertical-IOU [investor-owned utility] way of doing business, which is to look at what you have relative to other assets and make sure you apply them properly."
From a systems perspective, this means companies are retooling their trading and risk-management infrastructure to accommodate the new market conditions.
"You have to tailor the risk-management approach and systems to deal with this back-to-basics trend," says SunGard's Walker. Companies are implementing risk models that are designed for evaluating the positions of operating assets, in the context of loads, weather, and other factors.
"Mathematically modeling these things is difficult," Walker says. Problems arise because of operational uncertainties, regulatory issues, and physical constraints. "It's more complex than the simple calculations that were characteristic of the standard market-making, Enron-type of trades."
Additionally, the algorithms that make the most sense in today's market are tailored toward medium- and long-term transactions rather than short-term trades. This means that the value-at-risk (VaR) metrics that were favored just a few months ago are being supplanted by earnings-at-risk (EaR) and cash-flow-at-risk (CFaR) metrics.
"We inherited the concept of VaR from trading in other  more liquid commodities," Janardhan says. "Generally VaR assumes you can unwind out of a position in 24 hours, but in reality you can't get rid of your power plants tomorrow."
EaR and CFaR valuations are more appropriate for physical asset-based trading because they don't assume that all assets can be liquidated overnight, but they offer the ability to measure the effect of a given contract on the income statement.
"This paradigm will drive new types of valuation and Monte Carlo approaches," Janardhan says. A significant advantage of EaR and CFaR metrics is that they can be expressed in terms of how they affect the profit-and-loss statement.
"The trend is moving away from VaR, even though the CRO committee has mentioned it extensively," says Bell of SAS. "CROs and other folks want to see things in terms of profits, earnings before taxes and cash flow. We're working to break down risk, demystify it, and present it in terms of how it affects the balance sheet."
Other systemic changes are occurring at the same time. Namely, companies are carefully analyzing the way their systems handle credit-risk management and are investing to enhance them where necessary.
WPS Energy Services is one example. To improve its credit due diligence, the company implemented a system called Corporate Credit Manager, which is produced by Credit & Management Systems Inc.
"The system hooks in with Dun & Bradstreet and some of the agencies that provide financial information, so we can get credit scores quicker and better," Verbanac says. "We also tightened our policies and our collateral thresholds for counterparties. We put more resources in place to watch the credit of our counterparties more closely."
Rising From the Ashes
In addition to system changes to account for changing market and credit conditions, companies are preparing to implement standards suggested by the CCRO.
"For most risk systems or end-to-end transaction-management systems, the CCRO is recommending things that we have always supported," says Gordon Allott, vice president of business development with risk-management system vendor KWI. "It's just a matter of doing them in a little more organized fashion."
Until the CCRO recommendations reach a more final stage, it's impossible to tell exactly what the standards will be. However, in general, the CCRO recommendations will affect trading and risk-management processes in three ways.
First, the CCRO recommends a set of credit-risk management practices that make clear a company's credit-risk exposures in terms of a single transaction or counterparty, or the net exposure across the portfolio. Some of these steps seem fairly standard in the context of modern credit-risk management approaches, but the details might require significant system changes.
"In terms of modeling credit risk, how do you predict when another Enron will happen?" asks Walker of SunGard. "You can think about credit in the sense of what the real risks are. You can estimate how much you might lose and set aside capital reserves to cover it. But some of the credit-risk modeling recommendations require things that don't exist right now." Given the multi-faceted and uncertain nature of credit-risk, adequate credit-risk models will take some time to develop.
Second, the CCRO calls for standardized, transparent accounting methods that separate transactions into three types—proprietary trades (i.e., speculative deals); structured contracts that are not associated with assets; and asset-based contracts. This segregated reporting approach will require companies to retool their trading systems so they can categorize transactions and report the appropriate data separately for the CCRO tables.
"When you break up the portfolio like that, it drives you to focus on each of those categories," Allott says. "If you break it out you can see how much of earnings is influenced by the proprietary trading book, and you can actually represent the variability of physical facilities—that is, to represent a power plant as a power plant." Such a view of trading activities should provide significant insight into a company's risk profile.
And finally, with respect to trading, the CCRO's recommendations regarding valuation and risk metrics are pertinent. However, they are non-prescriptive enough that any reasonable risk-management process should cover the recommended practices without much trouble. Indeed, the industry seems already to have moved beyond some of what the CCRO is recommending in this area (see "Where the CCRO Fell Short").
One possible reason for the CCRO's broad-brush approach to valuation and risk metrics is that no universally agreeable set of pricing curves exists as a basis for comparison. "Everyone values things differently. There are no standards, and everyone is left to gun and run, so to speak," Bell says. "The jury is out on whether the CCRO standards will have enough teeth."
"Teeth" is precisely what is needed for the CCRO standards—or any standards, for that matter—to become universally accepted and to bring confidence back to the electricity trading market. "We think the CCRO recommendations are a step in the right direction," says Standard & Poor's analyst Jack Kennedy. "But it would be better if there was some type of independent oversight with respect to the reporting recommendations."
The CCRO concept, thus far, has been based on voluntary participation, but the standards could evolve into something more binding. One possibility would be for regulatory agencies like FERC or the Securities and Exchange Commission to use the CCRO recommendations as the basis for binding rules. Alternatively, ratings agencies could adapt the standards and implement them as part of a new valuation framework, or the CCRO itself could evolve into a systematic enforcement body. Or perhaps a smaller group of industry leaders might take the next step and become the de-facto benchmark for the rest of the industry.
Until then, the CCRO recommendations serve the purpose of establishing a threshold for the industry. "The industry needs to promulgate a set of minimally acceptable standards. That's where I think the CRO group has done an excellent job," says Cohen of PricewaterhouseCoopers. "The key now is to create a tightly integrated risk-management framework that clearly defines risk appetites, acceptable behaviors, and expected results."
Companies that are unable to meet this challenge, at least in general terms, will not be well positioned to survive in the future electricity trading market, whatever form it takes.
Leaving Limbo
Alongside credit weakness and evolving standards, regulatory uncertainty is the most severe chilling force in the markets today. While FERC has made significant progress, issuing a notice of proposed rulemaking regarding standard-market design and gathering comments from interested parties, the current state of limbo does not help electricity markets.
In the long term, the standard market design should bring new opportunities for trading activities. Ironically, however, a key component of FERC's proposal—LMP—might represent the last nail in the coffin for speculative trading.
"LMP is designed to take the mystery out of price discovery," Janardhan says. "You've got published prices for every node in every region. So what is the role for speculative trading? You don't need brokers speculating on bid-ask price spreads if LMP is spoon-feeding price spreads for every nodal generation point on the system."
Some role might exist for speculative trading in the future—namely in making longer-term deals and identifying intertemporal arbitrage opportunities. But for the most part it is rendered obsolete by FERC's LMP-based market design. Hourly and day-ahead markets will continue to exist, of course, but LMP will limit the degree to which traders can capitalize on supply-demand imbalances in the next-hour time horizon. Instead, these markets will come to resemble the cooperative in the next-hour time horizon trading activity that was carried out among neighboring utilities in the old NERC regions.
Thus the industry seems to be coming full circle in its evolution, returning to a tighter regulatory framework as it heads into the future. Not all players will agree that this is a good thing, but it represents a logical and realistic solution to the industry's problems.
As FERC Commissioner William Massey said in a recent speech, "What is the appropriate mix of regulation and free market ideology? There are good arguments on virtually every side. Yet, despite the ambiguity, someone has to decide."
The electricity trading business might never recover its former vitality. But FERC's decisions—and ultimately the actions of the industry itself—promise to keep electricity markets alive for a long time to come.