Deck:
The speculative electricity trading industry has a bad case of rigor mortis, but current efforts might breathe new life into the practice.
Author Bio:
Michael T. Burr  is a freelance writer and frequent contributor to  Fortnightly.
The speculative electricity trading industry has a bad case of rigor mortis, but current efforts might breathe new life into the practice.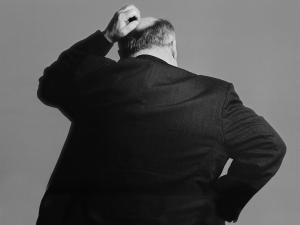 Trading is dead. At least that's what some analysts are saying about the electricity markets. "Trading died with Enron on Dec. 2, 2001," says Mark Williams, an energy risk management expert at Boston University.
Evidence of this death surrounds us. Former trading leaders like Dynegy, El Paso, and Williams have dropped out of the markets. UBS Warburg is consolidating the former Enron Online operation into its Connecticut-based trading operations and laying off three-fourths of the Houston staff. Volume has evaporated, and a once-liquid market has turned opaque. Price discovery has become an inefficient, brute-force process.
Things look grim, but Williams qualifies his death-declaration by defining "trading" as speculating on long and short positions. "What's left is hedging, asset optimization, and risk mitigation," he says.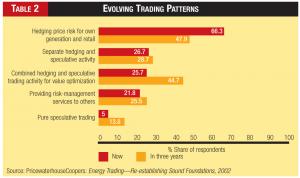 Whether trading is really dead or not, some signs of a rebirth are beginning to emerge. Major money center banks—most notably Bank of America—have moved to become electricity traders. A new industry group, the Committee of Chief Risk Officers (CCRO), recently issued a series of recommendations for standards and best practices that may restore confidence in the utility business. And as this article went to press, the New York Mercantile Exchange (NYMEX) announced plans to launch a new set of daily, weekly, and monthly electricity contracts.
Whether these signs of life really signal a revitalization of the market remains to be seen. In the meantime, companies are playing it safe by focusing on asset-based hedging and risk management.
Mostly Dead
The demise of speculative trading can be traced back to Enron's collapse, but whether trading would have died anyway is the subject of some debate.
Boston University's Williams says it was inevitable. "There was clearly excess, and the market has demonstrated that. The profile and level of risk being taken was disproportional to the returns that were achieved. Now companies have to catapult the trading operation and admit it was just a fad, a bubble."
Mark Walker, a senior vice president with SunGard Trading & Risk Systems, agrees with this analysis. "I've seen this in other industries in the past. You have a speculative bubble, and then it collapses," he says.
Some see it differently, however. "The industry is evolving out of its inefficiencies," says Vikram Janardhan, a vice president with Henwood Energy Services. "It doesn't mean deregulation is dead or that trading is dead. What it means is that high-priced speculative traders, serving as middlemen for price discovery, have been deemed an inefficiency by Wall Street."
Janardhan says other examples of this evolution include the Federal Energy Regulatory Commission's (FERC) standard market design and locational marginal pricing (LMP) models; the trend toward asset-backed trading; and the standards being promulgated by the CCRO.
"Companies' charters are changing now," he says. "I see an increase in the volume of mid- to long-term contracts, where structuring and origination groups are involved." In other