Deck:
Commercialization of methane recovery from coastal deposits of methane hydrates could head off an impending gas shortage.
Author Bio:
Henry R. Linden is Max McGraw Professor of Energy & Power Engineering & Management , and director, Energy & Power Center, Department of Chemical and Environmental Engineering, Illinois Institute of Technology, Chicago, Illinois.
Commercialization of methane recovery from coastal deposits of methane hydrates could head off an impending gas shortage.
Looking superficially at today's gas market data, one might conclude that all is well with the gas industry. For example, working gas storage at the beginning of the current winter withdrawal season-projected to reach well above the normal level of 3.2 trillion cubic feet (Tcf) [1]-actually reached more than 3.3 Tcf at the beginning of November. Furthermore, average active rig count drilling for natural gas was projected to reach a record high of about 1,025 in 2004.
However, growing numbers of energy experts-increasingly alarmed at the ever-increasing price level of natural gas-predict a natural-gas supply crisis for the United States in the coming years.
Strikingly, these forecasters, who projected that pipelines and liquefied natural gas (LNG) terminals would arrive too late to prevent a natural-gas disaster, also had projected spot prices years into the future that were reached in the last few months. For instance, projected mid-winter Henry Hub spot prices of about $6.60 to $7.70/MMBtu for 2004/2005 and $7.50 to $8.50/MMBtu for 2005/2006 [2] were reached during the October 2004 cold spell.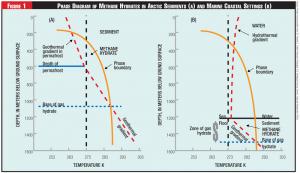 This article investigates the potential of U.S. methane hydrates to avert an impending shortage of natural gas from domestic sources, supplemented by pipeline and liquefied natural gas (LNG) imports at competitive costs.
Deposits
Government agencies, private energy companies, and universities have access to enormous coastal methane hydrate deposits. The Blake Ridge deposit about 250 miles east of Charleston, S.C., seems like the best U.S. site for such an effort. Blake Ridge is exactly the type of deposit most amenable to conventional production techniques-a tight sedimentary cap overlying an increasingly porous sediment containing an increasing amount of solid hydrates bounded by a free gas zone. Reducing the pressure level in this free gas zone by gas withdrawal will result in increased amounts of hydrates decomposing and adding to the supply. A similar opportunity may exist in the Nankai Trough, southeast of Japan's main island of Honshu. Each of these two deposits is estimated to contain 2,000 to 2,500 Tcf of potentially recoverable gas. In fact, a great deal of seismic, sonar, and BSR (Bottom Simulating Reflector) data of these areas already has been assembled, and it promises to be a source of important information on how to proceed with commercial production attempts. These crystalline polyhedral complexes of water and methane molecules as well as hydrocarbon molecules-consisting of only 90 percent methane and 10 percent higher hydrocarbons (primarily ethane, propane, and some butane) that release 170 to 180 volumes of gas per volume of hydrate upon decomposition-will be examined as a potential global source of unconventional natural gas exceeding 700,000 Tcf.
More than half of the Earth's organic carbon is in the form of methane hydrates, while somewhat less is contained in the total of recoverable and non-recoverable fossil fuels