Deck:
An effective risk-management strategy depends on knowing your shareholder's idea of value.
Author Bio:
David Shimko is founder and president of Risk Capital.
An effective risk-management strategy depends on knowing your shareholder's idea of value.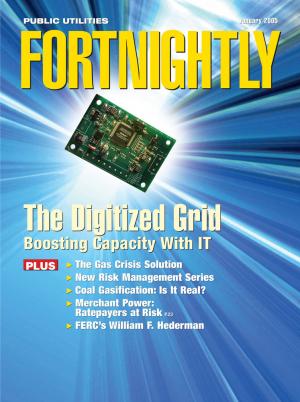 How do shareholder relations link to risk-management policy? The answer: Utilities have to communicate to shareholders a particular set of operating strategies that will attain certain financial results. Risky activities both enhance and threaten those financial results. Therefore, policies must define how risky strategies are formulated, approved, controlled, and measured.
Consider an example. Prior to declaring bankruptcy in 2003, Mirant was seen by many as an energy trading company that held assets in order to improve its trading prospects. The theory was that the connection between physical and financial trading of energy commodities provided unique profit opportunities. This particular strategy also is common to J.Aron and Morgan Stanley, both financial trading shops that acquired physical commodity capabilities in order to capitalize on this sweet spot in commodity trading.
Yet Mirant also could have been seen as a company that managed generation assets and traded to the extent it found opportunity around those assets. In other words, the assets and the activity of a company do not define its strategy. The company defines its strategy. Several different strategies might by coincidence lead to similar portfolios.
We would expect that a trading firm with assets would have a different risk-management policy than an asset firm that trades. These are suggested in Table 1.
The trading firm with assets is really a hedge fund with some illiquid trades ( i.e., assets) in its portfolio. There is nothing wrong with this model; in fact, many companies have earned billions from following it. The alternative model is a company driven by its asset strategy. Trading may balance out the strategy or capitalize on some value of the assets ( e.g., information about day-ahead production and grid characteristics), but it does not drive the asset selection.
While both business models are valid, different disclosure strategies are required for investors in each case. Traders with assets should disclose like hedge funds or banks. Asset managers with trades should disclose like industrial companies. Unfortunately, some utilities better seen as asset companies wind up disclosing their risks as if they were trading companies, causing confusion and fear.
Why do investors focus so much on trading, when in many cases, it is such a small contributor to earnings? The answer is that trading holds hidden risks; it is a black box that utility investors don't always understand. When management lets on that it also does not understand these risks fully, investors run scared. The consistency principle has been violated. Trading cannot be seen as being consistent with an overall financial strategy if management cannot explain how it both enhances and threatens the strategy.
Most utilities fall into the category of asset managers with trading. For these utilities, we suggest a "straw man" strategic model.
Straw-man Strategy for Asset Utilities With Trading
1. Communicate to investors that the goal is to preserve assets, and that trading around assets is necessary to capture part of the asset's intrinsic