Deck:
A forecast for California on Aug. 16, 2006
A forecast for California on Aug. 16, 2006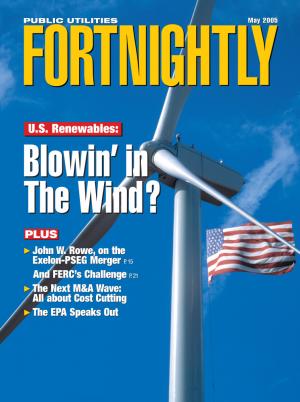 Transmission congestion affects both the cost and the efficiency of the electric power grid. Traditionally, transmission congestion has been managed as an engineering or contractual matter, through physical management of the grid or contractual management of "contract paths" for delivering electricity. The use of locational marginal pricing (LMP)—a market-based approach that sends price signals to transmission generators and load-serving entities—uses the grid to encourage the most efficient use of the transmission system.
Global Energy's Market Analytics LMP along with PowerWorld Corp.'s OPF Simulator and Energy Visual's graphical interface solution provides a richly textured visual representation of Global Energy's forecast of transmission congestion in California for Aug. 16, 2006.
LMP Is About Managing Transmission Congestion
By calculating locational marginal prices and plotting them graphically using the Global Energy and PowerWorld software, it is possible to provide a complete zonal to nodal analysis of transmission congestion and the locational marginal price implications of transactions on the grid.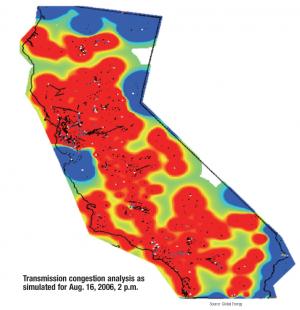 The locational marginal price is the incremental value (marginal cost) of an additional megawatt of energy injected at a particular location, taking into account both generation marginal cost and the physical aspects of the transmission system.
LMP provides better transmission congestion management than the physical contract path approach historically used because it:
Involves less command and control, and efficiently assigns congestion costs to cost causer;
Efficiently delivers lowest-cost electricity while respecting physical limitations of the system;
Relieves congestion and promotes efficient investment providing appropriate price signals;
Aligns participant financial incentives with system operator dispatch instructions for reliable operations; and
Enables transmission system operation closer to operational limits, reducing costs and increasing supply when the transmission system is constrained.
Substantial implications to market participants in the use of LMP include:
Lessens volatility and altered risk-management strategies for market participants;
Requires day-ahead, hour-ahead energy and ancillary services bids;
Links price volatility to locational factors, again creating winners and losers;
Considers what is monetized as a contingency matters in the LMP calculation;
Helps understand both the intrinsic and extrinsic value of congestion revenue rights to fine-tuning bid strategies (bid, self-schedule);
Realizes grandfathered financial transmission rights (FTR) favor historical generators at the expense of merchants; and
Acknowledges resource adequacy requirements can be fundamentally altered by LMP.
The following figures track the expected congestion on Aug. 16, 2006, and were simulated assessing the transmission congestion and resulting LMP implications as transactions take place to meet normal business needs of electric users. A discussion of how LMPs are calculated and a sample of LMP results is presented.
How Global Energy Calculates LMP
Using the Global Energy and Market Analytics solution, a simulation is developed of desired hourly dispatch of generators where intra-zonal congestion is not considered.
The hourly dispatch and commitment data, along with bid curves of the units, are passed to the OPF model and