Deck:
Electric M&A: The merger with PSE&G may herald a new industry structure, squarely at odds with regional markets.
Author Bio:
Bruce W. Radford is editor-in-chief of Public Utilities Fortnightly. He can be reached at radford@pur.com.
Call it the merger that broke the bank.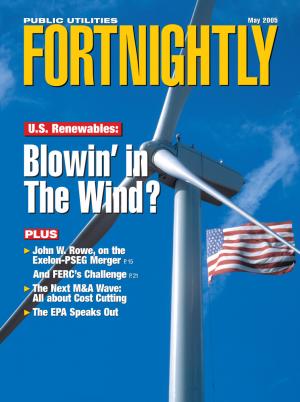 The marriage between Exelon and PSEG, owner of the utility Public Service Electric & Gas (PSE&G), formally proposed in February in papers filed at the Federal Energy Regulatory Commission (FERC), would create the largest electric utility in the United States.
The combined assets (prior to any divestitures to ease the shock) would total a quarter again larger than Duke Energy (number two), 60 percent larger than Dominion Resources, and nearly twice the size of American Electric Power. The new firm (Exelon Electric & Gas, or EEG) would claim roughly one-and-a-half times the annual revenues of Southern Co. (or Duke, or Dominion). Meanwhile, the two EEG partners promise great efficiencies from the deal, coming from huge economies of scale and the consolidation of nuclear resources under one roof, under the leadership of Exelon's claimed world-class nuclear expertise. (See FERC Docket No. EC05-43, application filed Feb. 4, 2005, comments filed Apr. 11, 2005.)
The policy implications could loom even larger, however.
A Real Conundrum
Standing at risk is nothing less than FERC's entire regulatory regime for approval of mergers and market-based rates. For, if the commission should
OK this deal, it could well foreclose any future merger between or among any other utilities operating within the ever-expanding footprint of the PJM regional grid—if FERC follows its current rules. That's because the EEG merger, as proposed, even with the parties' promises to divest fossil power plants and lease out rights to output of nuclear units to mitigate market power, would boost the level of concentration of ownership of generating capacity within PJM to an amazing extent.
Consider the effect on HHI. (Antitrust experts look to the Herfindahl-Hirshman Index—the sum of the squares of market shares—to measure market concentration.) Any way you cut it, the increases would run off the scale. That would just about guarantee that any future M&A deal between PJM players would violate FERC's "Appendix A" screen for measuring market power, as set out in its various merger policy statements. (See FERC Order No. 592, 61 Fed.Reg. 68,595;
and Order No. 642, 65 Fed. Reg. 70,983.) Ditto for its twin tests for approval of market-based rates that FERC announced last year in its AEP Power Marketing case, which measures both market share and "available economic capacity." (See Docket No. ER96-2495-016, Apr. 14, 2004, 107 FERC ¶61,018.)
By some estimates, the post-merger EEG could own as much as 47 percent of all generation in a high-cost sector of PJM located to the east of a key transmission interface, and as much as 30 percent even after divestitures. But FERC's AEP rule says that any share greater than 20 percent puts market-based-rate authority in jeopardy. Such impacts could throw PJM into turmoil, leaving EEG secure in a commanding position, with competitors unable to bulk up to match it.
Of course, Exelon and PSE&G understand all of this. To mitigate the potential for market power, they have proposed to sell off (or swap) title to a healthy swath of fossil generation (both peaking and mid-merit, including gas- and coal-fired units). Also, they would sign contracts to sell the energy output of a good chunk of nuclear—either in long-term 15-year contracts, or in 3-year deals for rights to small, 25-MW blocks—in what is called a "virtual" divestiture.
Commenting on the proposal, consultants Peter Fox-Penner and Johannes Pfeifenberger (The Brattle Group) note how the merger likely might create a two-tiered industry. Each RTO would serve a very few mega-utilities that own dominant shares of generation and transmission, plus with a retinue of numerous, small, second-tier power producers that live off the scraps thrown off by the big boys. This prospect runs exactly counter to FERC's vision, which calls for a multitude of equally competitive players.  To assure enough players, it redesigned its merger rules in 1996 to limit company size and ownership share, giving up attempts to determine if mergers might foster ratepayer benefits.
In similar fashion, FERC has pushed successfully for locational (nodal) pricing, with market and product boundaries dictated by the architecture and loading patterns on the underlying transmission grid. In fact, as the Brattle consultants note, this atomization of products and markets can be seen gaining speed, with the recent proposal in New England to institute a locational capacity market, known as "LICAP," with separate capacity credit prices for separate zones within the RTO. (See "Commission Watch," January 2005, p. 16.) PJM's "Reliability Pricing Model," still under development, would accomplish much the same thing. These efforts to divide RTOs into smaller "satellite" markets make sense from the standpoint of physical grid operations. But with smaller zones come larger relative concentrations of ownership, driving the need for even stricter regulation of market share. Exelon's end game would make a shambles of all this.
Yet what if Exelon is correct? What if huge mega-mergers are the way to go? Listen to the Brattle consultants:
"If we assume that 50,000-MW utilities are the lowest-cost service providers, [then] it is in the national interest to create more of them, not fewer.
"This, however, appears to conflict with … the Commission's competitive market design objectives."
Market Analysis
Experts can measure generating capacity quite easily. But to calculate market share and then available economic capacity, they must define and analyze
a broad range of factors:
• Geographic and temporal products and markets;
• Power-plant operating costs;
• Future trends in prices for power plant fuels;
• Transmission loading, congestion, and constraints;
• Forced and unforced outage rates at individual plants;
• Regional trading patterns and import capabilities; and
• Market prices for energy and capacity across all relevant zones, seasons and hours.
Only after such analysis can regulators determine how the regional grid operators likely will deploy and dispatch power plants and resources, and whether and to what extent a particular asset owner can influence prices.
Space here does not permit a comprehensive discussion of the 100-plus-page affidavit of William H. Heironymus,
a vice president of Charles River Associates Inc., and the key technical witness for the merger parties, and his evidence on products, markets, and compliance with FERC's merger guidelines. Nor does it permit a full retelling of the
many in-depth critiques of that evidence, such as offered by Harvard University Professor Joseph Kalt, or Charles J. Cicchetti of the Pacific Economics Group, who have testified as opposing witnesses for the PP&L Cos., and PEPCO Holdings, respectively.
Much of this testimony involves disagreements over which geographic portions of the overall PJM regional grid should be considered pivotal in analyzing the effects of the merger. Instead, consider just one of the many issues involved: the price of natural gas.
In its protest to the merger, and by testimony presented by its key witness, Julia Frayer, a partner and managing director of London Economics International, FirstEnergy contends that Heironymus seriously has underestimated the scope of likely increases in natural gas prices. Frayer and FirstEnergy argue that this alleged shortcoming has caused the merging parties to offer a faulty analysis of which power plants should be considered as infra-marginal (i.e., able to compete on price) in various PJM zones.
According to Frayer and FirstEnergy, Hieronymus estimated future natural gas prices by applying standard escalator factors to historical prices taken from 2004. By contrast, Frayer has employed power prices plus historic spot gas prices from 2004 to derive an implied competitive heat rate. (The rate at which a gas-fired plant must be able to convert the heat content of its fuel into electric output to compete at the prevailing market price for energy.) She then applied that implied heat rate to actual forward natural gas prices at the Henry Hub for 2006, as listed on the New York Mercantile Exchange. That analysis led Frayer to calculate destination market prices for energy some 47 to 57 percent higher, on average (with the exception of prices for the extreme annual super peak), than power market prices estimated by Hieronymus, representing the merging parties.
It is in such details that the Exelon merger fight may be won or lost.
Practical Effects
Beyond the theoretical arguments over arcane points of antitrust law and regulatory merger analysis, the EEG deal could have real, concrete, dollar-and-cents effects on power-market players across a wide area.
In New Jersey, for example, where PSE&G is a key player, the state's Board of Public Utilities has asserted that the merger could pose "a serious threat"
to the very viability of the state's BGS auction for basic generation service.
From Indiana, NISOURCE notes that with Exelon's ComEd subsidiary having recently joined PJM, its electric subsidiary, Northern Indiana Public Service Co., has seen significant changes in grid loading patterns. Loopflows, it says, have forced closure of transmission lines or reductions in power-plant output. The company worries that the merger only will make things worse.
NIPSCO Vice President Frank Venhuizen states that ComEd's joining of PJM has increased the west-to-east bias in power flows across his company's lines (from 4,000 to 5,000 MW, up to approximately 6,000 MW). Venhuizen says that NIPSCO has had to open a breaker on its Michigan City Generating Station and lower output on the MCGS unit 12. Working with the MISO RTO, NIPSCO either has placed limits on one of its 138-kV lines or performed redispatch. These affects on power flows are caused, NISOURCE explains, by ComEd increasing power exports from Illinois to points east.
And, if the merger goes through, with EEG divesting higher-priced fossil generation in New Jersey to trim market share and replacing it with lower-priced generation owned by ComEd in northern Illinois, "it follows that west-to-east flows of power across the NIPSCO system will continue to increase."
By pure chance, it turns out Exelon failed recently to meet its regularly scheduled deadline for filing its latest triennial update to its authority to charge market-based rates, causing FERC to issue a deficiency letter: "Please revise your analysis based on the company's most recent circumstances." (See FERC Docket Nos. ER99-754-009, letter order issued Mar. 25, 2005.)
Exelon's response was due to be filed at FERC on April 15. Perhaps that response will shed a little more light on the problem.