Deck:
The CEO Power Forum: Not all utility CEOs are created equal...
The CEO Power Forum: Not all utility CEOs are created equal...
Lewis Hay III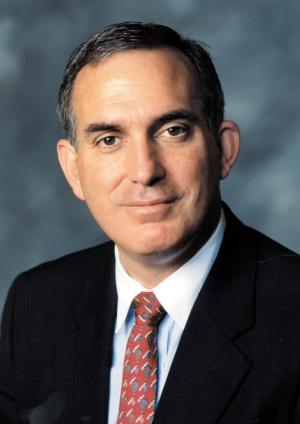 Chairman, President and CEO, FPL Group
"I think fuel mix is a question that every CEO of a utility in America is  struggling with right now. There are not a lot of good alternatives for us."
Public Utilities Fortnightly How would you characterize the wind business? Why is this business attractive to FPL and how does it compare to other utility businesses?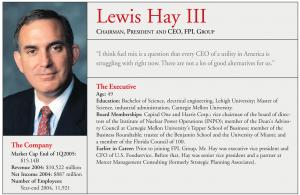 Lewis Hay III This is an area where there is still a tremendous amount of demand and therefore growth. We haven't seen in the last few years too much demand for generation because of the over-building that occurred in the late 1990s and the early 2000 period of time. But even though there hasn't been demand for traditional generation, with more than 16 states having passed renewable portfolio standards, we're seeing a lot of demand for renewable energy. We believe wind energy is far and away the most economic of the alternatives.
Fortnightly Wind accounts for about eight percent of FPL Group's generation mix. What would be your goal in terms of expansion? What sort of growth potential does it have in the next few years?
Hay We're forecasting this year that we'll add between 500 MW and 750 MW. By its very nature with the production tax credits sort of coming and going, depending on what happens with Congress, wind has been a little choppy in terms of year-by-year growth. But we have been averaging right around 500 MW per year for the last five or six years or so. I see no reason to believe that we can't continue that pace for a number of years to come.
Fortnightly How does wind contribute to FPL Group's bottom line? If I were an investor, how would you explain the value proposition?
Hay We've been earning returns that are well in excess of what our regulated utility makes in our wind business.
Fortnightly Even as more renewables are developed, the contribution in percentage terms nationally is still very low as compared to fossil fuels. How do you believe renewables will make a more meaningful contribution to the nation's resource mix? What needs to happen?
Hay As I mentioned earlier, a number of states have passed renewable portfolio standards (RPS). We believe that is appropriately done at the state level. I'm not sure that it makes sense for all states to pass an RPS. But even without an RPS, we're seeing, particularly for wind again, with natural gas prices in the $7.00 plus range, wind is very economic even without a state passing an RPS. Quite a few of our customers who bought wind power over the last few years are delighted at the prices that they are paying for wind energy.
I think, as fuel prices stay high, you are going to see a lot more demand for renewables. ... The president was pushing Clear Skies a few months ago. That didn't pass yet, but I think it is inevitable that we