Deck:
Retail Choice: New York utilities cry "bait and switch," but it's not that simple.
Retail Choice: New York utilities cry "bait and switch," but it's not that simple.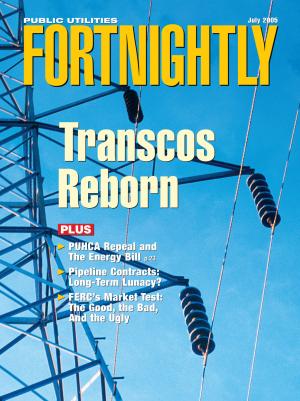 Here's the deal. If you take electric service from Orange & Rockland Utilities (O&R), the Catskills affiliate of Manhattan's Consolidated Edison (Con Ed), you can get on the phone, switch to a competitive retail supplier, and score an instant 7 percent discount off the filed utility rate for the energy commodity. It's that simple. And if you don't express a preference for any particular ESCO (competitive energy service company), O&R will pick one for you, at random.
But there's a catch. The discount lasts for two months only. After that, if you haven't signed a contract or taken some other action to lock in your discount, your ESCO can boost the commodity rate back to the old level—or even higher. You'd continue to pay the utility wires charge, so you might lose money over the long haul by choosing an ESCO for supply.
Of course, you can also take the money and run. After your two months are up, you notify O&R and return to traditional, regulated, and bundled utility service. In that case, however, you must wait a full year before getting another shot at the 7 percent premium.
So where's the problem? This is America. This kind of offer occurs all the time. Think cell phones, credit cards, DSL Internet. Why should electricity be any different?
Connecting the Dots
Consider Orange & Rockland's most recent update to its aforementioned PowerSwitch plan, proposed in papers filed in January at the New York Public Service Commission (PSC). (O&R had introduced retail choice in 1998 with its PowerPick plan, reformulated in 2003 as Switch-and-Save, the predecessor to PowerSwitch.)
Energy East, the holding company for upstate utilities NYSEG (New York State Electric & Gas) and RG&E (Rochester Gas & Electric), then attacked O&R's plan in a protest filed in March. Having seen the PSC endorse the basic concept in other recent cases, Energy East saw the writing on the wall.
"Our regulatory staff connected the dots," says Jim Laurito, president of both NYSEG and RG&E. He and his companies feared that New York regulators might impose the O&R model whether utilities wanted it or not. Last summer, in fact, the PSC had praised earlier versions of the O&R plan in a general policy statement on retail choice.
"We were not alarmed when the PSC issued its policy statement last August," Laurito told Fortnightly.
"We figured, one size should not fit all. However, since that time, the PSC has granted initial approval of similar plans for Central Hudson, and National Fuel Gas, and Con Ed." ( For the PSC's Con Ed order, Case 04-E-0572, March 24, 2005. )
"Call it 'mission creep,' if you will," Laurito said. "We felt very disadvantaged to be last in line. It seemed the PSC was shifting policy," he added, "from choice and savings to migration, trying to force utilities out of the commodity business.
"Why shouldn't we stop before going further, to see if we are getting real, sustained consumer benefits from