Deck:
Retail Choice: New York utilities cry "bait and switch," but it's not that simple.
Here's the deal. If you take electric service from Orange & Rockland Utilities (O&R), the Catskills affiliate of Manhattan's Consolidated Edison (Con Ed), you can get on the phone, switch to a competitive retail supplier, and score an instant 7 percent discount off the filed utility rate for the energy commodity. It's that simple. And if you don't express a preference for any particular ESCO (competitive energy service company), O&R will pick one for you, at random.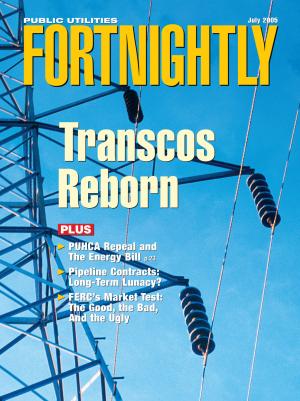 But there's a catch. The discount lasts for two months only. After that, if you haven't signed a contract or taken some other action to lock in your discount, your ESCO can boost the commodity rate back to the old level—or even higher. You'd continue to pay the utility wires charge, so you might lose money over the long haul by choosing an ESCO for supply.
Of course, you can also take the money and run. After your two months are up, you notify O&R and return to traditional, regulated, and bundled utility service. In that case, however, you must wait a full year before getting another shot at the 7 percent premium.
So where's the problem? This is America. This kind of offer occurs all the time. Think cell phones, credit cards, DSL Internet. Why should electricity be any different?
Connecting the Dots
Consider Orange & Rockland's most recent update to its aforementioned PowerSwitch plan, proposed in papers filed in January at the New York Public Service Commission (PSC). (O&R had introduced retail choice in 1998 with its PowerPick plan, reformulated in 2003 as Switch-and-Save, the predecessor to PowerSwitch.)
Energy East, the holding company for upstate utilities NYSEG (New York State Electric & Gas) and RG&E (Rochester Gas & Electric), then attacked O&R's plan in a protest filed in March. Having seen the PSC endorse the basic concept in other recent cases, Energy East saw the writing on the wall.
"Our regulatory staff connected the dots," says Jim Laurito, president of both NYSEG and RG&E. He and his companies feared that New York regulators might impose the O&R model whether utilities wanted it or not. Last summer, in fact, the PSC had praised earlier versions of the O&R plan in a general policy statement on retail choice.
"We were not alarmed when the PSC issued its policy statement last August," Laurito told Fortnightly.
"We figured, one size should not fit all. However, since that time, the PSC has granted initial approval of similar plans for Central Hudson, and National Fuel Gas, and Con Ed." (For the PSC's Con Ed order, Case 04-E-0572, March 24, 2005.)
"Call it 'mission creep,' if you will," Laurito said. "We felt very disadvantaged to be last in line. It seemed the PSC was shifting policy," he added, "from choice and savings to migration, trying to force utilities out of the commodity business.
"Why shouldn't we stop before going further, to see if we are getting real, sustained consumer benefits from these plans?"
In their formal protest filed at the PSC, NYSEG and RG&E cite numerous objections. Ratepayers, they say, "may be subject to a 'bait and switch' type offer." After the two months expire, they add, customers risk being "effectively slammed" if the ESCO then hikes prices without any prior affirmative consent.
And the deal, they add, isn't worth much. In their filing, NYSEG and RG&E claim that under PowerSwitch, the average total discount (on the commodity charge) for a typical residential customer (using 600 kWh per month) who enrolled in 2004 would have been approximately $5.75 ($2.86 per month). The savings would run about 1 percent on the total annual utility bill.
Also, the utilities argue that O&R's plan violates the PSC's Uniform Business Rules. That's because the utility customers who opt for the plan don't always deal directly with the ESCO when they sign up. At the time of enrollment, customers usually do not know all the eventual terms, conditions, rates and charges that will apply after the two-month honeymoon runs out. In short, NYSEG and RG&E find no evidence that O&R's plans have produced "sustained benefits for customers." They want the PSC to open an immediate investigation and defer approval of similar plans by other utilities. (See, Comments of NYSEG and RG&E, SAPA I.D. No.  PSC-08-05-00008-P, NY PSC Case 05-M-0334, filed March 23, 2005.)
Even AARP has entered the fray. Joining with PULP, the pro-consumer Public Utility Law Project, based in Albany, the American Association of Retired Persons warns that older ratepayers "are particularly vulnerable" to rapid energy price hikes, since they devote a higher percentage of spending to residential heating and cooling.
Programs like PowerSwitch, they say, demand "a close look" to assure that consumers have "the information they need to protect themselves."
PULP Director Gerald Norlander argues that PSC approval might even raise "possible antitrust violations" by encouraging ESCOs collectively to offer the same 7 percent discount, never greater, and always to discontinue their discounts after two months, when they might have decided otherwise, absent the PSC-sponsored program.
Crocodiles and Daggers
As you might expect, the marketers have had a field day. "Crocodile tears," writes Usher Fogel, counsel for MAPSI, the Mid-Atlantic Power Supply Association, and the Small customer Marketer Coalition. Any suggestion that the state should regulate ESCO energy prices, writes Fogel, would "strike a dagger into the heart" of retail choice. (Comments filed Apr. 5, 2005.)
In its landmark policy statement from last year, setting a new vision for retail choice, the PSC termed O&R's antecedent Switch-and-Save plan "the most successful model yet tried" for moving utility customers to private energy retailers. (See, Case 00-M-0504, Aug. 25, 2004, 235 PUR4th 225, at pp. 235-36, 277.)
In another prior case, the PSC had authorized Orange & Rockland to spend ratepayer money to promote its plan. (See Case 03-E-0797, Oct. 23, 2003.)
Rising to O&R's defense, Jane Assaf, assistant counsel for the New York Department of Public Service (the utility commission's legal staff), argues that PowerSwitch satisfies the PSC's business rules for customer enrollment because the utility deals directly with consumers and acts as a lawful agent for the ESCO. As for doubts about benefits, Assaf writes, "Proof of savings is not the correct inquiry."
Retail choice, she adds, "does not mean that ESCOs must provide electricity at a lower price than the regulated utilities."
In Albany, as of early June, bills were pending in the state Senate and the Assembly (S. 5307, A. 77429) to compel the PSC to re-analyze retail choice and report back to the legislature. Such legislation would bar the PSC from using the migration of customers from utilities to unregulated vendors as a rod to measure the success of retail choice. Further, the legislation would force the PSC to study the "savings, choices and sustained benefits" before promoting plans like PowerSwitch, that seek to encourage migration by helping ratepayers to get their feet wet.
Profit and Risk
Why should one utility knock itself out to prevent another from offering discounts, even if dubious, since they don't compete against each other for native load customers that take the regulated standard offer. If one loses his shirt, so be it.
Well, it turns out that that Orange & Rockland won't lose its shirt. And neither will Con Ed, if it adopts a similar plan. As confirmed by media spokesmen Mike Donovan at O&R, and Mike Clendenin at Con Ed, those companies make no margin on the sale of the commodity. They have designed their rates to charge retail customers the same cost they incur to buy electricity at wholesale.
Not so, for NYSEG and RG&E. Their rate designs, according to allegations by the Small Customer Marketer Coalition and the Mid-Atlantic Power Supply Association, feature fixed rates that include a 35 percent markup on sales of the electricity commodity. Thus, the marketers clearly imply that Energy East utilities want to minimize ratepayer migration to private vendors to protect the profits they earn on regulated commodity sales.
"They [NYSEG and RE&E] are really trying," writes Jane Assaf, "to seek reconsideration of the fundamental underpinnings of the PSC's competitive agenda."
Yet it's not so simple.
In speaking with the Fortnightly, Jim Laurito explained carefully why that so-called 35-percent margin isn't what it seems.
"That's inaccurate," he insists. "There is a 35 percent risk premium, but not margin.
"Part of that cost is for hedging risk," he notes. It's for assembling a properly diversified and comprehensive electric supply portfolio, "so that we can offer our customers a fixed price over two years."
(In fact, it is NYSEG that offers a fixed, default supply price for two years; RG&E, as Laurito explained, offers a fixed-price deal for a one-year term.)
"With this 35 percent risk premium," Laurito explains, "and there are states, like Texas, where the premium is even higher," he adds, "we can provide benefits to our customers, such as helping them avoid $60 million in costs from an ice storm last winter."
And Laurito believes it is crucial to smooth out the bumps for ratepayers, especially in the upstate region that his companies serve.
"We have a lot of fixed-income customers," he notes. "They need a fixed price. So our strategy is to stay in the commodity business."
AARP and PULP lend at least some credence to Laurito's points.
Back in the early days of the New York Independent System Operator (NY-ISO), according to PULP director Norlander, O&R failed to hedge its wholesale power costs or stabilize standard-offer commodity rates for residential customers.
"While other New York utilities protected their residential customers," writes Norlander, "by negotiating long-term electricity supply contracts when they sold their power plants, thereby reducing … exposure to NY-ISO spot market rates, O&R and Con Edison customers were exposed to severe price spikes."
At the same time, adds Norlander, Con Ed was petitioning the Federal Energy Regulatory Commission to reduce gaming and market manipulation by the very same generators "from whom it was buying large quantities of power at spot market rates."
These failures, Norlander argues, spawned an exodus of utility customers to unregulated ESCOs. That, he suggests, made PowerSwitch appear successful as a tool to achieve migration, but for all the wrong reasons.
Some say that PowerSwitch simply allows O&R to scratch its affiliate's back by funneling accounts to Con Ed Solutions, the unregulated marketing subsidiary. But O&R answers that over three and one-half years, Solutions has snagged only 7,000 of some 67,700 in total ratepayer enrollments.
By contrast, according to Laurito, NYSEG and RG&E, under the Voice Your Choice plan, have helped 206,000 of their native-load electric customers migrate to ESCOs—representing more than a quarter of the approximately 800,000 residential electric customers that PSC data shows have migrated so far.
"We support customer choice," Laurito insists. "But choice should be voluntary."
Back at the PSC, Administrative Law Judge William Bouteiller had cut off all further comment in the O&R case beyond May 2. And in Manhattan, in early June, Clendenin told Fortnightly that Con Ed was working with regulators to iron out the details for its own similar plan.