Deck:
Infrastructure isn't keeping pace. So how to "help" the market without killing it?
Author Bio:
Richard Stavros is Fortnightly's Executive Editor.
It's a problem that is taxing the industry's brightest minds: What's the right price signal to bring forth enough infrastructure to maintain reliability over the long haul?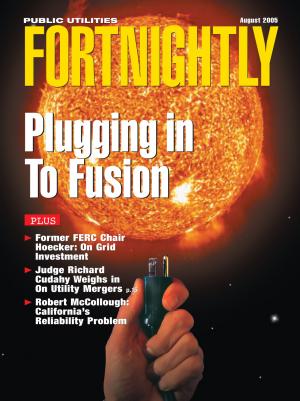 Moreover, if such a model exists, can it work without stifling competitive markets? In June, experts journeyed to opposite coasts to meet with regional grid operators, regulators, and staff from California, the Mid-Atlantic, and the Federal Energy Regulatory Commission (FERC) in a continuing search for answers. (See FERC Docket Nos. AD05-11 and PL05-7.)
And in this month's issue, former FERC Chairman James Hoecker and Robert McCullough address (a) the dearth of transmission investment across the country, and (b) reliability problems in California, respectively.
In the Northeast, the urgency for some sort of model to encourage investment in electric capacity accompanies an alarming rash of announcements of new power-plant retirements in the PJM region-linked in part to the pending merger between Exelon and PSEG. Such announcements leave grid operators with few options, particularly in specific localities where chronic grid constraints make supplies tight. While parts of PJM can boast of reserve margins of 20 to 30 percent, experts predict that power supplies could someday fall short without the right regulatory model to guarantee capacity adequacy.
Meanwhile, out West, Californians face even greater pressures. They lack the luxury of several years, which the East Coast enjoys, to solve the problem. Jim Detmers, vice president of grid operations at the California ISO, speaking at the conference in San Francisco, foresees difficulties next year.
"The summer of 2006," he warned, should see "potentially as much as 1,700 MW of new generation." However, he added, "there's at least an equal amount that could be retired, if not more. We're still working on the resource adequacy process."
In fact, acting FERC Chairman Joseph Kelliher, acknowledging the problem in early July, stated, "Southern California has the worst electricity supply outlook in the country, and FERC is aware of that."
Even as the supply outlook worsens in California and in parts of the Northeast, a big problem facing energy markets is the simple matter of finding out what supplies are in the pipeline. Many operators today, even with the advantage of RTO and ISO Web sites, with posted queues showing scheduled or promised plant development, cannot with any degree of accuracy predict how many projects actually will come to fruition.
This is the essence of the issue-how to develop a plan that encourages utilities to make the planning more transparent to market players so that new plants can be planned alongside the retirements. And, as one would expect in any market, one of the main points of debate currently among RTOs, regulators, and utility executives is whether energy companies will be compensated adequately for their participation in a capacity market.
New England: Anxious Politicians
In early July, several members of Congress wrote to chairman-elect Kelliher that they did not like ISO New England's proposal for a new centralized regional spot market for Locational Installed Capacity (LICAP). They urged the commission to reject it before it becomes effective Jan. 1, 2006.
The representatives wrote: "Because the LICAP payments are only 'incentives,' this money will go to generators without any requirement or commitment from them to build any power plants. It is therefore entirely possible that ratepayers could spend $13.5 billion for nothing. … There is no evidence that [LICAP] will result in new generation in New England in the time frames needed."
Steven Stoft, an economist and consultant to the California PUC, and who has spent almost five years working on capacity adequacy, does not find the politicians' views surprising. When he first began looking into capacity adequacy, he remembers, "No one wanted to listen because we were having too much generation built, and no one thought it could possibly be a problem."
Stoft says that the problem is that the existing day-ahead and real-time spot markets, operated by the nation's regional grid operators and RTOs, do not send a signal for adequacy.
"The market is an energy market. It is not a reliability market. Adequacy is equivalent to reliability. If the market could do adequacy, it could do reliability. And we know it can't, because it has absolutely no information about what anyone is going to pay for that," he says.
The problem with setting an "adequate" level of capacity, Stoft says, is that above a certain level the market doesn't really know where to set it. He calculates that California would be paying around $3.6 billion in "scarcity rents" (the market premium that power supplies ought to command during momentary periods of relative shortage) if there were enough generation.
Using the cost of a peaker in PJM-"to be cautious, $72,000 a MW/year [$8.21 per MWh]," he says-Stoft multiplies it by the amount of capacity needed: "about 50,000 MW." That amount of money is what the market would pay if it had the right amount of generation.
But the reality in all the Eastern markets, with their mandated bid caps for supply offers, is that they simply do not permit a high enough revenue stream to pay power-plant investors for scarcity rents.
"In New England it looked like it was about a quarter [too low]," Stoft said. "In PJM it looks like it's about a third. In California, the price cap is lower than back East. It could be even less than that."
So, are consumers really threatened with sky-high costs for reliability, as the senators say? Or, on the other hand, are they paying too little?
PJM: A Contentious Plan
As this issue went to press, PJM's Reliability Pricing Model (RPM), long under development (a prototype of sorts was vetted in November), had not yet won enough adherents to justify filing a formal proposal at FERC. Certainly, there was no lack of spirited debate on the plan at FERC in June.
PJM's plan, as with New England's LICAP model, would take into account all various local transmission constraints that dictate placement of new power plants and how well they can deliver their output to different locations on the grid. They employ complicated "demand curves" to plot a market price for capacity that varies over time as a function of regional supply needs. In similar fashion, PJM would attempt a four-year time horizon to plan capacity and would seek to put generation, transmission, and the demand sides on equal footing. But opponents of the RPM plan remain concerned that the plan will guarantee much higher capacity prices without an offsetting guarantee of improved reliability. Those opponents also voice grave concerns with the idea that PJM would assume or displace the role of the market participants by setting capacity prices administratively.
"Consumers in PJM should pay for their desired level of reliability consistent with national and regional standards," these opponents say. "They should not be required to pay windfall profits to generation owners or guarantee revenue streams for investors."
Of course, if we really could pay for our desired level of reliability, as economist Lynne Kiesling noted at the PJM conference, there would be no need for complicated "demand curves" and any other algorithmic contrivances. Such is the continued trouble with capacity market development.