Deck:
A review of total shareholder returns shows how growth and merger strategies drove performance last year.
A review of total shareholder returns shows how growth and merger strategies drove performance last year.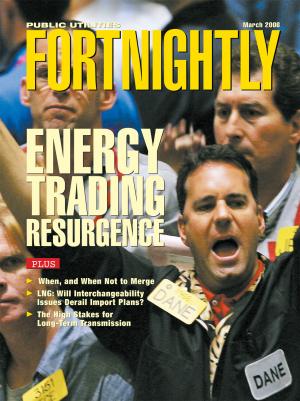 "I would rather be certain of a good result than hopeful of a great one." —Warren Buffett
"Widows and orphans" is a term that has been used to describe typical investors in electric utility stocks. The utility companies, however, prefer to describe their appeal to investors as "long-term investments." Accordingly, rather than focus on one-year returns, many utilities emphasize their shareholder performance over the long run—typically a three- or five-year period.
To better understand the performance of the electric utility sector from both a short-term and long-term perspective, we examined the total shareholder return (TSR)—dividends plus change in stock price—of 58 electric companies 1 for 2005 and for three- and five-year periods. 2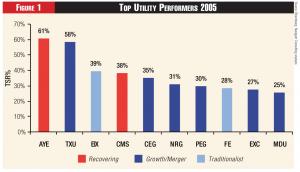 We grouped these companies into four categories to better understand the impact of alternative strategies on investor performance: 3
Recovering utilities. During the past five years, recovering companies have changed their strategies. Their earlier strategies for aggressive earnings growth, through access to easy credit plus balance sheet leverage, generally failed. So over the past several years, these companies have been recovering by pursuing the so-called "back-to-basics" strategy—selling businesses and assets, scaling back wholesale and retail energy marketing initiatives, and focusing on core utility operations.
Traditionalist utilities. These companies have pursued a consistent strategy during the past five years—and even longer for many of them. Even though most traditionalist utilities have unregulated businesses, their management teams are not focused there. These companies always have emphasized their regulated utility businesses in terms of capital investment, management attention and focus, and positioning with investors.
Growth utilities. These companies are more complex. In response to the Enron collapse, many of these utilities scaled back their growth strategies, but only to a point. Without exception, growth companies have utility businesses that they strive to run well. However, they also focus on their competitive businesses, e.g., non-regulated base power-plant development, wholesale and retail energy marketing, oil and gas exploration and production, and LNG development.
Merger utilities. These utilities are pursuing "scale" mergers and have announced transactions during 2005. In connection with each of these transactions, the merger companies have indicated that M&A is part of a larger growth strategy.
The 2005 Performance Story
For the second year in a row, the Dow Jones Utility Index outperformed its Industrials counterpart in 2005. Moreover, 2005 was the third consecutive period in which the Utility Index showed annual gains of more than 20 percent. The 2005 gains primarily resulted from:
Performance of the Duke Energy, Exelon, and Public Service Enterprise Group mergers;
Continuing performance of the growth-recovery strategies of TXU and AES; and
The appeal of the constructive regulatory regime in which Edison International (Southern California Edison) and