FERC's Tough New Rules: Survival Skills for A New Era
The nation's first energy "top cop" and his colleague discuss important compliance implications of EPACT 2005.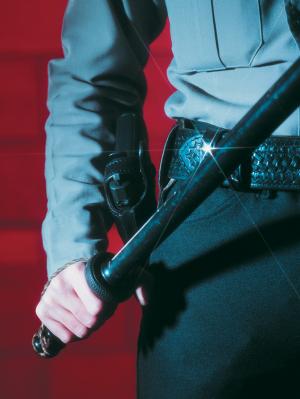 In its March 2005 report to the House Energy and Commerce Committee, the Federal Energy Regulatory Commission (FERC) repeated its request for enhanced civil penalty authority. When Congress passed the Energy Policy Act of 2005 (EPACT), it granted FERC all the authority that it had requested, and more. The new director of FERC's Office of Market Oversight and Investigations (OMOI) called the new penalty authority "awesome." 1
EPACT changes the entire risk calculus for "any entity" (the law's language) doing business in FERC jurisdictional markets. We believe that an effective compliance program has become essential for "any entity" subject to EPACT provisions. We also believe that charges about confusing signals and excessively restrictive requirements are alarmist and inaccurate. With proper executive leadership, a compliance program can improve business performance, reduce regulatory risk, and maintain necessary business flexibility.
Increased Penalty Authority
EPACT "upped the ante" for market participants by significantly expanding FERC's authority to punish violations of the Federal Power Act (FPA), Natural Gas Act (NGA), Natural Gas Policy Act (NGPA), and FERC's orders and regulations.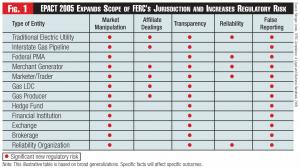 First, Congress significantly expanded FERC's civil penalty authority. Before EPACT, FERC had only limited authority to assess civil penalties. Now, FERC has the authority to assess civil penalties for any violation of Part II of the FPA (governing wholesale sales and transmission of electricity), the NGA, the NGPA, as well as FERC's rules and orders under these statutes. In addition, EPACT gave FERC the authority to assess civil penalties of up to $1 million per violation per day.
Second, Congress substantially increased criminal liability, greatly increasing the likelihood of criminal actions for violations. Although FERC has had the authority to refer to the Justice Department for criminal prosecution any knowing and willful violations of the FPA, NGA, and NGPA, as well as FERC's rules, regulations, and orders, the penalties were not substantial and, accordingly, in most instances, criminal prosecution was not really a significant threat. EPACT changed all that. Congress increased the maximum fine for statutory violations from $5,000 to $1 million, more than doubled the maximum imprisonment term (from two years to five years), and increased the maximum fine for violations of FERC rules, regulations, and orders under the FPA from $500 to $25,000. 2 This is likely to increase significantly the prosecutorial interest in such cases.
Third, Congress made compliance personal by authorizing the courts to permanently bar an individual from acting as an officer or director of an electric utility or natural-gas company, or