Deck:
The nation's first energy "top cop" and his colleague discuss important compliance implications of EPACT 2005.
Author Bio:
William F. Hederman Jr.
is executive director of the Energy Resources Group for the law firm of Morgan Lewis & Bockius LLP. He was most recently director of FERC's Office of Market Oversight and Investigations, and also founded that office. He can be reached at
whederman@morganlewis.com
.
George D. Billinson
is of counsel in the energy practice with Morgan Lewis. He was most recently with OMOI's Enforcement Division. He can be reached at
gbillinson@morganlewis.com
.
In its March 2005 report to the House Energy and Commerce Committee, the Federal Energy Regulatory Commission (FERC) repeated its request for enhanced civil penalty authority. When Congress passed the Energy Policy Act of 2005 (EPACT), it granted FERC all the authority that it had requested, and more. The new director of FERC's Office of Market Oversight and Investigations (OMOI) called the new penalty authority "awesome."1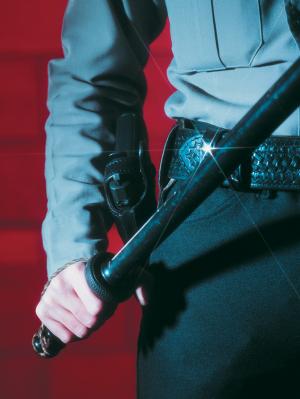 EPACT changes the entire risk calculus for "any entity" (the law's language) doing business in FERC jurisdictional markets. We believe that an effective compliance program has become essential for "any entity" subject to EPACT provisions. We also believe that charges about confusing signals and excessively restrictive requirements are alarmist and inaccurate. With proper executive leadership, a compliance program can improve business performance, reduce regulatory risk, and maintain necessary business flexibility.
Increased Penalty Authority
EPACT "upped the ante" for market participants by significantly expanding FERC's authority to punish violations of the Federal Power Act (FPA), Natural Gas Act (NGA), Natural Gas Policy Act (NGPA), and FERC's orders and regulations.
First, Congress significantly expanded FERC's civil penalty authority. Before EPACT, FERC had only limited authority to assess civil penalties. Now, FERC has the authority to assess civil penalties for any violation of Part II of the FPA (governing wholesale sales and transmission of electricity), the NGA, the NGPA, as well as FERC's rules and orders under these statutes. In addition, EPACT gave FERC the authority to assess civil penalties of up to $1 million per violation per day.
Second, Congress substantially increased criminal liability, greatly increasing the likelihood of criminal actions for violations. Although FERC has had the authority to refer to the Justice Department for criminal prosecution any knowing and willful violations of the FPA, NGA, and NGPA, as well as FERC's rules, regulations, and orders, the penalties were not substantial and, accordingly, in most instances, criminal prosecution was not really a significant threat. EPACT changed all that. Congress increased the maximum fine for statutory violations from $5,000 to $1 million, more than doubled the maximum imprisonment term (from two years to five years), and increased the maximum fine for violations of FERC rules, regulations, and orders under the FPA from $500 to $25,000.2 This is likely to increase significantly the prosecutorial interest in such cases.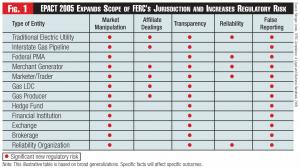 Third, Congress made compliance personal by authorizing the courts to permanently bar an individual from acting as an officer or director of an electric utility or natural-gas company, or from engaging in the business of buying or selling electric energy, natural gas, or jurisdictional transmission services if that person violates new FPA §221, which prohibits false price reporting.
Market Manipulation
In addition to increasing the penalties for non-compliance, Congress also expanded the scope of FERC's jurisdiction and added substantive provisions that will bring sweeping changes to the energy industry. EPACT gave FERC the authority to ban market manipulation by "any entity" engaged in the purchase or sale of natural gas, electric energy, or jurisdictional transmission and transportation services, including banning the use of any manipulative or deceptive device or contrivance, as those terms are used in Section 10(b) of the Securities Exchange Act of 1934. Congress also authorized FERC to adopt regulations to carry out this provision.
FERC Chairman Joseph T. Kelliher has characterized the collective market manipulation provisions as "one of the most important and challenging provisions of the Energy Policy Act."3 On Jan. 19, 2006, FERC issued its regulations, which underscore the importance that the chairman and, indeed, the entire commission place on the market manipulation provisions. Those regulations make it unlawful for "any entity," directly or indirectly, "in connection with" the purchase or sale of natural gas, transportation services, electric energy, or transmission services subject to FERC's jurisdiction:
(1) To use or employ any device, scheme, or artifice to defraud;
(2) To make any untrue statement of a material fact or to omit to state a material fact necessary in order to make the statements made, in the light of the circumstances under which they were made, not misleading; or
(3) To engage in any act, practice, or course of business that operates or would operate as a fraud or deceit upon any entity.
The implications for the industry are many and varied. Perhaps the most far-reaching is FERC's greatly expanded jurisdiction to reach "any entity." In its market manipulation regulations, FERC has taken note of the expansive reach of the anti-manipulation provisions, saying that the law "gave the commission broad jurisdiction over the entities that engage in certain conduct affecting [its] subject matter jurisdiction."4 Consistent with that expanded jurisdiction, FERC's market manipulation regulations "apply to the conduct of 'any entity,' not just jurisdictional market-based rate sellers, natural-gas pipelines, or holders of blanket certificate authority."5
Securities Exchange Act
Consequently, entities previously thought to be outside of FERC's jurisdiction are now at risk.
Additionally, EPACT directs the commission to use Section 10(b) of the Securities Exchange Act as its model. The case law surrounding Section 10(b) and the SEC's Rule 10b-5 is extensive. The Supreme Court has described that body of law as "a judicial oak which has grown from little more than a legislative acorn."6 Market participants will now need to understand that law and how it applies to energy markets and transactions.
To further complicate things, FERC has signaled that it is likely to take an expansive approach in identifying the kinds of conduct that constitute manipulation. In this regard, the commission has stated that it "defines fraud generally, that is, to include any action, transaction, or conspiracy for the purpose of impairing, obstructing or defeating a well-functioning market."7 Thus, in FERC's view, the regulations "will permit the commission to police all forms of fraud and manipulation that affect natural gas and electric energy transactions and activities the commission is charged with protecting."8
Market Transparency
In a related vein, EPACT added a new §23 to the NGA and a new §220 to the FPA. These new provisions direct FERC to facilitate price transparency in natural-gas and wholesale electric markets, as well as in energy transportation and transmission markets, having due regard for the public interest, the integrity of those markets, fair competition, and the protection of consumers.
FERC has broad latitude to decide what information it needs to facilitate price transparency. FERC also has the authority to prescribe rules that it determines are "necessary and appropriate" to require the timely provision of information about the availability and prices of wholesale natural gas, wholesale electric energy and transmission service to FERC, state commissions, buyers and sellers of wholesale natural gas, and the public.9 In determining the extent and timing of information that must be provided, FERC is directed "to ensure that consumers and competitive markets are protected from the adverse effects of potential collusion or anticompetitive behaviors that can be facilitated by untimely public disclosure of transaction-specific information."10 Additionally, FERC is empowered to obtain information needed to facilitate price transparency from "any market participant," except for natural-gas producers, processors, and natural-gas users with "a de minimis market presence" on the gas side and on the electric side, entities that have "a de minimis market presence."
Existing Requirements
In addition to the market manipulation, transparency, and reliability obligations added by EPACT, a myriad of pre-existing substantive requirements for market participants now carry with them the threat of civil penalties of $1 million per violation per day for non-compliance. These include:
• Affiliate Standards of Conduct;
• Market Behavior Rules; and
• Affiliate Codes of Conduct.
Another major area of concern involves the rules on interlocking directors. These limitations are found in Part III of the FPA. Because EPACT extended the new civil penalty authority to Part II of the FPA and not other parts of that act, it does not appear to us that violations of these rules would subject a market participant to the legislated civil penalties. However, FERC has been very active in this area recently and it remains a significant area of concern.
A substantive discussion of all of these, as well as other obligations imposed on the energy industry is beyond the scope of this article. The important point is that these requirements are out there waiting to trip up participants that don't actively take steps to ensure compliance.
Market Developments
A key energy market characteristic that is likely to continue for at least the next year is tight fuel supply conditions. As noted in FERC's State of the Market 2004 Report, when fuel supplies are tight (as indicated by relatively low natural-gas storage fill compared to average) prices rise, sometimes rapidly.
This supply tightness likely will continue to generate high prices and price volatility. This one-two punch already has drawn politicians' attention. For example, announcing his opposition to the recently submitted LICAP proposed settlement, Connecticut Attorney General Richard Blumenthal noted:
Connecticut ratepayers have already suffered a 70 percent increase in three years and simply cannot afford to pay more. Another upsurge in power prices would do dire damage to our economy. It is unacceptable.11
This attention will be exacerbated by the court cases now underway against former Enron executives. Thus, the trend appears headed toward increased scrutiny of market participants. In fact, the new director of FERC's Office of Market Oversight and Investigations (OMOI) publicly announced on the commission's Web site that she was making standards-of-conduct compliance a priority for her office. It is also no secret that the OMOI has been "staffing up" to meet the anticipated increase in enforcement activities.
The bottom line is simple. The risk is real and the consequences are enormous. In addition to huge civil penalty liability, violators run the risk of being punished by the rating agencies and Wall Street as well. So what can be done to help manage this risk? FERC has provided substantial guidance.
Penalty Considerations
Although FERC has stated that no single list can identify all of the factors that will play into the determination of the penalty that will be assessed for a particular infraction, its Policy Statement on Enforcement 12 does identify representative examples of the factors that the commission will use in assessing the appropriate sanction. These factors can be broken down into "negative" and "mitigating" factors.
On the negative side, FERC will look at certain questions. What harm was caused by the violation? Was it widespread across markets or customers? Did it involve significant sums of money? Were others indirectly affected? What benefit did the wrongdoer receive? Was there fraudulent conduct involved? Was the violation willful, part of a broader scheme, or done in concert with others? Does the company have a history of violations? Is this an isolated instance or a recurring problem? What was management's role in the violation and what actions did management take once the violation came to light? How did the violation come to light? Did the company self-report?
On the other hand, FERC has repeatedly stressed its preference for compliance over punishment:
We encourage regulated entities to have comprehensive compliance programs, to develop a culture of compliance within their organizations, and to self-report and cooperate with the commission in the event violations occur.13
The fundamental need for an effective internal compliance program and proactive management is perhaps best illustrated by the following statement from Chairman Kelliher:
Under the Enforcement Policy Statement, if two different entities commit the same violation, and one entity has an effective compliance program, self-reported the violation, took remedial action, cooperated with the commission's investigation, and the violation was an isolated instance, and the second entity had no compliance program, its senior management learned of the violation but took no action, the entity had a history of violations, and failed to cooperate with the investigation, the civil penalties levied would be substantially different.14
In its Policy Statement, FERC has outlined three "mitigating factors" that will affect the likelihood, and amount, of civil penalties:
• Internal Compliance. Does the company have an established, formal program for internal compliance? Is the program well documented and widely disseminated throughout the company? Is the program independently operated and managed? Does the program have sufficient resources? Is compliance fully supported by senior management? Is the program supervised by an officer or other high-ranking official? Does the compliance official report to or have independent access to the CEO or the board of directors? Is the program actively reinforced within the company?
• Self Reporting. How did the company uncover the misconduct (i.e., through a self-evaluation, internal audit, or internal compliance program)? Did the company act immediately when it learned of the misconduct (e.g., report it to FERC)? Did senior management actively participate and encourage employees to provide information to identify the misconduct? Did the company take immediate steps to stop and create an adequate response to the misconduct?
• Cooperation. Did the company volunteer to provide internal investigation or audit reports relating to the misconduct? Did the company hire an independent outside entity to assist the company's investigation? Did senior management make clear to all employees that their cooperation has the full support and encouragement of management and the directors of the company? Did the company actively encourage employees to provide FERC with complete and accurate information?
These factors will not absolve a violator of all liability. The commission likely will insist on disgorgement of unjust profits and perhaps some other remedy. However, there is no question that an effective, comprehensive compliance plan and quick action on allegations of impropriety can go a long way toward avoiding potentially crippling civil penalties. Plus, an effective compliance program would help management become aware of, and correct, these practices before the regulators become involved.
Endnotes:
1. Inside FERC, "Given broader mandate and a new director, OMOI gears up for compliance push," at 14 (Jan. 30, 2006).
2. EPACT 2005 §§ 314(a) and 1284(d).
3. Statement of Chairman Joseph T. Kelliher on Anti-Market Manipulation Final Rule (Jan. 19, 2006), http://www.ferc.gov/press-room/statements/kelliher/2006/01-19-06- kelliher-M-1.asp.
4. Prohibition of Energy Market Manipulation, Order No. 670, Docket No. RM06-3-000 (Jan. 19, 2006), 71 Fed. Reg. 4244 (Jan. 26, 2006) at P 20 (emphasis added) ("Final Rule").
5. See Notice of Proposed Rulemaking, Prohibition of Energy Market Manipulation, 113 FERC ¶ 61,067 at P 9 (2005) ("Market Manipulation NOPR").
6. Blue Chip Stamps v. Manor Drug Stores, 421 U.S. 723, 737 (1975).
7. Final Rule at P 50.
8. Id. at P 25.
9. EPACT 2005 §§316 and 1281.
10. EPACT 2005 §§ 316 and 1281.
11. State of Connecticut Attorney General's Office Press Release (Jan. 31, 2006).
12 FERC ¶61,068 (2005).
13. Id. at P 2.
14. Kelliher Statement on Market Manipulation NOPR at http://www.ferc.gov/press-room/ statements/ kelliher/10-20-05-kelliher-M-1.pdf at 2.