New Opportunities: Southern Nuclear Operating Co. announced that its board of directors elected Joseph (Buzz) Miller as senior vice president of nuclear development. Miller is currently the vice president of government relations for Southern Co.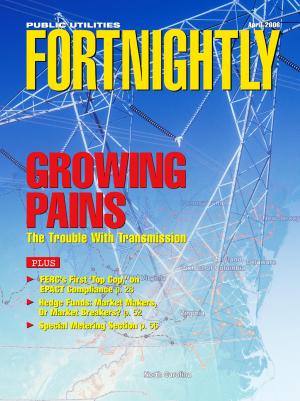 NRG Energy Inc. appointed William Hantke and Paul Hobby to the company's board of directors. Hantke will serve on the board's Audit and Nuclear Oversight Committees, and Hobby will serve on the Commercial Operations Oversight and Nuclear Oversight Committees. Both Hantke and Hobby served as directors of Texas Genco LLC, the Houston-based company NRG acquired in February. NRG also named Curtis A. Morgan executive vice president and regional president of the company's Northeast Region. Morgan replaces Scott Davido, who left NRG to become CFO of Calpine Corp. Morgan joins NRG from Mirant, where he served as executive vice president and COO.
Doran Schwartz, 36, assistant vice president of special projects at MDU Resources Group Inc., was promoted to vice president and chief accounting officer. Prior to joining MDU Resources in September 2005, Schwartz was the director for the Membership Rewards Controllership Group of American Express in Phoenix.
AREVA announced that former U.S. Secretary of Energy Spencer Abraham accepted the appointment as chairman of the board of AREVA Inc. As non-executive chairman, Abraham will be supporting AREVA's business expansion in North America.
The board of directors of Consolidated Edison Inc. (Con Edison) elected Kevin Burke, currently president and CEO, as chairman of the board. Burke will succeed Eugene R. McGrath, who retired. McGrath has served as Con Edison's chairman since 1990.
Calpine Corp. appointed David C. Merritt to the company's board of directors. Merritt will serve as a member of Calpine's audit and nominating and governance committees. Merritt is a managing director of Salem Partners LLC, an investment-banking firm.
The board of directors of CH Energy Group Inc. elected Manuel "Manolo" J. Iraola to the board of directors, effective immediately. Iraola is the chairman, president, and CEO of The Aloaris Group, which invests in and manages startup ventures.
MidAmerican Energy Holdings Co. announced that William Fehrman would join MidAmerican Energy Holdings Co. as senior vice president effective April 1, 2006. Fehrman, 45, currently serves as president and CEO of Nebraska Public Power District.
Southern Co. said Earl Parsons, formerly vice president of fuel services, has been named vice president-system contracts officer and associate general counsel. Jeff Wallace has been named the new vice president of fuel services. Parsons joined Southern Co. in 1991 at its Georgia Power division. Wallace most recently was vice president of planning and utility relations at Georgia Power.
James E. Brunner, vice president and general counsel for Consumers Energy since 2004, also will serve as general counsel for the Michigan utility's parent company, CMS Energy. S. Kinnie Smith Jr., who had served as CMS Energy's general counsel, will assume the position of chief legal officer.
Retired: The board of directors of Hawaiian Electric Industries Inc. announced that Robert F. Clarke would retire after 15 years as chairman, president and CEO of HEI, effective May 2, 2006.
Peoples Energy said CEO, Chairman, and President Thomas Patrick will retire within a year.
We welcome submissions to People, especially those accompanied by a high-resolution color photograph. E-mail to: hamaker@pur.com.