Deck:
The resource overbuild in the West complicates the company's efforts.
Author Bio:
Gary L. Hunt is president of Global Energy Advisors. Contact him at ghunt@ globalenergy.com. Devrim Albuz is senior manager, Asset Valuation, at Global Energy Advisors. Contact him at dalbuz@globalenergy.com.
Calpine's announcement that it will shed 20 of its 92 power plants, close three offices, and lay off 775 more staff in a bid to emerge from bankruptcy caused by more than $22 billion in total debt was not unexpected. The question is whether these actions will be sufficient to get the job done.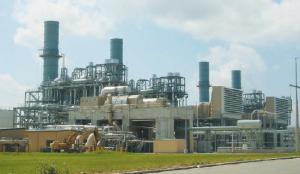 Global Energy estimates valuation for Calpine's all-generation portfolio, including all the contracts, to be $14.5 billion compared with its current $17 billion in long-term debt. This valuation assumes gas prices will be moderated to a $5-$6/MMBtu range in the middle of our long-term forecast period. But if gas prices stay as high as $7-$8/ MMBtu for the foreseeable future, the overall portfolio value may increase to $18 billion to $19 billion.
This potential increase in valuation is driven by Calpine's more efficient gas-fired, combined-cycle units benefiting from higher margins in gas-fired markets. The downside is that higher gas prices further will support coal and nuclear development in several markets during this same long-term forecast period. That may change totally the fuel mix of future development. On the other hand, if gas prices decrease below expectations and stay low for some time, the Calpine portfolio value may drop to a level between $11 billion and $13 billion.
Global Energy's Power Generation BlueBook provides a fundamental analysis of changing energy asset valuation for more than 6,000 electric power generation plants across North America. This includes all fossil-fuel, nuclear, hydro, and renewable assets greater than 25 MW.
A Fallback
Since market forces drove Calpine to bankruptcy when its original business strategy bogged down, the new Calpine management has developed a "plan B" approach to restructuring designed to make Calpine a smaller, leaner company. While Calpine has put together a diverse portfolio of power generation assets across North America in its original strategy, we expect many of the assets to be sold will come from markets that are slower to recover, or where competition makes the projects less profitable or more risky if Calpine holds them.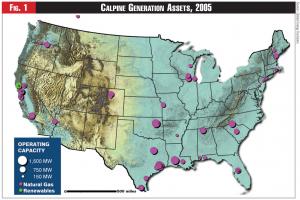 Robert P. May, Calpine's CEO, said in a press statement, "We are refocusing Calpine's resources on what we do best, power generation. We're downsizing our portfolio and market reach, and focusing on core assets and markets where Calpine can best compete. Calpine is selling high quality, non-core assets, and by doing so will become a smaller, more focused power company, purposefully structured around profitable operating assets."
Based on Global Energy's Winter 2005-06 Power Generation BlueBook valuation, average CC value in North America is close to $400/kW ($390/kW to be exact). In the last six months, this value has increased by a mere 2.8 percent.
This also confirms the slow and painful recovery in the market. The values in several markets have not improved at all, while some markets such as ERCOT and those in the Northeast are in a faster track for recovery due to retirements, mothballing, and load growth.
As Calpine works on restructuring, this goal of selling non-core, non-strategic power plants and refocusing on power generation in markets where they can compete is a very different strategy than Peter Cartwright's game plan of building a clean, mostly combined-cycle and efficient fleet spread all over the country. The Cartwright strategy obviously targeted the economies of scale and relied upon geographic diversification to mitigate risk.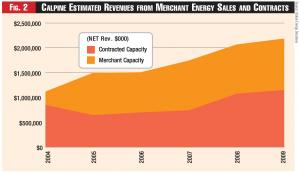 However, Calpine is disadvantaged by having a gas-fired-only portfolio (except geothermal). Although geographic diversification helps to smooth out regional resource problems in time, natural-gas price spikes put Calpine at a significant cost disadvantage against other fuels. Based on our valuation, average coal-fired asset value has gone up by almost 30 percent in the last year, from $804/kW to $1,030/kW. This is driven primarily by higher gas prices. A more balanced asset portfolio (e.g., that of NRG) would benefit from the additional cash generated by the coal side of the business.
Bailing Out of Dixie, Northeast, and Midwest?
We should not be surprised to see the closure of Calpine's office in Atlanta, where it operates about 7,000 MW of power. This is a tough market because of the traditional dominance of big investor-owned utilities, and it is the most overbuilt with merchant generation. But there likely are some affordable assets for utility shoppers or niche merchant players that can use them to improve their portfolio.
Southeast markets remain depressed, and merchant assets located in these markets hardly run at all. Several of Calpine's assets such as Pine Bluff, Acadia, Santa Rosa, and Hog Bayou are located in these markets that generate very little cash for the company. Even worse, these assets further are suppressed by elevated gas prices, and utilities all over the country actively are looking for other cheaper fuel resources such as coal or renewables. This makes it harder for merchant assets such as Calpine's to market and sell output.
Calpine also announced a funding cut for some of the Northeastern assets including Dighton, Rumford, Tiverton, Parlin, and Newark. The Androscogin (ME) project in which Calpine has a 32 percent share already was in bankruptcy before Calpine filed. This looks like an exit strategy from Northeast markets where they do not have any significant presence or solid contract revenues.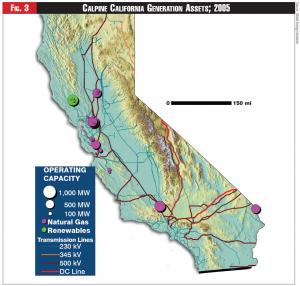 Similarly, they are cutting funds for Fox Energy Center, which is a project finance deal in Wisconsin. New fund commitment would be needed for the second phase of this project.
The Search for Revenue
Figure 2 illustrates Global Energy's estimates for Calpine's revenues coming from merchant energy sales and contracts. It is clearly seen that contract revenues from 2005 through 2007 are depressed compared with the overall revenues.
Assuming gas prices will moderate starting in 2008 and 2009, Global Energy expects cash flows from contracts will improve, driven by recovery of DWR contract revenues. If the gas prices stay elevated, this recovery may not happen.
A Big Bet on the WECC
The Western Electricity Coordinating Council (WECC), particularly California, is beginning to be perceived as having resource-adequacy problems again. Forward markets keep some premium in prices to cover these concerns over the possibility of resource shortages.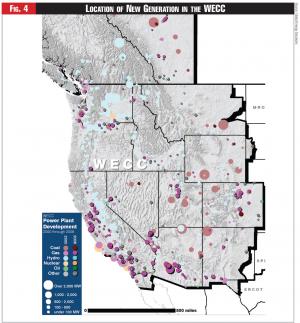 However, generation additions in the WECC between 2001 and 2009—including plants currently under construction—add up to about 53,000 MW. When added to a base of 160,000 MW in 2000, there is significantly more generation than needed to cover a WECC load forecast expected to peak at almost 150,000 MW in 2007.
Two-thirds of the 53,000 MW of the primarily gas-fired generation built since 2000 or under construction in the WECC is located in the California, Arizona, and southern Nevada areas. This dependence on natural-gas-fired generation, along with a strong push to include a higher percentage of renewable resources (such as wind) into the resource mix, has policymakers turning their focus toward new transmission.
Despite some retirements of older, inefficient power plants, planning reserve margins are running at around 36 percent on a WECC-wide basis in 2006. Global Energy's current forecast reflects almost 1,000 MW more of gas-fired generation to be built in the next couple of years than it had forecast six months ago.1 These additional plants generally are being built near load centers by (or under contract to) utilities (see Figure 4 on p. 16).
Despite adequate capacity in the broader WECC, locational resource adequacy concerns are real in certain areas, including the San Diego Gas & Electric (SDG&E) and Southern California Edison (SCE) service territories, where transmission may constrain full access to the surplus of power in the WECC during extremely high-load conditions. To address these concerns, decision makers are focused on reliability concerns, the improvement of path ratings, and the management of imports across paths.
Our valuations for California assets clearly indicate that this resource overbuild in the West will decrease revenues for merchant generators in the next few years. This could be a potential problem for Calpine's recovery since a majority of their assets are located in the West.
Furthermore, revenues from geothermal assets in Northern California are not susceptible to any fuel-cost movements. As low-cost generators, these assets have healthy margins when the gas prices are high. When the gas prices go down, the cash flows from these assets will be affected directly unless there are hedges in place. Calpine's existing contracts with utilities and any trading hedges in place may alleviate these potential problems.
On the other hand, some of the fixed-rate contracts may work against Calpine, as in the case of Los Angeles Department of Water contracts. A few years back, when the gas prices were lower, these contracts were above market and were generating healthy cash flows for the company. Calpine has enough resources in the West to supply the energy requirement for these contracts, but the fuel to generate was not hedged properly. When the gas prices spiked, these contracts suddenly became cash outflows for the company.
Endnotes:
1. Notable reductions in generation capacity from the fall 2005 Global Energy WECC reference case include retirement of the 660-MW Clover plant in Alberta and 1,500-MW Mohave Station assumed to be on cold standby, but not counted toward WECC reserve margin. Also, Global Energy refined the dependable capacity ratings of various units in the WECC, which resulted in lower total capacity relative to the fall 2005 forecast.