Deck:
How Congress opened another can of worms with its call for regional joint boards to study power-plant dispatch.
Author Bio:
Bruce W. Radford is editor-in-chief for Public Utilities Fortnightly.
No energy bill ever became law without a little something for everyone, and last year's EPACT law (the Energy Policy Act of 2005) proves true to form. Consider EPACT section 1298, codified as new section 223 of the Federal Power Act, which directs the Federal Energy Regulatry Commission (FERC) to convene joint boards on a regional basis to study the concept known as "security constrained economic dispatch," as practiced around the country. These groups are then to make recommendations, with FERC reporting to Congress by August on findings of each regional board.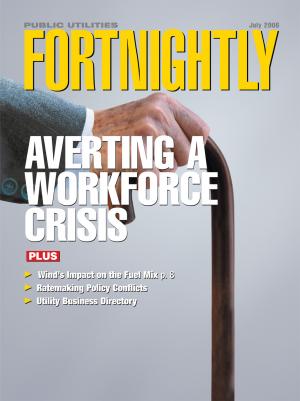 Nevertheless, while section 1298 may look very much like a harmless bone thrown to opponents of electric utility restructuring in an effort to win their support for the bill, the provision has proved troublesome, opening the door to a full range of collateral attacks on entrenched FERC policy.
The statute creates nothing more than a process for completing a study, so Congress may have seen little risk in spreading around a few crumbs to appease the dispossessed and help the bill become law. It invites only committee discussions and group recommendations, and appears to pose no real threat to existing policy.
Yet, in singling out power-plant dispatch as a topic for study, the law conveniently targets a key component of FERC's vision for wholesale market reforms. Moreover, it invites scrutiny on a regional basis—all the better to take advantage of geographic schisms that have left yawning gaps between the footprints of the regional transmission organizations (RTOs) certified by FERC.
Did Congress really invite the industry to re-examine the concept of economic dispatch, as practiced by the regional grid operators and RTOs, through market bids, day-ahead markets, a centralized auction, and a uniform market-clearing price? Perhaps not, but skeptics of RTO practice have called the bluff, if that's what it was.
Citing words such as "reliability," and "affordability," appearing in the statute, they have seized the opportunity afforded by the new law to launch yet another collateral attack on established precedent, perhaps even to the surprise of commissioners at FERC.
The issue is whether the Congress, in calling for studies and recommendations, has allowed FERC to play a passive role, simply noting and cataloguing the range of current practices for economic dispatch. Or rather, has Congress commanded FERC to play an activist role and re-examine RTO market theory from the ground up, with an eye toward measuring consumer benefits and restoring a cost-based regime if the market is found wanting?
FERC at first did not offer much in the way of clarification on how it would interpret the new law. In its initial order issued last fall, in which it convened the joint boards, the commission defined the term "security constrained economic dispatch" by adopting the definition of "economic dispatch" contained in EPACT sec. 1234(b): "the operation of generation facilities to produce energy at the lowest cost to reliably serve consumers, recognizing any operational limits of generation and transmission facilities." Also, FERC defined the scope of the joint board process broadly to allow a full consideration of the issues identified by Congress. It quoted the statute directly and authorized the boards to consider: (1) what constitutes a "security constrained economic dispatch"; (2) "how such a mode of operating an electric energy system affects or enhances the reliability and affordability of service to customers in the region concerned"; and (3) how to "make recommendations to the commission regarding such issues." (See, Order Convening Joint Boards, Docket AD05-13, Sept. 30, 2005, 112 FERC ¶61,353.)
Nevertheless, with the new law purporting to tie RTO practice directly to such all-encompassing goals as "reliable," and "affordable," the possibilities were immediately apparent.
EPACT also required the Department of Energy (DOE) to report to Congress on economic dispatch, but gave DOE a slightly different assignment, directing the agency to identify possible changes in dispatch procedures that might help non-utility power producers to offer their output in the dispatch queue, and to analyze how that might yield benefits for residential, commercial, and industrial customers. In fact, the DOE got the jump on FERC and issued its report to Congress last fall, recommending a comprehensive review of selected industry entities practicing dispatch. These include utilities outside of RTOs that conduct their own independent dispatch process.
"These reviews," the DOE said, "could document the rationale for all deviations from pure least-cost, merit-order dispatch" and "could assist the FERC and the states in rethinking existing rules or crafting new rules and procedures." (See, "The Value of Economic Dispatch: A Report to Congress Pursuant to Sec. 1234 of the Energy Policy Act of 2005," DOE, Nov. 7, 2005.)
For his part, FERC Chairman Joseph T. Kelliher has appeared to favor the more passive role. On a snowy Sunday morning in February in Washington, D.C., in presiding over a second meeting of the joint board for the Southern region (Alabama, Arkansas, Florida, Georgia, Kansas, Louisiana, Mississippi, Missouri, New Mexico, North and South Carolina, Tennessee, and Texas), Kelliher suggested that FERC should avoid endorsing any particular method for performing economic dispatch, and instead should allow economic dispatch to vary from region to region:
"There's more variety in how economic dispatch is performed in the South than in any other region," he noted, finding it "unlikely" that this variety would disappear anytime soon.
"Since [the variety of models] exists and is likely to continue to exist," added Kelliher, "it's probably appropriate to observe that. ... Does anyone oppose this recommendation or propose a different approach?"
Kelliher's recommendation simply to observe and document the practices in the field, rather than to treat EPACT as requiring new direction in policy, won a hearty assent from the state utility regulators on the Southern joint board, who saw no need to fix what ain't broke. G. O'Neal Hamilton concurred:
"Mr. Chairman, I'm from South Carolina, and it being Sunday morning, we can put an amen to this one."
And so Kelliher has turned the South's faith in regional flexibility to his own advantage, avoiding the stickier question of whether RTO practice might be the most inflexible of all.
Yet things were not so simple, however, when it came time for then-commissioner Nora Mead Brownell to chair a meeting of the PJM/MISO (Midwest Independent System Operator) regional joint board a few hours later, in the same hotel meeting room.
On that occasion, several board members (all state regulators or staffers at state public utility commissions, or PUCs) such as North Dakota's Susan Wefald, North Carolina's Sam Ervin IV, and Virginia's Howard Spinner (director of the state commission's Division of Economics and Finance), had questioned whether FERC should require that any RTO regime for economic dispatch have to justify itself as improving infrastructure, producing an "efficient" result in terms of fuel use or conservation, or more important, whether the result should have to pass a test of consumer fairness, keyed on how well the market outcome succeeds in replicating old-school results as found under traditional cost-of-service ratemaking.
Montana's Greg Jergeson, in particular, wondered what the point was if there was no greater good at stake:
"I don't think that's going beyond the scope of what was anticipated by Congress to say that's something we need to look at. … What does this mean to the widows and orphans in Montana? … That's still the question that needs to be answered on any of this.
"And I can't imagine the Congress would expect us to answer any other question. ... I don't think focusing on the customer outcome is an expansion beyond what Congress anticipated for this board."
It then fell to Indiana commission Chairman David Lott Hardy to come to Brownell's rescue:
"It seems to me," said Hardy, "that we run the danger of the dreaded docket creep. … Are we the ones that determine the scope of this docket, or do we have something that guides us … that will let us say this is a great question, but perhaps not here?"
This lead-in from Hardy gave Brownell the opportunity to reiterate Kelliher's interpretation, defending FERC policy and suggesting that EPACT section 1298 did not imply a wholesale re-examination of market-based regimes used by RTOs to arrive at an economic dispatch:
"My own view," Brownell explained, "although it seems counterintuitive (and I know we had this debate in our office forever) … is the benefits to the customers of this model [the typical RTO dispatch regime] are borne out by experiences in the markets … that, over time, the benefit to customers is a lower cost overall."
Brownell continued, warning that if activists were to take over the agenda of the joint boards, the process would collapse:
"Staff can jump in and correct me if I'm wrong, but . . . the bottom line is, Congress did not ask us to look at 4,000 things; they asked us to look at economic dispatch, and I think we ought to be disciplined on that. …
"I don't know whether this is a topic that DOE at some point is planning to look at, or whether there are some people who think the question has been asked and answered, but ... I think it's really important not to use this vehicle as a chance to revisit everything we now would like to revisit.
"That is not to say that we shouldn't always be challenging what we do, but ... this could get hijacked and have no meaning at the end."
But from where will meaning come, if not from a hijacking?
Dispatch in Practice
The RTOs and others that operate regional markets have submitted data to the various joint boards to defend the performance of their dispatch regimes.
For example, ISO New England notes that in the five years following the opening of its wholesale market in 1999, regional generating capacity rose by 40 percent. Similarly, it claims that wholesale power prices in New England, adjusted for fuel costs, have declined by 5.7 percent since the first full year of market operations, with prices having dropped by 11 percent in the years 2001-2004. The New York ISO estimates a 5 percent decline in average monthly costs from 2000-2004, on a fuel-adjusted basis. (See, Study and Recommendations, Joint Board on Economic Dispatch for the Northeast Region, pp. 6-7, FERC Docket AD05-13, filed May 24, 2005.)
A market-monitoring report made part of PJM's 2005 State of the Market Report suggests that the initiation of market operations has produced a significant decrease in the forced outage rate, most apparently from 1996 to 2001, when it fell from about 12 percent to below 5 percent. In remarks offered at an initial meeting of the PJM/MISO region joint board, held Nov. 21, 2005, testimony indicated that bilateral transactions had "shrunk considerably" following the start of day-ahead and real-time markets run by MISO. (See, Joint Board for PJM/MISO Region, Report on Security Constrained Economic Dispatch, pp. 15, 21, FERC Docket No. AD05-13, filed May 25, 2006.)
Note also that while the West Region report favors a laissez-faire role for FERC, allowing full regional flexibility to adopt dispatch models that don't conform to RTO practice, one member of the West board, Texas PUC Commissioner Barry Smitherman, took pains to issue a separate statement documenting the success of ERCOT's market-based dispatch regime, declaring that the West region could benefit from greater market transparency with a more coordinated dispatch regime.
According to Smitherman, the Texas experience in ERCOT, where 10 control areas were combined into one, has shown "dramatic evidence" of operational benefits by moving to a regional dispatch under an independent grid operator:
• Lower Heat Rates. ERCOT market heat rate drops 42 percent, from 14,200 MMBtu/kWh to 8,500 MMBtu/kWh, between 1999 and 2005, leading to reduced consumption of natural gas;
• Capacity Additions. Some 26 GW of new gen capacity added to the ERCOT between 1999 and 2005;
• Retirement of Obsolete Units. Mothballing or permanent retirement of over 8,000 MW of old, inefficient gas-fired generation, previously operated by vertically integrated utilities, that now can never qualify as "in the money," given the fall in heat rates noted above. (See, Separate Statement of Barry T. Smitherman, FERC Docket No. AD05-13, filed May 19, 2006.)
Of course, the RTOs concede room for improvement in some areas.
Exelon suggests, for example, that better load-forecasting techniques could improve economic dispatch by avoiding an over-commitment of generation to reserve requirements, which can remove resources from the dispatch stack and thus increase out-of-merit uplift. (PJM/MISO Report, p. 32.)
Second, certain improvements in software, to allow for a so-called optimal power-flow (OPF) model, might allow RTOs to include consideration of voltage and stability constraints in the dispatch runs for the alternating current (AC) grid, rather than having to adopt a simplified power-flow model that treats the grid as a DC (direct current) network. (Northeast Report, p. 15.)
Finally, PJM and MISO say they might consider combining efforts to conduct a single dispatch run across their joint operating territories, to secure additional economies of scale. But they warn that such an increase in the volume of generation and load committed to the dispatch would require upgrades in computing and data storage capabilities. One stumbling block to such a combined dispatch might be the differing modeling methods for recognizing line losses—marginal in MISO, averaged in PJM, but eventually set to change to marginal in PJM by virtue of a recent order. (See, FERC Docket No. EL06-55, May 1, 2006.)
The PJM/MISO joint board report states that both RTOs declined to speculate on the technical feasibility of managing dispatch runs with resource and load volumes increased by a magnitude of 100,000 MW to 150,000 MW, but American Electric Power was reported to have suggested a study to identify the potential benefits of such capabilities. (PJM/MISO Report, pp. 25, 45.)
Efficiency and Markets
The EPACT process (especially the DOE report) led some at first to question whether the new law requires a so-called "efficient" dispatch (minimizing fuel consumption as a condition of a least-cost dispatch solution), but weight of opinion in the various regional board reports now has largely dismissed the idea as a "red herring." Under the better view, resource efficiency is seen as a partial subset of the true economic solution, since fuel use, for example, represents only one of dozens of variables (fuel cost, start and ramp times, emissions restrictions, minimum run costs, maintenance requirements, etc.) that affect the fully integrated dispatch algorithm.
By contrast, however, the need to adhere to state-mandated renewable portfolio standards helped convince the West regional board to forgo any attempt at prescribing a required dispatch regime, and likely promise to play a greater role in the future, though the Northeast and PJM/MISO board reports have chosen more or less to ignore the problem.
Mark Spitzer, an Arizona utility commissioner and member of the West Region Joint Board (and slated to take over an empty seat at FERC) has gone on record as agreeing with California regulators that state preferences for renewables should require FERC to respect a "broad view" of dispatch. Spitzer adds, for example, that Arizona has negotiated agreements with the U.S. Environmental Protection Agency that impose limitations on power-plant operations, notwithstanding traditional dispatch protocols. (See e-mail message to FERC Commissioner Suedeen Kelly, FERC Docket AD05-13, copy filed Feb. 16, 2006.)
The lead "hijacker," if you accept Brownell's description of the danger posed by a broad reading of EPACT, appears to be Howard Spinner, director of the Virginia commission's Division of Economics and Finance. In his role as a member of the PJM/MISO regional joint board, he has sought answers from PJM as to the relationship between market bids and total cost for those resources that have cleared the RTO's market-based dispatch. Further, he has sought to determine whether the RTO's single uniform clearing price has forced consumers to pay too much for power (by allowing low-cost, coal-fired generation to sell at the same price as gas-fired turbine output on the margin) and whether a pay-as-bid regime, or perhaps even a cost-based dispatch, might prove more beneficial to ratepayers.
On one hand, Spinner has disclaimed any attempt to put the toothpaste back in the tube, at least in his testimony from the second PJM/MISO regional board hearing held this past winter:
"Again, I'm not a lawyer, but reading the law, this is about affordability and lowest cost. …
"If you determine that the bid-based system was not performing as well as it could, it doesn't mean that you necessarily scrap that. …
"To me, looking at bid versus cost is really about how the market is working. It's not to argue for … big system, or it's not to argue for a return to cost-based regulation."
Nevertheless, Spinner conceded that you've got to rock the boat a little:
"Unfortunately (because I know a lot of these people), this … could lead to a hell of a lot of debate. I'm sorry for that, but that's what my interest is in this: seeing how well the markets are working for the purpose of trying to improve them if they're not working as well as they could be."
Of course, if you are to take Congress at its word, and use the new EPACT section to conduct a serious cost-benefit analysis of PJM/MISO dispatch practice, then the question arises—as that regional board itself has asked—costs and benefits as compared to what?
As that board has noted, all entities practice some form of economic dispatch. Thus, it would be meaningless, the board said, to compare an RTO-managed dispatch, with a bid-based LMP derived from a single clearing price, against a result with no economic dispatch at all.
Not satisfied, apparently, with the scope of the process, Spinner filed concurring comments alongside the PJM/MISO board report, which elicited a robust rebuttal, by the way, from Jeff Davis, Missouri commission chairman, offering a convincing argument on why any apparent discrepancy between an RTO and cost-of-service dispatch is due to inherent and inescapable market imperfections, such as transmission congestion, and lack of complete market information (as the lack of storage capability forces electricity traders into shorter-term decision making).
As for the board itself, it has recommended only that any benchmark for testing the magnitude of true RTO benefits must be "carefully and explicitly specified."
That, of course, says very little, except to throw the question back to FERC Chairman Kelliher, who may well choose simply to recognize the reality of divergent views, and just file his report with Congress, as EPACT says to do.