Deck:
How Congress opened another can of worms with its call for regional joint boards to study power-plant dispatch.
Author Bio:
Bruce W. Radford is editor-in-chief for Public Utilities Fortnightly .
How Congress opened another can of worms with its call for regional joint boards to study power-plant dispatch.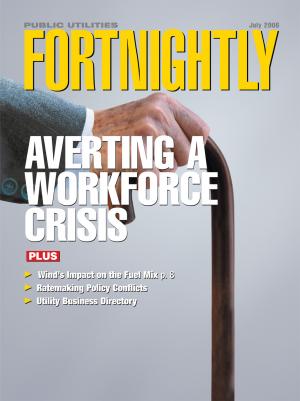 No energy bill ever became law without a little something for everyone, and last year's EPACT law (the Energy Policy Act of 2005) proves true to form. Consider EPACT section 1298, codified as new section 223 of the Federal Power Act, which directs the Federal Energy Regulatry Commission (FERC) to convene joint boards on a regional basis to study the concept known as "security constrained economic dispatch," as practiced around the country. These groups are then to make recommendations, with FERC reporting to Congress by August on findings of each regional board.
Nevertheless, while section 1298 may look very much like a harmless bone thrown to opponents of electric utility restructuring in an effort to win their support for the bill, the provision has proved troublesome, opening the door to a full range of collateral attacks on entrenched FERC policy.
The statute creates nothing more than a process for completing a study, so Congress may have seen little risk in spreading around a few crumbs to appease the dispossessed and help the bill become law. It invites only committee discussions and group recommendations, and appears to pose no real threat to existing policy.
Yet, in singling out power-plant dispatch as a topic for study, the law conveniently targets a key component of FERC's vision for wholesale market reforms. Moreover, it invites scrutiny on a regional basis—all the better to take advantage of geographic schisms that have left yawning gaps between the footprints of the regional transmission organizations (RTOs) certified by FERC.
Did Congress really invite the industry to re-examine the concept of economic dispatch, as practiced by the regional grid operators and RTOs, through market bids, day-ahead markets, a centralized auction, and a uniform market-clearing price? Perhaps not, but skeptics of RTO practice have called the bluff, if that's what it was.
Citing words such as "reliability," and "affordability," appearing in the statute, they have seized the opportunity afforded by the new law to launch yet another collateral attack on established precedent, perhaps even to the surprise of commissioners at FERC.
The issue is whether the Congress, in calling for studies and recommendations, has allowed FERC to play a passive role, simply noting and cataloguing the range of current practices for economic dispatch. Or rather, has Congress commanded FERC to play an activist role and re-examine RTO market theory from the ground up, with an eye toward measuring consumer benefits and restoring a cost-based regime if the market is found wanting?
FERC at first did not offer much in the way of clarification on how it would interpret the new law. In its initial order issued last fall, in which it convened the joint boards, the commission defined the term "security constrained economic dispatch" by adopting the definition of "economic dispatch" contained in EPACT sec. 1234(b): "the operation of generation facilities to produce energy at the lowest cost to reliably serve