Deck:
A rash of rate hikes around the country could have utilities facing a public-relations disaster.
Author Bio:
Richard Stavros is Fortnightly's Executive Editor.
It wasn't that long ago: Some utility executives can still remember the protesters, the picket lines, and the verbal abuse they sometimes received on a daily basis for building nuclear or coal power plants, for forcing rate hikes, or for just being the environmental lobby's favorite target.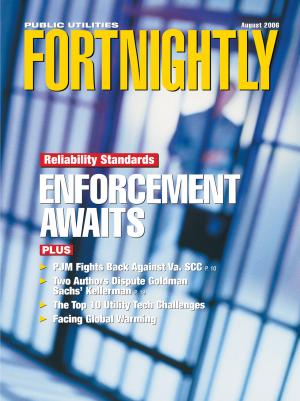 Paul Bonavia, president of Xcel Energy's Utilities Group, at a 2005 M&A conference remembered being shocked during the 1980s by busloads of protesters on the front lawn of a home of a Florida utility CEO with whom he once worked. Not only did they know where the poor man lived, Bonavia recalled, but he was constantly harassed through crank calls, in public, and in the mainstream media.
For anyone who remembers the 1980s, and has been watching the trials and tribulations of Baltimore Gas & Electric (a subsidiary of Constellation Energy) and its efforts to push through a 72 percent rate hike in Maryland, well, it's déjà vu all over again.
Constellation Energy CEO Mayo Shattuck has complained that he and the utility have unfairly been demonized in the public and in the press. In one interview with a Maryland paper, Shattuck showed distress over the verbal abuse his executives had received from angry ratepayers.
And who can blame him? Utility executives have done a lot in the last two decades to cultivate an image as caring, responsible members of the community, providing a vital service.
What sort of industry would it be if utilities were reviled by customers, politicians, and even regulators? It is a question that Shattuck and those who lived through the 1970s and 1980s can ponder.
Yet had you attended the Edison Electric Institute's annual convention in Washington, D.C., in late June, you would have concluded that the American power industry has reached a never-before-seen apex in culture and society. The conference began with all the pageantry and ceremony locals normally would associate with a state visit from foreign dignitaries, or perhaps a meeting of the World Bank—a full military marching band, a personal welcome from the mayor, and a personalized video message from President Bush welcoming conference goers and telling them how vital they are to America's future.
Rate hikes are all but assured in many parts of the country. Nuclear and coal- burning power plants still could receive the type of fierce environmental opposition of the past. Finally, as a result of siting difficulties, power-plant development again is falling behind demand—a sure recipe for higher power prices in the future. If nothing is done, the industry will become a public pariah—ridiculed by overzealous politicians, such as is happening in Maryland.
Alarming Trends
The evidence already shows that build-outs now in the pipeline won't be enough to meet future demand. Consider a July report by Merrill Lynch, in which equity research analyst Steve Fleishman spells out the problem:
"Capacity additions through 2010 look slightly higher than we projected a year ago," he writes, "but still fall short of cumulative demand growth by more than 31,000 MW. Only 45 percent of post-2006 capacity additions are already in construction."
Then Fleishman delivers the real punch line—that demand growth itself appears to be accelerating:
"Peak demand rose 7.6 percent in 2005 driven by hot weather, and 6 of 8 regions set new peak records. Four of those regions expect to set new peaks this summer. Texas recently increased its 5-year peak demand growth rate from 1.8 percent to 2.3 percent."
Notwithstanding, the industry reserve margin this summer should be about 23 percent, still well above a 15 percent "equilibrium" level, the report finds. However, the regional breakdown tells a more interesting tale. Merrill Lynch discovered that six of 16 regions—Texas, California, upper Midwest, New England, TVA, and Rocky Mountain— are projected to be below 15 percent reserve margin. Another three—Florida, PJM, and Virginia Carolinas—come in below 20 percent.
Moreover, New England in particular has everyone, including the chairman of the Federal Energy Regulatory Commission, on pins and needles as to whether supply will meet demand.
In mid-June, at a commission meeting to review (and eventually approve) the settlement that rejected the controversial LICAP model proposed by ISO New England in favor of a much simpler forward capacity auction designed to ensure future power capacity (see "Counterpoint," p. 19), FERC Chairman Kelliher outlined the challenge:
"Demand for electricity in the region is growing," he said. "The region is facing the prospect of real supply shortages and very high prices."
Kelliher conceded some disagreement over how soon supply shortages and high prices might be realized, but reiterated the basic problem: "There's really little doubt that New England is not adding adequate electricity supply."
Kelliher said that last year, according to a recent report from the ISO, New England actually added a total of 11 MW to its regional electricity supply—a figure he then repeated for emphasis. At the same time, however, he noted that peak demand compared with the prior year had grown by 2,700 MW.
"Those are exactly the kinds of trends," Kelliher warned, "that we saw leading up to the California and Western crisis before the year 2000."
Soothing the Pain
We haven't heard the word m-a-r-k-e-t-i-n-g in utility circles for a long time, but some analysts see marketing as key to making the coming price shocks more palatable to consumers. Dean Maschoff, managing director at Navigant Consulting, outlined this brave new world. "The time is now," he says, "for utilities to establish a new relationship with the customer."
Maschoff believes that high power and gas prices will expose utilities to the effects of a customer backlash unless they become more responsive and establish a partnership model with their customers. Maschoff advises that one of the reasons customers become agitated during price hikes is that most don't have the information or ability to manage their energy use to offset the impact of high prices. To counter that, he proposes to use time-of-use pricing, real-time metering, and other demand-response techniques in a way that gives utility customers a measure of control over their fate. However, he believes utilities will have to develop basic marketing capabilities related to product (or service) design, pricing, promotion, and place (or vehicle for service delivery) if these ideas are to be adopted and implemented by customers and a new customer-utility partnership established. Maybe this is what "back to basics" was all about after all.
Utilities must seize such opportunities quickly, or lose them altogether.