Deck:
America's energy competition laboratory prepares to build.
Author Bio:
Hind Farag is Midwest Market Outlook Manager at Global Energy Advisors. Contact her at hfarag@globalenergy.com; Gary L. Hunt is president of Global Energy Advisors. Contact him at ghunt@ globalenergy.com.
America's energy competition laboratory prepares to build.
The Electric Reliability Council of Texas (ERCOT) region remains a living example of how to make a successful transition to restructured wholesale and retail markets for electricity. At the same time, the market continues to witness some significant developments. Despite the historically high levels of generating reserve margins in recent years, the permanence of operating reserve margin sufficiency has come into question by the considerable number of plant mothballs and, more significantly, permanent retirements. Despite that, sights are turning from recovery to the next stage of the power business cycle: The Buildup.
While the market has seen the construction of approximately 24,000 MW since 2000, operators are mothballing and retiring more than 13,000 MW. Recent ERCOT reports have concluded that additional capacity could be required much sooner than previously expected. Global Energy believes, however, that if reserves drop too low, some mothballed plants may be re-commissioned.
Currently, about 1,970 MW (dependable) of capacity is under construction, very much below the more than 23,700 MW since 2000. Between our Fall 2005 and Spring 2006 Market Outlook reports, we identified an additional 529 MW of new renewable generation capacity currently under construction.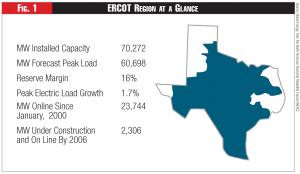 By 2008, about 25,000 MW of new generating capacity will have entered the ERCOT markets since 2000. This is a significant amount of new capacity in an area with an expected annual peak load of approximately 61,415 MW in 2006. 1 Since most of this new generation is natural-gas-fired, in many cases it has been constructed in the vicinity of load centers. But that is not always the case, as shown in Fig. 2.
Reliability concerns emerged in ERCOT despite the considerable amount of recent capacity additions, as plant operators accelerated their mothballing and retirement activity. By January 2011, more than 13,000 MW of generating capacity in ERCOT will have been retired or mothballed.
In response, ERCOT recently revised its reserve-margin calculation methodology to exclude mothballed capacity from its installed capacity estimates. This revised methodology also includes a new econometric load-f orecasting model that has resulted in significantly lower load-growth projections from previous forecasts. Despite this reduction in peak-load expectations, the exclusion of mothballed units from reserve-margin calculations shows the need for new capacity additions by the end of this decade.
Rising concerns over resource adequacy and reliability have induced the Public Utility Commission of Texas (PUCT) to revive its resource adequacy rulemaking and begin deliberating with stakeholders on mechanisms for en-couraging investment in new entry. 2 Generators generally have thrown their support behind installed capacity (ICAP) type markets, while loads and regulators supported energy-only approaches.
In its recently published proposed new Rule 25.505—Resource Adequacy in the Electric Council of Texas Power Region— the PUCT leans toward the energy-only approach for ensuring generation resource adequacy. This PUCT rule introduces the scarcity pricing mechanism (SPM) designed to encourage growth in