Deck:
Why the next wave of transformation is already upon us.
Why the next wave of transformation is already upon us.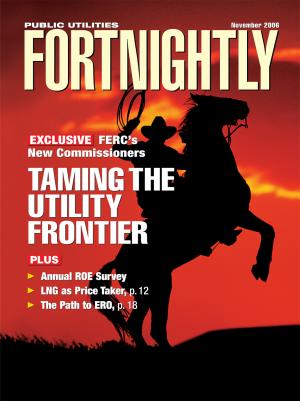 The electricity system in the United States received renewed attention after the August 2003 blackout that affected more than 50 million customers across the Northeast United States and caused billions of dollars of damage to the U.S. economy. This blackout became a call to action as the event exposed the United States' dependency on a vulnerable infrastructure. The state of the grid was unacceptable and a change was needed to ensure safety and reliability across the system. The intelligent network is one of the results of that call to action.
"Intelligent" electric networks involve increased awareness in a network and its ability to respond in real time, leading to better operational effectiveness for the utility and an improved experience for the customer. It represents a complete transformation of today's electric grid. Key aspects are:
(1) A combination of centralized and locally distributed generation models that can economically provide energy;
(2) Higher-quality materials that can transmit more power with fewer losses and failures;
(3) Improved sensors that can instantly observe the state of the grid and transmit the information to different locations;
(4) An advanced network of integrated systems, both centralized and distributed, which can make intelligent decisions; and
(5) More automated processes supported by trained people.
All of these components need to be considered to ensure proper delivery of benefits.
But four key myths about intelligent networks must be recognized and debunked:
Myth #1: Intelligent networks and the "smart grid" are 10 to 15 years away.
Myth #2: Intelligent networks are all about sensors, self-healing equipment, and new materials.
Myth #3: The majority of grid investments are focused on transmission. Intelligent network efforts therefore should start with transmission.
Myth #4: There is no financial business case for a utility to start implementing intelligent networks.
Debunking Myth #1
There are enough aspects of intelligent networks available today for viable investment. Several products appearing in the marketplace greatly support the intelligent network arena. Many of these products are mature and have had extensive field experience. This leads us to believe that there are areas of opportunity available even now to get started right away. Some of these key areas include:
• Remote power factor/voltage control;
• Demand-response controller;
• Modular protection automation and control for transmission and distribution (T&D);
• Substation automation/monitoring controllers;
• Smart meters that can perform multiple functions;
• FACTS and other Thyristor-based devices;
• Phasor Measurement Units (PMUs);
Advanced information systems exist to enable the smart grid components listed above.
A combination of wired/wireless systems is available to be the communications backbone. Each of these components tend to be business-case justifiable on its own, depending on the circumstances.
Debunking Myth #2
Utilities need to invest in certain key foundational capabilities that will position them well to handle future changes. Key enabling technologies are required to realize the benefits of the intelligent network. An accurate representation of the