New Opportunities: Public Service Enterprise Group (PSEG) announced the election of Ralph Izzo as president and COO of the company and also as a member of the board of directors. The action positions Izzo to become CEO upon the retirement of E. James Ferland, planned for March 31, 2007. The board also elected Ralph LaRossa to succeed Izzo as president and COO of PSEG's utility business, Public Service Electric and Gas Co. LaRossa has been PSE&G's vice president-electric delivery.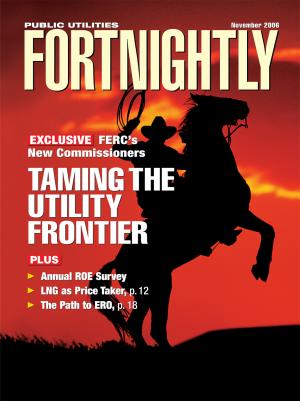 WGL Holdings Inc., and its subsidiary, Washington Gas Light Co., announced the election of two new corporate officers. Douglas Staebler was named vice president of engineering and construction, and Lauren Foley was elected vice president of consumer services. Staebler succeeds Thomas Bonner, currently vice president of engineering and construction, who is retiring effective Nov. 1. Staebler joined Washington Gas in 2005. Foley joined Washington Gas in 2002. She will succeed Jim White, currently vice president of consumer services. White left the company on Oct. 13. His retirement becomes effective in February 2007.
ISO New England Inc. announced the election of two new board members: Richard A. Abdoo, former Chairman and CEO of Wisconsin Energy Corp., and Paul F. Levy, president and CEO of Beth Israel Deaconess Medical Center. They replace former chairman William W. Berry and current vice chairman Kenneth R. Leibler, both of whom stepped down.
Entergy Corp. announced that its board of directors elected Gary W. Edwards, an independent Entergy board member, to the position of presiding director. The board initiated this process following the election of J. Wayne Leonard to the position of chairman and CEO.
FirstEnergy Corp. elected James F. Pearson, formerly treasurer, to vice president and treasurer; Eugene J. Sitarz, formerly director, tax department, to vice president, tax; Frank A. Lubich, formerly director, W. H. Sammis Plant, to plant vice president; and Brian J. Warnaka, formerly director, Bruce Mansfield Plant, to plant vice president.
Atlanta Gas Light promoted Wendell Dallas Jr. to vice president and general manager. Dallas has served as general manager of Atlanta Gas Light since April 2005.
Constellation Energy promoted Charles A. Berardesco to vice president. He will continue to serve as associate general counsel, chief compliance officer, and corporate secretary. He joined the company in January 2003.
ComEd's board of directors appointed Chicago Urban League President and CEO James W. Compton to the utility's board. With the addition of Compton, the ComEd board has six directors, including five outside directors.
Christine King, CEO of AMI Semiconductor (AMIS), was elected to the IDACORP and Idaho Power boards of directors. Prior to joining AMIS, King was vice president of semiconductor products for IBM's microelectronics division.
Retired: Rod Mundy retired as senior vice president and counsel of Alabama Power, where he served for eight years.
Resigned: National Grid said that Mike Jesanis, group director responsible for U.S. distribution, would leave at the end of the year. Jesanis joined New England Electric System in 1983 and has been part of National Grid since it acquired NEES in 2000.
Awarded: Dr. Neville Holt, a coal gasification expert for the Electric Power Research Institute, received a Lifetime Achievement Award from the Gasification Technologies Council.