Deck:
Mixed signals leave developers wary of building new infrastructure.
Author Bio:
Richard Stavros is  Fortnightly's Executive Editor.
Mixed signals leave developers wary of building new infrastructure.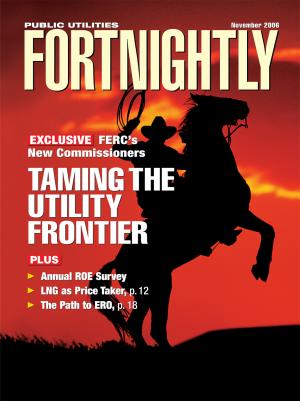 In late October, the North American Electric Reliability Council (NERC) issued a grim report warning that demand for electricity in the United States is increasing three times as fast as resources can be added, threatening to make electric service unreliable in the coming decade.
NERC, which won official certification this past summer as the nation's Electric Reliability Organization (ERO)—the lawful guardian and enforcer of good utility practice—said that U.S. demand will increase by about 20 percent from 2006 to 2015, outstripping investment in new power supplies.
Furthermore, the report predicts that available resources likely would fall below safe levels in many parts of the United States and Canada, such as New England, the Rocky Mountain region, and Texas, in the next two to three years.
This infrastructure shortfall should be old news to anyone who regularly reads Fortnightly and the fact that the outlook has gotten worse (as evidenced by the NERC report) should raise questions about the effectiveness of some current and past utility CEOs, regulators, and policymakers—or all of the above.
Evidence of such a shortfall in construction was highlighted four months ago in a report issued by Merrill Lynch. That report, which was published in July, said only 45 percent of planned post-2006 capacity additions were under construction.
According to the Merrill report, peak demand, driven by hot weather, rose 7.6 percent in 2005, and 6 of the 8 regions set new peak records. And while capacity additions through 2010 looked slightly higher than the bank previously projected, they still fell short of the cumulative demand growth of more than 31,000 MW that has occurred.
Overall, Merrill concluded that if such power-demand trends continue, the bank expects reserve margins to continue to decline in the next five years. Six of the 16 regions—Texas, California, the Upper Midwest, New England, Tennessee Valley Authority (TVA), and the Rocky Mountains—would fall below the 15 percent reserve margin target that generally is required to conform to reliability standards. Another three regions—Florida, PJM, and Virginia/Carolinas—would be expected to come in below 20 percent.
Rick Sergel, CEO of NERC, offers a reason why margins threaten to fall below required levels: "The operation and planning for a reliable and adequate electricity system is becoming increasingly difficult." Sergel believes that such a dire situation requires industry and government to work together to adopt a longer-term, more coordinated planning strategy.
EPACT has encouraged early efforts in infrastructure investment in liquefied natural gas, integrated gasification combined-cycle plants, renewables, and nuclear. However, because of the long lead times required for planning, site selection, making system-impact studies and gaining interconnection authority from grid operators, it still is way too soon to judge the effectiveness of the new law. It might take 10 years before we truly know what its impact will be. The same could be said of the various resource adequacy plans recently put into effect by state regulators.
All of this raises a more fundamental question: Will the Energy