Deck:
Mixed signals leave developers wary of building new infrastructure.
Author Bio:
Richard Stavros is Fortnightly's Executive Editor.
In late October, the North American Electric Reliability Council (NERC) issued a grim report warning that demand for electricity in the United States is increasing three times as fast as resources can be added, threatening to make electric service unreliable in the coming decade.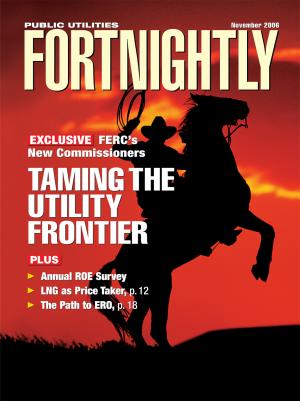 NERC, which won official certification this past summer as the nation's Electric Reliability Organization (ERO)—the lawful guardian and enforcer of good utility practice—said that U.S. demand will increase by about 20 percent from 2006 to 2015, outstripping investment in new power supplies.
Furthermore, the report predicts that available resources likely would fall below safe levels in many parts of the United States and Canada, such as New England, the Rocky Mountain region, and Texas, in the next two to three years.
This infrastructure shortfall should be old news to anyone who regularly reads Fortnightly and the fact that the outlook has gotten worse (as evidenced by the NERC report) should raise questions about the effectiveness of some current and past utility CEOs, regulators, and policymakers—or all of the above.
Evidence of such a shortfall in construction was highlighted four months ago in a report issued by Merrill Lynch. That report, which was published in July, said only 45 percent of planned post-2006 capacity additions were under construction.
According to the Merrill report, peak demand, driven by hot weather, rose 7.6 percent in 2005, and 6 of the 8 regions set new peak records. And while capacity additions through 2010 looked slightly higher than the bank previously projected, they still fell short of the cumulative demand growth of more than 31,000 MW that has occurred.
Overall, Merrill concluded that if such power-demand trends continue, the bank expects reserve margins to continue to decline in the next five years. Six of the 16 regions—Texas, California, the Upper Midwest, New England, Tennessee Valley Authority (TVA), and the Rocky Mountains—would fall below the 15 percent reserve margin target that generally is required to conform to reliability standards. Another three regions—Florida, PJM, and Virginia/Carolinas—would be expected to come in below 20 percent.
Rick Sergel, CEO of NERC, offers a reason why margins threaten to fall below required levels: "The operation and planning for a reliable and adequate electricity system is becoming increasingly difficult." Sergel believes that such a dire situation requires industry and government to work together to adopt a longer-term, more coordinated planning strategy.
EPACT has encouraged early efforts in infrastructure investment in liquefied natural gas, integrated gasification combined-cycle plants, renewables, and nuclear. However, because of the long lead times required for planning, site selection, making system-impact studies and gaining interconnection authority from grid operators, it still is way too soon to judge the effectiveness of the new law. It might take 10 years before we truly know what its impact will be. The same could be said of the various resource adequacy plans recently put into effect by state regulators.
All of this raises a more fundamental question: Will the Energy Policy Act of 2005 (EPACT), with its many provisions specifically designed to encourage investment, succeed in restoring power supplies to reliable levels?
The Soul of a FERC Chairman
At a speaker's dinner hosted by Day Berry & Howard, as part of ISO New England's annual conference in September, I talked with FERC Chairman Joseph Kelliher. To paraphrase George W. Bush, I looked Kelliher in the eye and found him to be very straightforward. I was able to get a sense of his soul. Kelliher is a man deeply committed to the advancement of the energy industry.
But I believe he may have a troubled soul, given his clear desire to affect positive change, while appearing to argue for policy decisions that are politically safe but arguably inconsistent. The result is mixed signals that leave developers wary of committing to investments in new infrastructure.
At the conference, Kelliher said the debate over competition was over and that the country has affirmed competition through EPACT-2005. "I don't mean deregulated markets, I mean competitive markets," he said, making clear what was affirmed. During his speech, Kelliher outlined four different kinds of markets operating in the United States.
The first category is a "Day-Two" market, such as found in regional transmission organizations (RTOs), such as PJM, the Midwest Independent Transmission System Operator (MISO), or as now planned for the California ISO. The second is a "Day-One" market, as in the Southwest Power Pool, where market forces are designed more for physical system balancing than for price discovery. Bilateral trading denotes the third market category. Fourth and last comes TVA, where wholesale competition is actually illegal, as Kelliher pointed out.
His next statement, however, raises several questions: "We have four kinds of electricity markets. … We do not favor any model."
I caught up with Kelliher a few weeks later to follow up. I asked how he believed FERC's duty to ensure just and reasonable rates could be accomplished if different market structures attract investment differently. Kelliher answered that infrastructure development incentives have been distributed uniformly across these different markets. I've shared his answer with some of the top energy regulatory minds (who asked to remain anonymous), and they all simply disagree with this premise.
I suspect that Kelliher has had to develop this four-market construct to avoid a renewed and (in my opinion) necessary debate over the best market model. When appointed FERC chairman, Kelliher may have been ordered to fall back after federal and state relations became too heated over market models.
Whatever the case, investors need more visibility and consistency. That is why investments are falling behind. A power-plant developer in New England attending the ISO New England conference said, "Everybody needs to be at the table. A more comprehensive approach to siting is needed, and everything must be considered, such as nuclear, coal, oil, and renewables." Furthermore, he added that everyone must agree on load growth and the pace of economic development. He wondered how the industry might bridge the gap between economics and the environment.
But David K. Garman, under-secretary, United States Department of Energy, sees it another way. He said that if New England is to grow, it must overcome its resistance to infrastructure development.
Two transmission developers have said they could work within either competitive or regulatory model, as long as the rules are consistent. "Variability is the enemy of capital formation," said one transmission investor. He observed that the proposed Frontier transmission line in the West already has suffered from variability. Investors abhor the change in project economics after regulators in California insisted that energy transmitted on the line had to come from sources with extremely low greenhouse-gas emissions.
Prolonging the inevitable discussion on the best market model could delay progress on energy market development and further infrastructure investment—and could continue to torture Kelliher's soul.