Deck:
U.S. imports make up the fastest-growing segment of the industry. Are we prepared?
We are headed for a time of excitement and turmoil in the coal industry unlike anything seen before. The renewed interest in coal as a fuel source for power generation will increase coal demand by up to 4 percent a year for the next 20 years.
But the fastest growing segment of the U.S. coal business has been coal imports from outside the United States. Imports have been increasing to levels never before seen or forecast. With so much coal produced domestically in this country, why are utilities choosing to import coal from producers located hundreds or thousands of miles from their plants?
The U.S. coal industry had been under-investing in production and transportation capacity when coal prices were flat and interest in cleaner fuels grew in the 1990s and early 2000s. Now, many coal-industry players will be challenged as never before to catch up or risk being overtaken by bigger, better financed, and more nimble global-scale players. This challenge also opens the door to opportunities for investors seeking to gain competitive advantage in a consolidating coal industry.
The Energy Information Administration (EIA) projects U.S. coal supplies will increase 10.5 percent, or 121 million tons, over the next five years. A recent National Coal Council (NCC) study submitted to the secretary of energy called for a major coal-expansion program adding 1.3 billion tons of demand to the 2005 level of 1.13 billion tons of production by 2025. To reach these long-term production levels, U.S. coal production will need to increase substantially during the next two decades. Can the coal industry deliver on that level of demand growth? Not without major new investments in supply and transportation capacity.
Coal imports into the United States for 2004 and 2005 were 27 million and 30 million tons, respectively. The projected imports for 2006 are 36 million tons (EIA Monthly Energy Outlook), despite weather and labor problems in South America. One can get an idea of the increased volume of imported coal coming into the United States over the last 5 years by examining Fig. 2.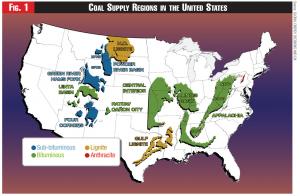 Imported coal tonnage nearly has tripled since 2000. Few argue with the geopolitical and national security benefits of a 115 percent increase in domestic U.S. coal production over the past 20 years to improve the diversity and security of America's power-generation fuel mix. But much less attention has been focused upon the ability of U.S. coal-chain infrastructure and reserve base to support such an expansion in the future. Lost in the optimism in the NCC study about improved energy security and a significant domestic economic boost is acknowledgement that the U.S. coal-reserve base requires additional evaluation—an understatement to say the least. The study recommends that the Department of Energy perform or commission a new estimate of the demonstrated reserve base.
Global Energy decided not to wait for such a study. We performed a basin-by-basin analysis of coal-productive capacity and also assessed the impacts and implications of coal imports to independently assess America's coal-productive capacity. In our report, Can Coal Deliver? America's Coal Potential and Limits, Global Energy made an in-depth and candid analysis of the key supply and production issues confronting America's coal industry.1 We found the following:
• U.S. coal production may have to increase by as much as 4 percent per year for the next 20 years to achieve fuel- diversity objectives and to meet expected demand from power generators.
• Total U.S. coal production capacity has been in decline since 1999. Based upon mine level reports collected by the EIA, U.S. coal production capacity was only 2 million tons per year (mtpy) higher in 2004 than in 2000.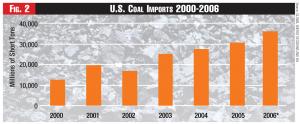 • Global Energy estimates "ready reserve" coal capacity increased modestly in 2005 (by 2 percent), but that the increase is nearly all attributable to addition of more Western coal capacity where transportation constraints continue to exist.
• The most rapidly growing component of U.S. coal supply since 2000 is coal imports. Steam coal imports are up almost 20 percent per year while domestic coal production is up 1 percent per year.
How can that be? The diminishing productive capacity of certain coal basins, notably Central Appalachia, is leading to growing imports of coal to the "Saudi Arabia of Coal"—the United States. Substantial investment in coal infrastructure and development is needed to regain America's full productive capacity of its coal reserves.
What about global warming? Even as the United States becomes more concerned about the implications of global warming, the rising demand for coal is adding pressure for investment in IGCC and other new technology to enable clean-coal use. This will have a dramatic effect on coal blends and deliverability.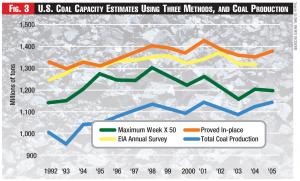 Given lack of investment in infrastructure, lack of trained personnel, and the regional differences in gaining cost-effective access to coal, the key question is whether the coal industry can deliver. The outcry about problems with U.S. coal supply reached a loud crescendo in mid- and late-2005 as surging demand for coal, coupled with transportation outages on the Joint Line in the Powder River Basin, placed further pressure on specific links in the coal-supply chain—some of which have shown stress for several years.
The highest-profile anxiety has been in the coal-fired power generation sector, where consumers have reduced stockpiles to near zero in some regions and, in a few instances, have been forced by coal shortages to switch to gas to meet demand.
Focus on the high-profile cases has somewhat overshadowed numerous cases where lack of coal at the loadout (in Central Appalachia), lack of barges, lack of rail cars and motive power, and lack of coal at the ports of departure (in South America) have undermined the reputation of coal's reliability as a baseload fossil fuel throughout the United States.
Somewhat muted in the noise have been observations that U.S. coal-supply capacity needs detailed examination to avoid future problems and perhaps a catastrophic collapse similar to that witnessed in the U.S. natural-gas sector earlier this decade. But just what is meant by coal-supply capacity?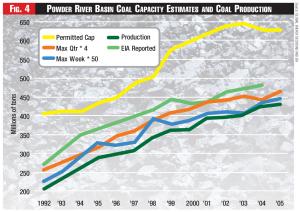 The typical energy balance approach espoused by the International Energy Agency (IEA) and also followed by the EIA defines supply as the sum of production, stock changes, and net imports. Net imports consist of total imports minus total exports. When exports exceed imports (as they do in the United States), net imports is a negative number. Based upon an observation of time-series data used to calculate coal supply, there have been warning signs that the U.S. coal sector has been experiencing some contraction of its "supply capability" for several years.
Coal exports—mostly coking coal—declined steadily from 1996-2002, and only recovered modestly from 2003 as global coking coal prices tripled. Domestic consumption plus net imports significantly have been greater than production since 2003. Additionally, stocks have declined in four of the last six years. While all of these factors suggest a weaker domestic supply chain, they are primarily measures of flows rather than capacity.
A Different Approach
One prominent component of capacity is the capacity to produce coal. Coal-production capacity statistics are collected by the EIA on Form EIA-7A, which requires reporting "the maximum amount of coal that your mining operation could have produced during the year with existing mining equipment in place, assuming that the labor and materials sufficient to utilize the equipment were available, and that the market existed for the maximum coal production."
Unfortunately, EIA data is collected only once per year, and the lag time is significant: Coal production capacity data reported for 2005 will be available in late 2006. Further, the data are published at the regional and state level, but do little good for industry analysts trying to maintain a timely measurement of the pulse of productive capacity on anything but an anecdotal basis.
It is impossible to use the data to do mine-level analysis. And without mine-level aggregation capability, it is impossible to conduct timely measurements of coal production capacity by quality category, rail-origin capability, productivity range, mine type, or any other of a number of reasonable categorizations. Because of the annual data collection and the time lag in publication, the data provide no insights into capacity changes throughout the year as new mines open and close. They are excellent sources of "after-the-fact" statistics to confirm the accuracy of other techniques for estimating capacity, and undoubtedly will have great value for the assignment of blame by officials and senior management should catastrophic capacity failures occur.
Because of limitations in the EIA capacity statistics, Global Energy developed alternative approaches to estimating coal-production capacity. The most straightforward is the "proved in-place" capacity method. To calculate the capacity using this approach, we used quarterly production statistics reported on MSHA Form 7000-2. These data are collected quarterly and published with a lag time of 60 to 90 days. Thus, they can be used for analysis of changes throughout the year and are available (in a preliminary form) much sooner than EIA capacity statistics. The approach used by Global Energy is to examine production reported for the previous 12 quarters at the mine level, and multiply the highest quarter of production at each mine by four to estimate annual capacity.
The rationale is that each mine has demonstrated that it can produce the given volume for a sustained period. The capacity estimates have been confirmed by discussions with coal producers and by experience. Although they consistently exceed the annual estimates published by the EIA, this is likely because most producers are able to "coax" extra production out of their operations by mining in the best areas, pushing equipment to its maximum operating parameters, and adding short-term labor and other techniques when profitable sales opportunities occur.
Further, capacity upgrades occurring throughout the year are better reflected by this approach, and new capacity additions (less closures) show up in a more timely fashion. A comparison of the proved in-place methodology to the EIA reported capacity confirms that the capacity estimates of each approach track very closely and move in the same direction each year (see Figure 3). However, the proved in-place approach yields a consistently higher capacity estimate than that reported to the EIA.
A second approach we used is based on more timely statistics, but is more aggregated. The EIA weekly coal production report provides weekly estimates for U.S. coal production by state based on railroad car-loading data. The report for the previous week is published on the EIA Web site six days after the end of the subject week. The release schedule provides for ongoing, short-term evaluation of capacity.
For each state, Global Energy selects the highest weekly production for the past 52 weeks, and multiplies it by 50 to get a capacity estimate by state. State estimates can then be aggregated to estimate regional (e.g., Central Appalachia, Northern Appalachia, etc.) capacity. The multiplier is used to account for the fact that vacation schedules and holidays affect annual mine production. This method is called the state or regional "Max Week * 50" approach by Global Energy.
The approach yields a capacity that is lower than the EIA reported capacity. Fig. 4 summarizes total U.S. coal supply estimates calculated using each approach, the reported EIA capacity, and the reported production for the period 1992 to 2005.
Permitted Coal-Supply Capacity in the Powder River Basin
While permitted capacity is available at the state or U.S. Bureau of Mines (USBM) regional level, the data are not uniform and often change over short periods of time. Global Energy continues to collect and refine its understanding of all mining-permit data, but the best uniform mine data is available for the Wyoming and Montana sections of the Powder River Basin (PRB). The state air permits set a maximum limit on the production of PRB mines and can be used to compare current production, reported capacity, and other measured capacity levels with maximum permitted capacity.
However, permitted capacity far exceeds the estimated production capacity and the production since 1992 (see Figure 4). Currently, production is limited by the rail transportation capacity available to haul coal out of the region. Most critically affected are the eight mines located on the "joint line" serviced by the UP and BNSF railroads, which had estimated proved in-place capacity of 347 million tons in 2005.
Many major coal consumers believe that railroads provided only about 90 to 95 percent of the actual coal demand originating on the joint line in 2004, and that proportion fell to 85 percent in 2005 when derailments and line reconstruction severely restricted coal originations. Thus, actual production from these mines could have reached 374 million tons in 2005—about 8 percent above their proved in-place capacity. While there are plans to expand production by adding a new mine and increasing capacity at existing mines, information about the mines' capability to handle this demand, should transportation be provided, are incomplete. Further, although the railroads have promised greater capacity, performance in 2006 to date indicates a high probability that they will fall short of the 375 million ton level.
Production, production capacity, and transportation capacity remain problematic in this key coal-producing region, where veiled references to limitations and restrictions on the demonstrated reserve base (from the state and federal geological surveys) and speculation on sufficient future transportation capacity depends on not-yet-financed "mega" projects and double-digit rate increases, rather than on solid research backing a strategic vision. The situation begs for a thorough analysis of both demand-side factors (location of more PRB switches and new plants), the sustainable level of mining given reserve and geological constraints, and the transportation infrastructure needs to service new business.
Since late 2003, most of the focus of coal consumers and producers has been on prices. The exception is the PRB, where supply has been an equally high-profile issue since 2004. This is more related to the two major Western railroads' ongoing inability to provide sufficient capacity to move PRB coal, rather than to the production capacity of the mines themselves. In the East, coal production capacity continues to receive some attention—especially the capacity in Central Appalachia (CAPP) to supply compliance and low-sulfur coal.
While Eastern transportation has been a problem since 2004, the unavailability of coal to ship causes as much concern as transport bottlenecks. While the high anxiety that occurs from time to time relative to CAPP coal is not prevalent for other Eastern coal-supply regions, there have been spotty shortages in Northern Appalachia (NAPP) and the Illinois Basin (ILB) when extraordinary circumstances stimulated demand. Similarly, in the non-PRB West, traditional consumers of Colorado-origin and Utah-origin coals have experienced some sustained shortages as these regions experienced short-term mine outages and also were tapped to replace constrained PRB coal supply.
A generally tight national coal-supply situation continues to exist in mid-2006. This suggests that perhaps a more poignant short-term issue exists—whether or not the U.S. coal industry can deliver the new supply projected for the next five years, let alone attract enough investment to more than double production over the next 20 years. Consider the following observations:
• Central Appalachia proved in-place production capacity declined by 8 mtpy in 2005, despite record level price signals since late 2003. Since 2001, CAPP proved in-place production capacity has declined at a rate of 5 percent per year, and a total of 73 million tons of capacity has disappeared.
• Northern Appalachia production capacity declined by 3 mtpy in 2005. With the exception of a modest recovery in 2004, NAPP proved in-place capacity has declined steadily since 1998, at a rate of 2.7 percent per year. A total of 36 million tons of capacity has disappeared since 1998.
• Coal stockpiles—the safety valve for supply disruptions—reached near historic low levels in 2005. Stocks remain precariously low because coal producers and transportation providers cannot meet demand for current burn and stock replenishments.
Current statistics could be interpreted as a warning that near-term U.S. coal demand may not be met fully without significant growth of imports. Further, the lack of capacity growth in some key regions despite sharp upward price shocks indicates that the cost of new supply may be much higher than even current prices—and certainly much higher than the embedded costs that domestic power generators are accustomed to paying for coal supplies.
The NCC report does not estimate the cost of expanding coal production and supply infrastructure to handle an additional 1.3 billion tons per year; however, it estimates the current value of investment in coal-conversion technologies alone at $515 billion. Even using moderate assumptions, expansion of supply capacity from a current level of less than 1.4 billion annual tons to 2.5 or 2.6 billion annual tons likely would add billions of dollars to investment needs.
In addition, billions of dollars more are needed for rail infrastructure, rolling stock, port and waterways expansion, barges, and other facilities. Although risk for some of this investment may be mitigated by special government treatment, the lion's share will have to be raised in the capital markets.
Significant levels of investment, and perhaps even a realignment of the coal-supply infrastructure to support more coal imports, may be required to meet coal demand for the next five years. Pressure to increase U.S. reliance on the domestic coal industry to offset detrimental economic and geopolitical forces that have coalesced in the past five years only underscores the importance of looking at supply capability prior to stimulating demand.
Before embarking on an effort to increase demand by 1.3 billion annual tons, it is prudent to evaluate individual segments of the supply chain—coal basins; reserve blocks; structural, cultural, and environmental constraints; transportation corridors; and other "choke" points—that may prevent servicing the additional 100 million to 140 million tons of coal demand that might possibly materialize in the next five years, let alone another billion tons of demand by 2025. While there is, no doubt, a lot of coal in North America, perhaps we also need to know what the price at the burner-tip will be for the next 100 millionth ton—and for that two billionth ton.
Endnote:
1. More information about Can Coal Deliver?: America's Coal Potential and Limits can be found on our homepage at www.globalenergy.com.