Deck:
U.S. imports make up the fastest-growing segment of the industry. Are we prepared?
U.S. imports make up the fastest-growing segment of the industry. Are we prepared?
We are headed for a time of excitement and turmoil in the coal industry unlike anything seen before. The renewed interest in coal as a fuel source for power generation will increase coal demand by up to 4 percent a year for the next 20 years.
But the fastest growing segment of the U.S. coal business has been coal imports from outside the United States. Imports have been increasing to levels never before seen or forecast. With so much coal produced domestically in this country, why are utilities choosing to import coal from producers located hundreds or thousands of miles from their plants?
The U.S. coal industry had been under-investing in production and transportation capacity when coal prices were flat and interest in cleaner fuels grew in the 1990s and early 2000s. Now, many coal-industry players will be challenged as never before to catch up or risk being overtaken by bigger, better financed, and more nimble global-scale players. This challenge also opens the door to opportunities for investors seeking to gain competitive advantage in a consolidating coal industry.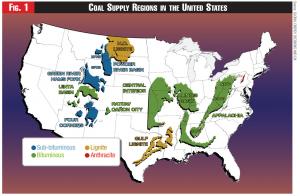 The Energy Information Administration (EIA) projects U.S. coal supplies will increase 10.5 percent, or 121 million tons, over the next five years. A recent National Coal Council (NCC) study submitted to the secretary of energy called for a major coal-expansion program adding 1.3 billion tons of demand to the 2005 level of 1.13 billion tons of production by 2025. To reach these long-term production levels, U.S. coal production will need to increase substantially during the next two decades. Can the coal industry deliver on that level of demand growth? Not without major new investments in supply and transportation capacity.
Coal imports into the United States for 2004 and 2005 were 27 million and 30 million tons, respectively. The projected imports for 2006 are 36 million tons (EIA Monthly Energy Outlook) , despite weather and labor problems in South America. One can get an idea of the increased volume of imported coal coming into the United States over the last 5 years by examining Fig. 2.
Imported coal tonnage nearly has tripled since 2000. Few argue with the geopolitical and national security benefits of a 115 percent increase in domestic U.S. coal production over the past 20 years to improve the diversity and security of America's power-generation fuel mix. But much less attention has been focused upon the ability of U.S. coal-chain infrastructure and reserve base to support such an expansion in the future. Lost in the optimism in the NCC study about improved energy security and a significant domestic economic boost is acknowledgement that the U.S. coal-reserve base requires additional evaluation—an understatement to say the least. The study recommends that the Department of Energy perform or commission a new estimate of the demonstrated reserve base.