Deck:
The new transmission siting and permitting policies could be just as messy and unruly as the old ones.
Anyone who has followed electric transmission siting knows that it has been a contentious affair. The transmission-siting process would take years to resolve (if not decades), and keeping up with the many arguments, counterarguments, and lawsuits among involved parties was like trying to keep track of a high-school food fight never quite brought under control.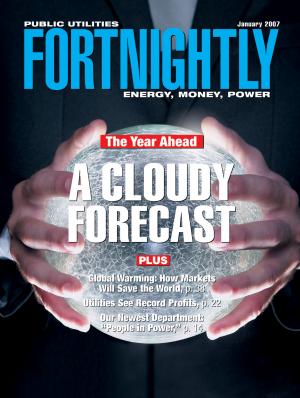 The Energy Policy Act of 2005 (EPACT) was supposed to bring discipline to that wild process by giving the federal government permitting authority in certain circumstances, and by legislating that the Department of Energy (DOE) select and designate geographic areas as National Interest Electric Transmission Corridors (NIETC).
The idea behind the NIETC is a noble one: to help facilitate the construction of badly needed transmission capacity to relieve congestion problems and improve reliability. In fact, the promotion of new infrastructure investment is at the heart of EPACT.
But there's just one problem. The new process for permitting and siting electric transmission under EPACT appears to be as flawed and contentious as it was pre-EPACT.
So watch out for flying celery.
A Convoluted Siting Process
Congress erred when it did not provide exclusive and preemptive federal siting authority as it did for natural-gas pipelines, a view that some federal regulators have privately confided to me and a great many utility executives.
This alternate bifurcated process in which the Federal Energy Regulatory Commission (FERC) can issue a construction permit only under certain circumstances for transmission projects located in NIETCs, as designated by the DOE, seems ill-conceived.
Allegheny Power last year, in filings, was worried. "By reviewing specific projects, DOE will duplicate and possibly usurp the role of state siting processes and potentially limit FERC's options if backstop authority is needed," it stated. "In addition, by rejecting specific proposals, DOE will limit siting options. … Congress intended DOE to undertake a broad designation of NIETCs but did not intend to reassign to DOE the siting processes and authorities that now reside with the states and, under EPACT 2005, with FERC as backstop."
But read some of the hundreds of third-party comments sent to DOE in the wake of its EPACT-mandated transmission congestion study completed in early August, and it's clear that the DOE is being hailed as ruler of all transmission siting.
DOE strongly refutes this claim, but the evidence appears otherwise. As if the rulemaking comment period were the siting process itself, one can find protests against certain proposed Northeast transmission projects in letter-writing campaigns by senators and congressman, by farmers and individuals, and even by governors. Every stripe of agency or association, as well as some stakeholders, has asked DOE to consider any number of policies that fall outside the scope of the legislation.
Are these critics making an end run around the state siting process in the hopes that by designating the corridors or opposing them, such projects will be guaranteed of acceptance or rejection preemptively, if and when FERC must decide to issue a permit?
One attorney, speaking anonymously, believes that DOE is being dragged down by the politics that are playing out behind the scenes. They say that DOE by now should have issued a finding with respect to the NIETCs.
In fact, in comments filed late last year, PJM Interconnection had asked the secretary of energy to designate three NIETCs within the PJM Region: the Allegheny Mountain Corridor, the Delaware River Corridor, and the Mid-Atlantic Corridor. In fact, PJM wrote: "In the absence of construction of new, high-voltage transmission circuit in the portion of the PJM system that is within the proposed Allegheny Mountain Corridor, NERC and PJM reliability and planning criteria will be violated in 2011."
To ensure an adequate planning and development timeline, PJM asks that the Allegheny Mountain Corridor be designated by Dec. 31, 2006, and the others be designated in a timely fashion. PJM may have to wait, according to a DOE spokesman; the DOE will be offering a new comment period once a "draft" of proposed NIETCs is developed. The spokesman did not outline a timeline for the commencement of the new comment period.
Kevin M. Kolevar, director for the DOE's Office of Electricity Delivery and Energy Reliability, which oversees the NIETC process, says the delay has been a result of the higher than expected volume of filings.
"We are working as expeditiously as possible, but keeping in mind an involved stakeholder process. It evokes a lot of passions. We finished the congestion study. … We undertook the comment period. We received a lot of feedback from the public that there was a need for greater public and stakeholder involvement," Kolevar said.
The DOE: An Unfortunate Czar
No one can argue that the DOE does not have formidable technical expertise for the job of selecting NIETCs.
Its recent EPACT-mandated National Electric Transmission Congestion Study, a necessary precursor to selecting NIETCs, generally was well regarded by the industry. The concern is that the DOE is more of a political animal than FERC, and appears ill-equipped to manage coordination in the same orderly way in which FERC manages interaction with stakeholders.
The energy secretary serves at the pleasure of the president, whereas FERC commissioners are appointed by the president to staggered terms. Many experts, on the condition of anonymity, have confided that the transmission siting process is being perverted politically by this bifurcated process. It is not known whether Congress intended the siting process to have a "political" backstop, but certainly many have criticized the previous transmission siting process as being unnecessarily political.
It also is not clear who would fare better under this process—utilities, landowners, or other stakeholders.
Kolevar says the DOE will do all it can to defend the integrity of the process, designating only corridors that are actually needed to facilitate infrastructure growth.
"The only thing that we can do," he said, "is have a very open and public process so people can see where we are and have an opportunity to weigh in on these matters.
"Our responsibilities is making sure that everyone who has an interest has an opportunity to be heard on this."
In response to criticisms that the DOE's filing system/stakeholder process is antiquated compared with FERC's streamlined eLibrary system, which indexes filings and provides a user-friendly experience, Kolevar promises to be responsive to any suggestions that might streamline the process.
Let us hope that that the director and his department do remain above the fray. If the DOE fails to facilitate the necessary infrastructure growth, much more than food could go to waste in the latest transmission-siting stakeholder process.